Increase Internet Speed in Windows 10, 8, 7, and other versions – Checking as well as Boosting Internet Speed are the two co-related acts which most of the Internet users like to do. Since the advent of Internet, it has been user's priority to check Internet speed and subsequently enhance it.
Most of internet service providers offer high-speed Internet. They charge more for it. But the user could not see much difference than earlier. Here, the question remains the same about how to check their Internet speed. Generally, a user may verify Internet speed on the basis of time taking of downloading or uploading any program. Really it is a quite nice way to testify internet speed, but the exact speed could not be seen by this method.
Right now, I am going to address how to check Internet Speed and Boost Speed as well. The Speed of Internet could be checked easily through below-mentioned software. So do whatever I suggest.
List of Internet speed test software
1. Speedtest.net-
Download link – http://www.speedtest.net/
2. PC Speed Maximizer
3. Internet Speed Booster
How to Check Internet Speed via Speed test.net Software
Download and install speed test.net Software on your computer. Now access the Internet and  Open Speed test.net software. This software will show the actual speed of the Internet running now. you can contact your Internet service provider (ISP) if they made false claims about existing speed or connection. Now you can increase Internet Speed in Windows 10, 8, 7, and XP system by other means.
Increase Internet Speed in Windows 10, 8, 7, XP
Firstly Internet user will have to take attention to the following terms:
 1. Check Connector in computer Port
These days Internet broadband modem is connected with LAN Cable (connector  RJ-45) via port (LAN card) on a computer or laptop. If LAN card is not available in computers then a broadband modem may also be connected through another optional port such as USB cable or Serial cable in the serial port. Check the connections everywhere and re-insert the cables properly
2. Fast Browser
If User chooses Internet fast browser it will be better for Internet speed. These browsers are  Google Chrome, Mozilla Firefox, and Safari. Don't activate any external features in the browser such as bookmark bar, Add-ons, update tools, etc if wanting to take full advantage of fast browsing.
3. Use Running  Cleaning Software
Internet users should use system cleaning software (Windows washer, Ccleaner)  in the computer for deleting system temporary files, repair invalid registry files, Temporary Internet files, Internet history.
Download link of Computer Cleaner software
http://ccleaner.com
If there are normal issues related to Internet speed on your computer or Laptop it will be solved after these operations. But, if the problem persists, something more should be done as given below:
4. Boost Internet speed in computer by changing configuration setting: 
Windows 10, 8, 7, and Windows XP Operating system (only Professional Edition) stores 20% of your Internet bandwidth reserve. To increase Internet Speed in Windows 10, 8, 7, and XP change configuration settings in the Group Policy Editor. For this, follow the steps given:
Below given stepwise tips for increasing Internet bandwidth speed 
Ensuring that Computers should be logged with only "Administrator accounts"
Click on the start button and type  Run in the search box and open it.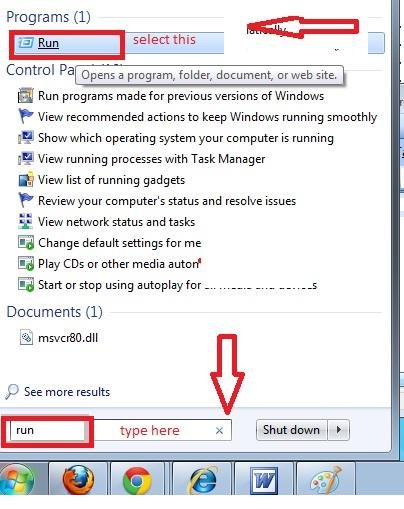 In Run dialog box, type – gpedit.msc. Press Enter.
Local Group Policy Editor Window will be opened.
 In the left pane under the local Computer Policy menu, there is  Administrative Template. Double Click on it.  Now the Network option is opened.
Below the network. there will be many options, in these, one option is QoS Packet Scheduler. Double click on it.
A Tab having many options will be opened beside it.  This is QoS Packet Scheduler tab. Double-click on limit reservable bandwidth option on the right side.
Again open limit reservable bandwidth by double clicking. A new window or property box comes in front of your eyes. Click (check) the Enable button. In bandwidth limit (%) write 0 in place of 20. Now to save these settings first click on Apply button and then on OK button.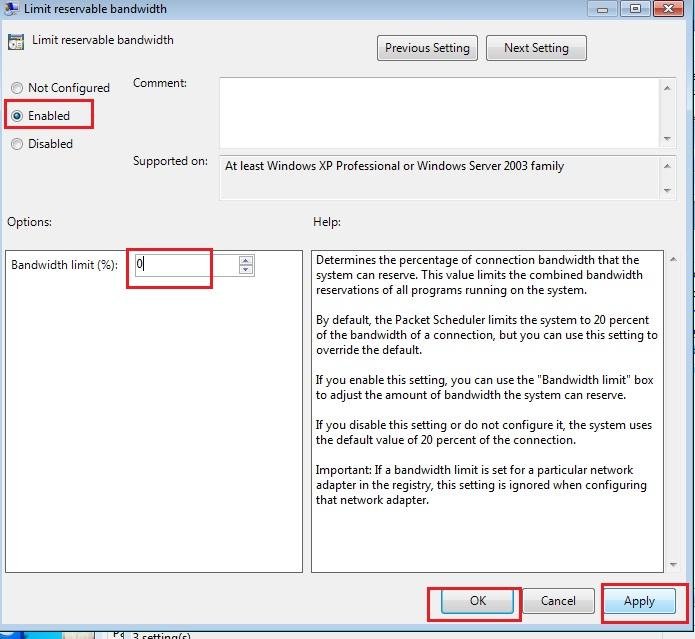 Now exit from gpedit.msc window. Finally, restart the computer and check the Internet speed again.
1. Surf, Browse with Great Speed on PC on Slow Internet Connection
2. Fasten Web Surfing Speed using 4G Speed Up Internet Browser
3. How to Optimize Windows 10 Performance to Get Ultra-Fast Speed
4. How to Save Internet Bandwidth on Windows 10