In Bihar to pay electricity bill was really a tough ask for people. But, it is now a past story. Now simply open browser and type
https://sbpdcl.co.in/(S(bsvk2wcrqetjnqxpcw44fezj))/frmQuickBillPaymentAll.aspx for South Bihar Consumers or
https://nbpdcl.co.in/(S(gnq1wi1f3ms1kejynr0qnilg))/frmQuickBillPaymentAll.aspx for North Bihar Consumers
on URL address bar of web browser and then after click View and Pay Electricity Bill. Remember here Online Payment of Electricity Bill would be made through Online Banking. Successive steps, as mentioned below, will show the elaborated way to Pay Electricity Bill Online in Bihar separately for North as well as South Bihar.
North Bihar Consumers can pay electricity bill online through NBPDCL (North Bihar Power Distribution Company Ltd) and South Bihar consumers through SBPDCL (South Bihar Power Distribution Company Ltd) websites.  At first, I would describe the process to Pay Electricity Bill Online in Bihar for South Bihar Consumers through SBPDCL. 
You may like to read
How to file RTI Online / Application Form
How to Pay Electricity Bill online in South Bihar Through SBPDCL
Earlier I have already told that consumers belonging to Divisions in South Bihar can pay Electricity Bill Online through SBPDCL. The particular divisions under SBPDCL and NBPDCL are written at last of this article. To pay Electricity Bill online in SBPDCL Follow the steps given below:
1. At first, click SBPDCL
2. Select your Division from drop down menu like the image below:
2. write your consumer id or account number and click on View & Pay Your Bill.
3. Now you can read and know your electricity bill amount you will have to pay. From this page, you can take a print out of your bill. To making payment, click on Pay Now Button.
4. In the next page Write Bill Amount, Mobile Number or email id and select Internet Banking & Debit Card – All Popular Banks. Click on Pay.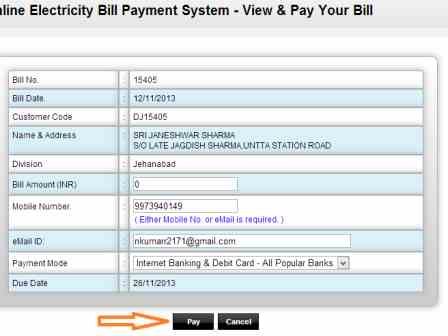 5. In Next page Select Bank through which you are going to make payment and write email id and click on Make Payment.
6. Now you will be navigated to the online banking website. Make payment through the Bank website. All is done.
Although there are total 352 counters for the collection of electricity bill in all areas in South Bihar, and you can pay through AnyTime Payment Machine (ATP Machine), Sahaj Vasudha Kendra, Mobile Van in PESU Areas, online payment is still more convenient. Proposal for payment of electricity bill through POS Machine is yet to be accepted.