Windows 8 desktop users often need to use an external microphone while they start online voice or chat with Skype. But there is no need to install an external microphone for a Windows 8 laptop, because all latest laptop models come with a built-in microphone by default. User then needs only to verify that the installed driver of microphone is working perfectly.
Sometimes you feel that the working microphone is sending low-quality volume to the other end user during making free voice calls with Skype. And you get complaints several times about the low sound quality. In such a condition, you may have to increase the volume level to improve the output audio quality. If you sense your microphone volume has become decrease in Windows 8 system then this tip will guide you how to increase microphone volume.
Steps to Increase Microphone Volume in Windows 8
Step 1
Go to Windows 8 desktop and right-click on the Sound icon in the taskbar panel.
From the shown drop-down options, click on Recording Devices option.
Next, you will get sound window on the screen.
Step 2
Here, right-click on the active microphone which is shown with a green check-mark.
Next, select the Properties option from drop-down panel.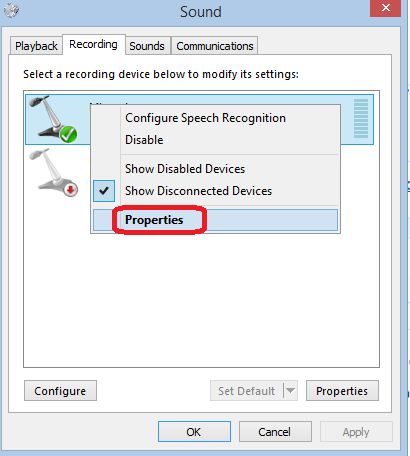 Step 3
Under the Microphone Properties window, click on the Levels tab at the top side. Now you will have two settings sections. At first, move the slider to boost the volume percentages in the first section. In the second section, you will get that the boost level adjusted

at

0.0 dB by default. So drag the slider to set it up to +36 dB.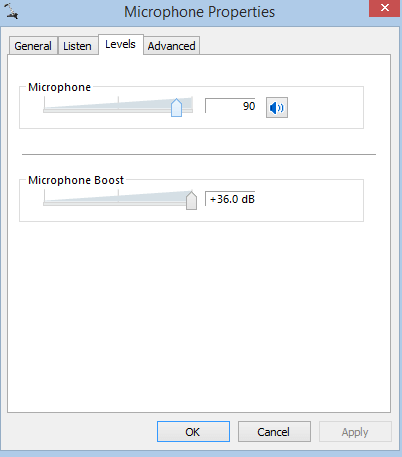 Once the above steps are followed carefully, you will get better feedback from the other end user immediately during chat.