Recent times, a new cloud service namely SoShare powered by BitTorrent now offers you the option to send files up to 1TB. Sending large files and documents has been an easy process over the web. To make the process easier and quicker, Cloud storage is the great solution that allows large files and documents to share with your friends on the web. These days there are many cloud services available on the Internet. Out of them maximum offers limited storage space to share files without any payment. If any user subscribes any paid subscription pack of running different cloud storage services, they will get many storage solutions and advantages.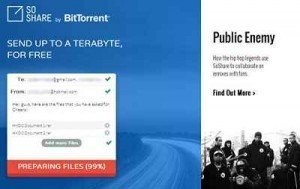 Some Facts about SoShare
SoShare provides an option to share the files in secret mode or through the public link.
With SoShare service, you can upload files up to 1TB in space. But, keep in mind that the uploaded files will be valid for only 30 days. Later, the uploaded files will be expired.
At this time there is no paid plan of SoShare service. It works completely free. But, in the forthcoming days, you can imagine for premium subscriptions.
How to use SoShare?
At first, go to the official website of SoShare service.
Share service works perfectly with Chrome, Safari, FireFox and Internet Explorer browsers. Next, download and install the SoShare app in your browser.
To send your large files, type your email and your sender's email. You can send the files to numerous recipients at the same time with this service. To do so, only place a comma between every email address. Then, click on ADD FILES link to begin uploading the files where you like to share.
Really, the bigger file takes a long time during the upload. The upload speeds depend on your Internet connection.
Several files will be packaged in a single location so that the recipient can download all the files using a single click.
When the recipient begins downloading the file, SoShare will inform the sender with email notification. If you sent the files to several recipients it will inform you which one of your recipients is downloading the file.