Super Mario game series was termed as a milestone in the history of the digital gaming production. The first classic series "Super Mario Bros" game was launched by a Nintendo developer team in 1985.  Really this game had gained enormous popularity between the years of 1985 and 1990 and had broken every gaming record. After two decades, most people still like to play this classic game on their PC or mobiles. You can say thanks to the several online flash games based websites, which facilitate you to play this addictive game online free.
Playing Super Mario game online is the simplest method to get pleasure for those users who don't have any technical understanding about emulators. But, if you like to obtain the true experience of the game then you should examine emulators to play Super Mario on computers.
How to Play Super Mario Brothers Online 
You can play Super Mario Bros online flash game for free. For playing games online, you need a latest web browser (Chrome, FireFox, Opera) with Adobe Flash player installed. A high-speed Internet connection is required for gaining best Super Mario gaming experience. There are many flash game websites which allows you play Super Mario Bro online without appearing advertisement or pop-up. Click on any bottom links and start playing Super Mario online.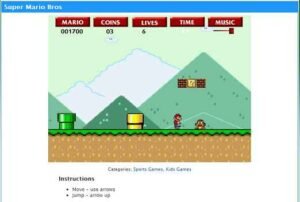 Keyboard tips to control the Super Mario game during play online
Left arrow keys –  Move left
Right arrow keys –  Move right
Up arrow keys – Jump
Down arrow keys –  Crouch
How to Play Super Mario Brothers on computer with Emulators
It is the simple way to play Super Mario game online on your desktop or laptop. But, in most cases the game is modified and doesn't present the classic reaction about Super Mario game. To get experience with a lot of fun, you need to understand about emulators. At this moment, you will use NES (Nintendo Entertainment System) emulator to play Super Mario on your desktop computer.
To play the game, you need to download and install two following essential things to your computer.
Search and download Super Marion Game file in .nes extension yourself over the Internet
Just extract the downloaded zip folders and click on fceux.exe to start the emulator.
Then navigate to the File menu and click on Open ROM. Next select the game file from your computer locations.
Now you are ready to play Super Mario Game on a desktop computer.
Controls shortcuts to play the game on the desktop
D+Right Arrow Key – Run in the right direction
D+Left Arrow Key –   Run in left direction
F key – Jump
D key – Fire