Sometimes the Samsung galaxy user is too busy, they can't receive to incoming calls in a pocket or bag. As a result, they see many missed calls on the phone screen. This problem occurs due to low lauding of the phone ringer volume. Don't worry a solution is available how loud your galaxy S4 smartphone ringers while it in your pocket or purse. Luckily, the Samsung Galaxy S4 offers you to increase the ringer volume when your phone is in your pockets or bags.
Related Post:
How to Add Application Shortcuts to Samsung Galaxy S4 Lock Screen
How to increase the Ringer Volume of Samsung Galaxy S4 in Pocket

Step 1
At first, launch the Settings menu.
Tap on My device option from top panel of the phone screen and select the Call option from list. .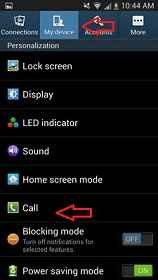 Step 2
Next you will see the screen of Call settings option. Here check the box beside "Increase Volume in Pocket "option.
After set the above call settings in your galaxy S4, your phone rings in your pocket loudly and capable to hear it without problem.