If you Install IDM into Opera then downloading items from the web becomes quite easy. Opera browser offers to add Internet download manager by integrating and subsequently installing from Extensions gallery. However, IDM Integration process is very easy but where it comes to install the extension users get stuck. So here we will provide both the process with simplification.
Opera is a leader in the web browser world because of its speed, easy interface, and lightweight design. whereas IDM is a very helpful software which manages and schedules download moreover, enhances the download speed up to 5 times. IDM is the short form of Internet Download Manager. Additionally, it has the powerful recovery as well as resumes capabilities in case the download is disrupted due to network error and lost connection.
You may feel the need to Install IDM into Opera as it is featherweight, faster than others as well as a secure browser.  Previously we used IDM in Microsoft Edge, Google Chrome, Vivaldi as well as Microsoft and Firefox browsers. But coming back to Opera, the browser does not always automatically integrate with this software. You need to do this manually. It requires little attention and we will show the procedure in a string of steps in order to make you clear about the task. So let's start.
How to Install IDM into Opera Browser
The first task is to ensure that IDM is integrated into the Opera browser and to accomplish the task, pursue the below steps for this –
Integrate IDM into Opera Browser
Step-1: Open IDM from desktop and click on the Downloads from the Top menu bar. Once Downloads drop down appears, select Options, the last one.
Step-3: Internet Download Manager configuration window opens up with General tab as default. Here you will get some options with checkboxes. Select the option namely Use advanced browser integration. From the list of the browsers, locate the option Opera. Finally, click on the option OK.
As IDM got successfully integrated with your Opera browser on your computer so you can now proceed to Install IDM into Opera.
Install IDM in Opera Browser
Step-1: Launch the browser on your PC, click on O-Menu from the browser and select the option Extensions. A submenu comes up, from there, again click the option Extensions. This opens up Opera Extension page.
Step-4: Moving ahead, launch File Explorer and navigate to the below-given file location
C:\Program Files (x86)\Internet Download Manager
Step-5: Once you go to the location, find IDMGCExt. After locating it, just drag this IDMGCExt and drop it into the Opera Extension page.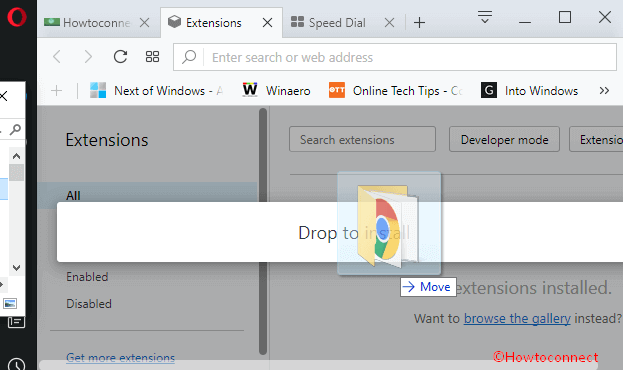 Upon completing the above sequence of steps, Internet Download Manager ( in short IDM) will be installed in your Opera browser. Enjoy its excellent features as the browser also comes with Adblocker and free VPN features too.
Conclusion
We all know that Opera is a lightweight as well as a faster browser in comparison to others. Moreover, the addition of Ad blocking feature and free VPN made it an amazing browser to surf the internet. IDM is the best downloading tool loaded with excellent features. A combination of these two will be a precious one. We hope that you can now effortlessly Install IDM into Opera. You can now enjoy the browser with lightening download speed and use this well for more productivity.