Two Times Sign in Windows 10 has become a buzzing issue with the users who have recently updated their machines to Fall Creators Update. This problem also breaks out after they attempt to install an update from Microsoft. Users are reporting repeatedly that they need to provide the Windows login credential twice to access desktop. They are experiencing this double sign in trouble after shutting down or a restart.
Two Times sign in Windows 10 has already been propagated out among the users and they are badly in need of a perfect solution. The problem actually is, after a start or a restart, when the users try to log in to their computer using password, it redirects back to the welcome page again.
Being so annoying as well as dreadful, this problem needs a resolution immediately. Experts were working hard to find ways in order to resolve Twice Sign in Windows 10. After successful research, they have come up with two very simple and as well as easy ways in order to fix this issue. Therefore, we will be discussing these solutions one by one so that you may fix this immediately after facing. For your easy understanding, we will divide the methods into few steps.
How to Fix Two Times Sign in Windows 10
Try out the below workarounds to bypass this Two Times Sign in Windows 10 problem and see which one works for you.
Method-1: Through Settings
The first method is to disable this very feature from the Windows Settings panel on your computer. To accomplish the task pursue the given steps.
Step-1: First of all, go to the Start Menu from your computer and select Settings option. After that, navigate to Accounts. Proceeding forward, select the Sign-in options on the left sidebar.
Step-2: On the corresponding right pane of Sign-in options, go to the Privacy section. Here, toggle OFF the option namely "Use my sign in info to automatically finish setting up my device after an update or restart".
Thus the computer will not have this issue anymore and as well as it will start with one-time logging in only. This solution is found to be working in most of the devices. But if you still face the same issue again, you can follow the next method too.
Method-2: User Accounts Settings
Step-1: To fix Two Times Sign in Windows 10, launch the User Account Settings. To do so, press the Windows+R hotkeys and type in netplwiz in the text field and hit Enter.
Step-2: This immediately opens up User Accounts dialog on the PC screen. Here, you can notice an option stating "Users must enter a username and password to use this computer". You can see that by default, this option is checked.
Step-3: Disable this option by removing the mark from the checkbox here.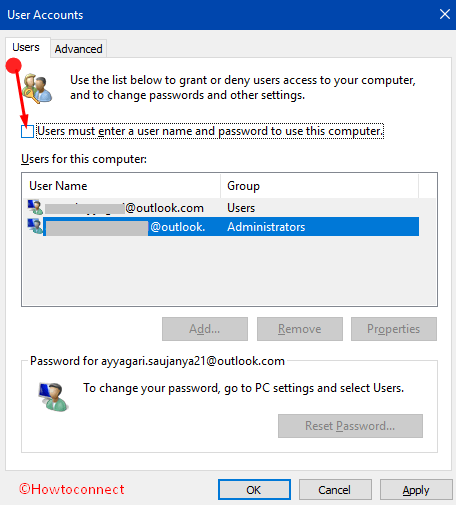 Step-4: Provide your login credentials here and restart your Windows 10 PC. After restarting the computer, follow the say way to go to the option and the dialog box. Re-enable it again and hopefully, we can expect that the problem will not be rising anymore.
Conclusion
Users may face some temporary issues with the latest version 1709 and the problems are easy to resolve using simple tricks. We have discussed two different workarounds to overcome the Two Times Sign in Windows 10 issue. This trouble is annoying but the solution is very easy too. Follow the instructions properly and apply to mentioned placed properly. Hope you can escape this problem and enjoy using your PC with Windows 10 flawlessly.
Repair any Windows problems such as Blue/Black Screen, DLL, Exe, application, Regisrty error and quickly recover system from issues using
Reimage
.