Microsoft releases security update and cumulative  KB4338819 for Windows 10 17134.165 today. This patch contains updates for HoloLens quality improvements and significant fixes. Changes in Universal CRT Ctype family and WebView content are the main points of these packages. Moreover, fixes in GPO processing problem and Mitigation Options are the included.
You can download KB4338819 msu files for 64 bit or 32 bit depending on your machine for Windows 10 and Windows server from the Microsoft update catalog. Otherwise, the system will automatically install the same.
KB4338819 –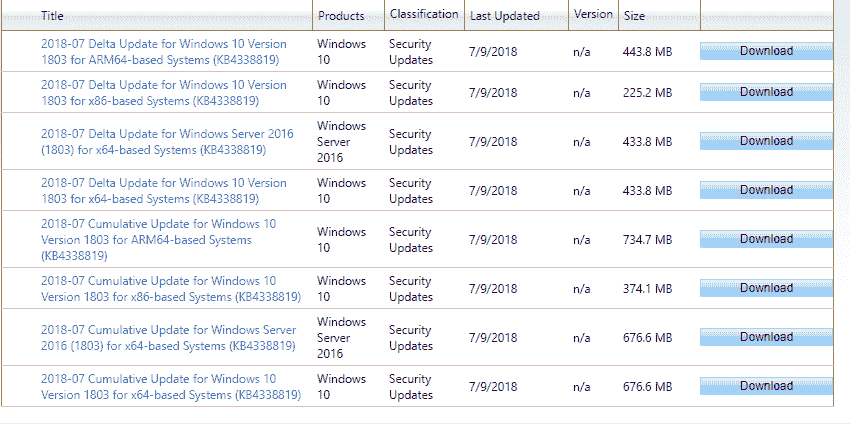 KB4338819 Security and Cumulative Update for Windows 10 17134.165 Details and download location
Here are KB4338819 Security and Cumulative Update for Windows 10 17134.165 details –
The package boosts up the ability of the Universal CRT Ctype family of functions to appropriately control EOF as valid input.
The update patch enables debugging of WebView content in Universal Windows Platform apps with the Edge browser DevTools Preview app. The app is available in the Microsoft Store.
In KB4338819, Windows 10 team works on Mitigation Options Group Policy client-side extension to fail during GPO processing problem. The error message appearing during the extension mess up is "Windows failed to apply the MitigationOptions settings", "mitigation options settings might have its own log file" or "ProcessGPOList: Extension MitigationOptions returned 0xea.".
This problem takes place when Mitigation Options is defined either manually or by Group Policy on a PC. Windows Defender Security Center or the PowerShell Set-ProcessMitigation cmdlet performs this process.
KB4338819 update evaluates the "Windows ecosystem" and help confirm "app and device compatibility for the entire updates" to Windows.
The package provides Security updates to "virtualization", (IE) "Internet Explorer", "wireless networking", Windows applications, kernel, "graphics", "data center networking", and "Windows Server".
If you received previous all updates, only the new fixes in this patch will be added to your device.
To have a vast knowledge of the resolved security vulnerabilities, you can navigate to Security Update Guide.
How to download KB4338819 Security and Cumulative Update for Windows 10 17134.165
The Windows update system will automatically install the cumulative and security update package on your PC. But if you like do the same manually then go standalone package for this update, go to the Microsoft Update Catalog and download KB4338819.