Microsoft releases cumulative update KB4462919 for Windows 10 1803 OS Build 17134.345. The patch contains security update to deal with CVE-2018-8333 vulnerability. This is a nasty Microsoft Filter Manager Elevation Of Privilege Vulnerability that can manipulate your computer to inject codes.
You can download KB4462919 from Microsoft update catalog in MSU file format.  Although you will receive the same automatically on your system on or after October 9, 2018.
KB4462919 –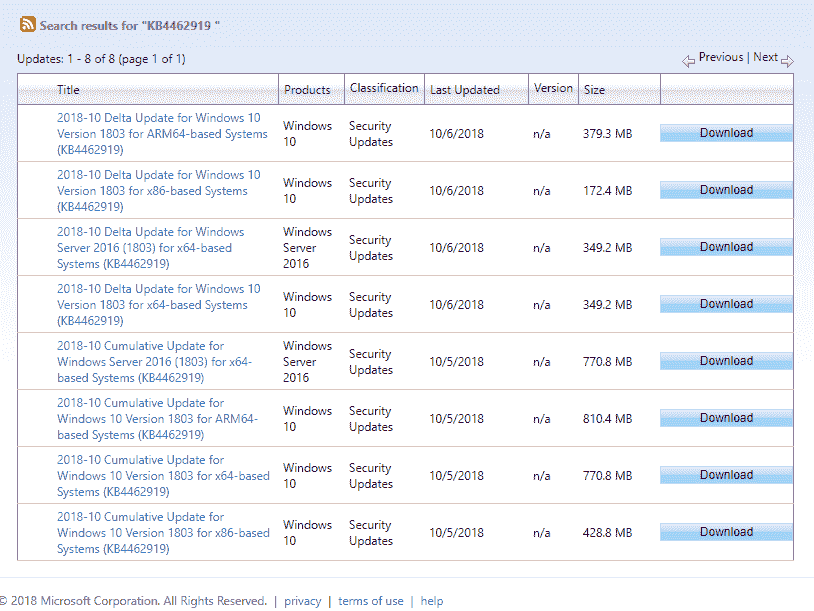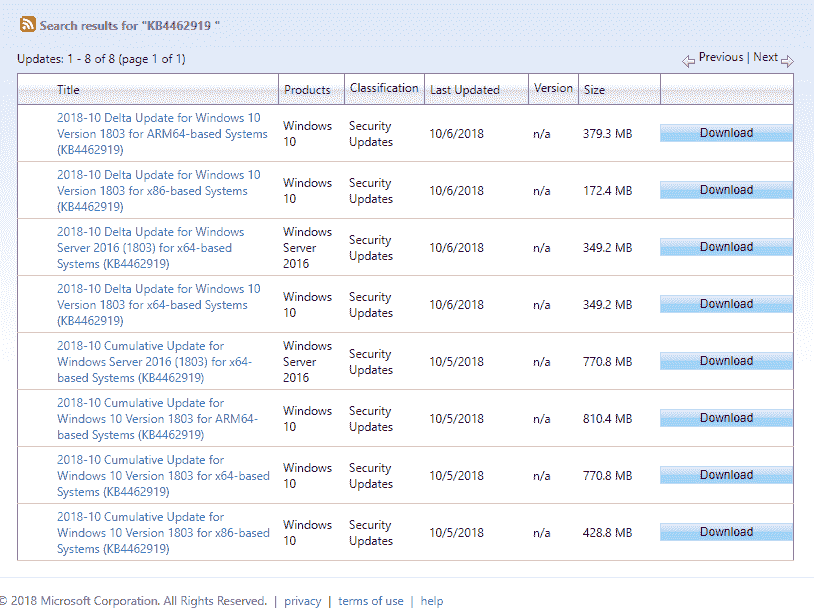 KB4462919 for Windows 10 1803 Build 17134.345 Details
The Cumulative update KB4462919 for Windows 10 1803 version includes security update for the vulnerability that exists in Filter manager code CVE-2018-8333. The Security bulletin explains that an Elevation of Privilege vulnerability exists in Filter Manager when it improperly handles objects in memory. An attacker who successfully exploited this could execute elevated code and repress an affected system. The invader could then install programs; see, change, or remove data; or create new accounts with full user authority.
To juggle the vulnerability, an attacker would first have to log on to a target system and then delete a specially crafted file.
The security update KB4462919 addresses the vulnerability by correcting how Filter Manager handles objects in memory.
The patch is Security updates to (IE) Internet Explorer, (WMP) Windows Media Player, Microsoft Graphics Component, Windows Peripherals, and Windows Shell. Furthermore the same also applies to Windows Kernel, Windows Datacenter Networking, Windows Storage and Filesystems, Microsoft Edge, Microsoft Scripting Engine, Windows Linux, and the Microsoft JET Database Engine.
If you already received previous updates, just the new fixes residing in this package will be downloaded and installed on your device.
How to download KB4462919 for Windows 10 1803 Build 17134.34
Windows cumulative update KB4462919 requires that you install the latest servicing stack update for before receiving the latest cumulative update (LCU). SSU works for the mitigation of the possible problem while installing the LCU.
If you are running Windows Update, SSU (KB4456655) will reach you automatically.
You can download KB4462919 for Windows 10 1803 OS Build 17134.345 using 2 methods –
1. Via Window update
KB4462919 will arrive in your system automatically moreover you are able to manually check the update to install anytime.
Go to Windows Settings by pressing Win + I hotkey.
Click on Update & Security
Shift the right pane in the subsequent window and click on Check for updates.
2. From Microsoft update catalog
You can download KB4462919 for Windows 10 1803 Build 17134.345 MSI file the Official Microsoft update catalog.
Click this link to this and navigate to the page where all the files are kept. Check your computer's bit, match the version and and click on Download button from the far right.
Source – Release note.