Microsoft delivers the Cumulative update KB4467696 for Windows 10 1703 OS Build 15063.1446.
The update introduces no new features or major system changes rather the update supposedly accompanies some quality improvements.
You will obtain the patch automatically moreover you can download KB4467696 as MSU file from Microsoft Update catalog. If you haven't received the update until now follow Settings -> Update & Security -> Windows update and click on 'Check for updates'.
KB4467696 –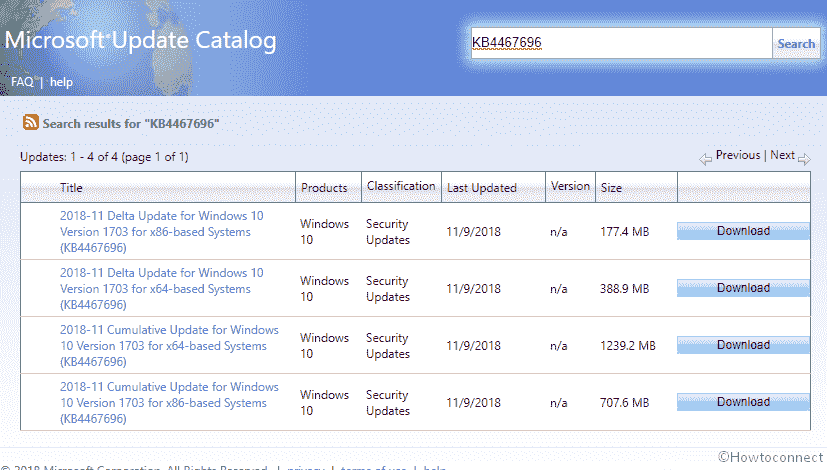 KB4467696 for Windows 10 1703 Build 15063.1446 Details
Microsoft's update notification states that the update, KB4467696, provides added security in respect of an extra subclass of speculative execution side-channel vulnerability, Speculative Store Bypass (CVE-2018-3639) for the AMD-based systems. While the security offered isn't by-default active, users need to manually enable them by following the below-listed guidelines.
• Instructions for Windows client (IT pro) – KB4073119.
• Instruction for Windows Server guidance – KB4072698.
Users are requested to follow along these listed guidelines for enabling mitigations for SSB (CVE-2018-3639). To know more about the security vulnerabilities that's been resolved, refer to the Security Update Guide,
Also, the patch covers the security updates to "Windows Scripting", "Windows Graphics Platform and Frameworks", Edge Internet browser, Windows App, IE, "Windows Kernel" and also Windows Server.
KB4467696 Known issues for the update
Following symptom's been detected with this cumulative update as notified by Microsoft –
"After you receive either of the 11/09/2018 .NET Framework update and August Preview of Quality Rollup, SqlConnection instantiation may show an exception. For more details about this issue, see the 4470809 article in the Microsoft Knowledge Base.
As for its resolution status, Microsoft is still on it and the upcoming release will probably provide an update on it.
Download KB4467696 for Windows 10 1703 OS Build 15063.1446
Your system will automatically download KB4467696 and install the update unless you have disabled the updates.
If you prefer downloading the standalone for KB4467696 for Windows 10, you can do so from the Microsoft Update Catalog Website.
Before making the update, we suggest, as Microsoft recommends, install the latest servicing stack update for SSU. This is so as to mitigate any potential problems while you get the latest cumulative updates.