Microsoft has rolled out multiple cumulative updates including KB4467702 for Windows 10 1803 Build 17134.407. This patch does not contain any new features for the operating system but provides important updates and fixes. Furthermore, this release also incorporates updates for Microsoft HoloLens which was released on November 13, 2018.
You can download KB4467702 either directly through Windows Update or by visiting Microsoft Update Catalog. If you have already installed earlier updates, then only the fixes that KB4467702 contains will be downloaded moreover installed on your device.
KB4467702 –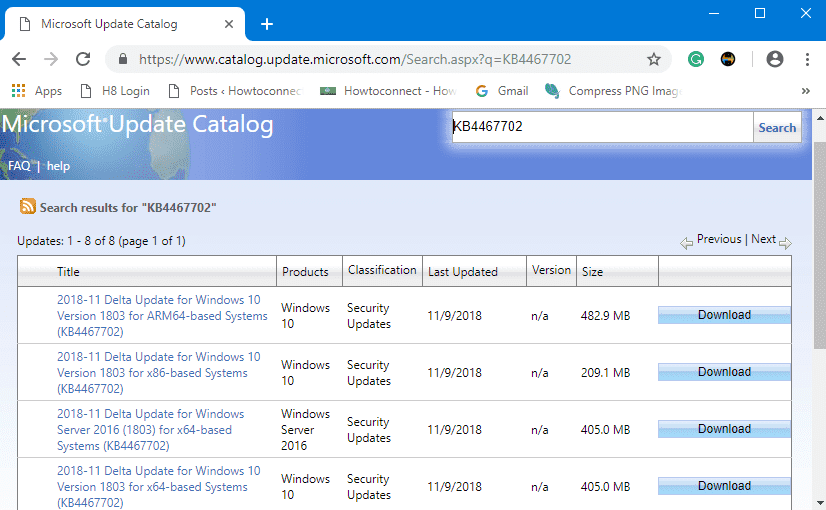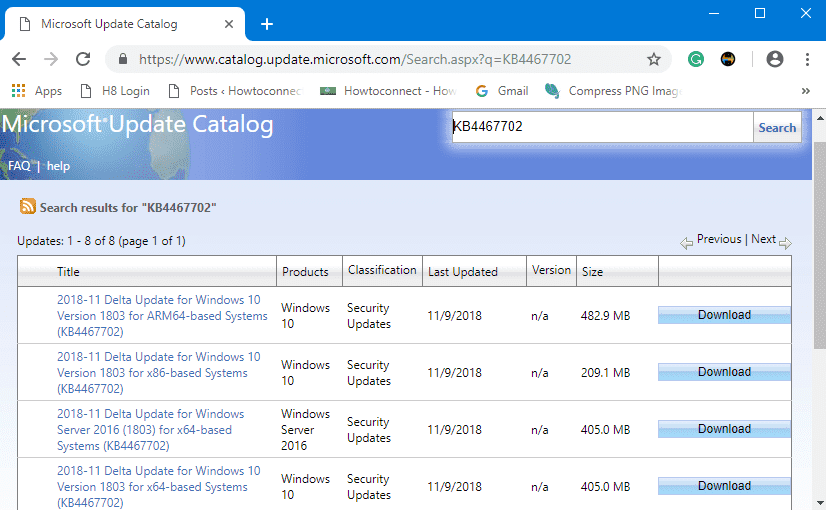 KB4467702 for Windows 10 Version 1803 Build 17134.407 Details and Download location
Microsoft and the team provide protection against an additional subclass of speculative execution side-channel vulnerability known as "Speculative Store Bypass" (CVE-2018-3639) for AMD-based PCs. By default, these protections are not enabled. However, for Windows client IT Pro guidance, you can go through the instructions mentioned in KB4073119. And for Windows Server guidance, you can follow the instructions in KB4072698. So, with the help fo these guidance documents you can enable mitigations for "Speculative Store Bypass" (CVE-2018-3639). Moreover, use the mitigations that are already been released for "Spectre Variant 2" (CVE-2017-5715) as well as "Meltdown" (CVE-2017-5754).
The release of KB4467702 resolves the problem that stops developer tools (F12) from starting in Microsoft Edge.
In addition to the fixes, this patch also carries security updates to various sectors like Internet Explorer, Windows Scripting, Microsoft Edge, Windows App Platform and Framework, Windows Server, Windows Media, Windows Graphics, Windows Kernel, and Windows Wireless Networking.
Known Issues in KB4467702 for Windows 10 Version 1803 Build 17134.407
Symptom
Workaround
After the successful installation of the "August Preview of Quality Rollup" or September 11, 2018, .NET Framework update, instantiation of "SqlConnection" may throw an exception. To know more about this problem, go through the below-given article in the "Microsoft Knowledge Base".
"4470809" SqlConnection instantiation exception on .NET 4.6 moreover later after August-September 2018 .NET Framework updates.
Microsoft is presently working on its solution and will soon come up with an update in the upcoming release.

Once you completely install this patch, you may fail to set Win32 program defaults for specific apps. Moreover, you might also not be able to set file type combinations using the Open with… command or Windows Settings => Apps => Default apps.

Additionally, Microsoft Notepad or other Win32 programs also create issues and cannot be assigned as the default.

In certain cases, your repeated attempts to set application defaults will get success.

In the meantime, Microsoft is working on a resolution. The team estimates a workaround will be out in late November 2018.
How to download KB4467702 for Windows 10
Microsoft always ensures you install the current "Servicing Stack Update (in short SSU) for the OS. This is an essential task that you should carry out before installing the latest Cumulative Update (LCU). Normally, SSUs enhance the reliability of the update procedure. This helps to mitigate potential problems during the installation of LCU as well as while applying Microsoft security fixes. For example, see Servicing stack updates.
In case you are using Windows Update, you will automatically receive the current SSU KB4465663. However, in order to download KB4467702 standalone package for the latest SSU, you can visit the Microsoft Update Catalog.
Windows Update will all by itself download as well as install this patch on your device.