Windows 10 version 1607 receives the cumulative update KB4478877 today. This patch includes quality improvements for the OS and addresses only SNAT problem. The update targets Windows 10 Build 14393.2641.
You will get this automatically, else, you can download KB4478877 from Microsoft update catalog website.
KB4478877 –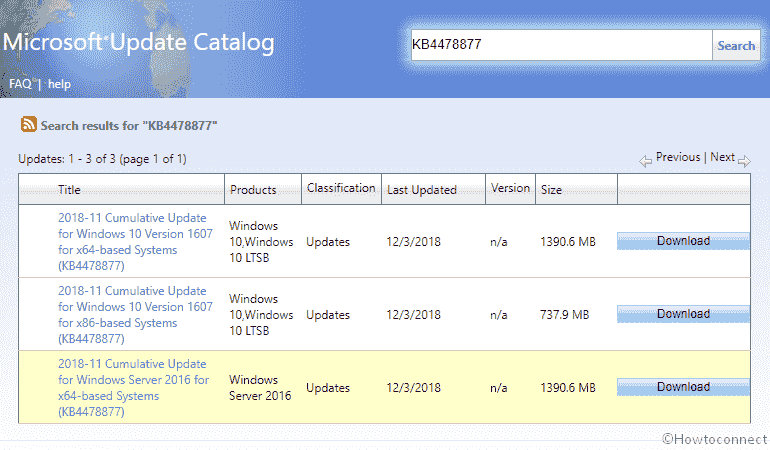 KB4478877 Windows 10 Version 1607 Build 14393.2641 Details
Cumulative update KB4478877 addresses on-demand SNAT i.e Source Network Address Translation port allocated to a virtual machine (VM) that doesn't release once the SNAT port is no longer in use. As a result, the 'port' becomes exhausted.
If you have installed the previous updates regularly then only new fixes will work on the OS.
Windows Update Improvements
Microsoft has rolled out an update straight to the Update client to improve reliability. The Windows 10 Professional or Enterprise devices that have Windows update automatic configuration will receive the most recent feature update depending on Business deferral policy and compatibility. This is not applicable to long-term servicing editions (LTSE).
KB4478877 Known issues
Symptom
Workaround
After you receive either 11/09/2018 .NET Framework update or August Preview of Quality Rollup then while getting SqlConnection may throw an exception. For detail information read KB4470809.
Microsoft is trying to resolve the issue will send an update in an impending release.
Because of a bug in this update, you may be unable to use the Seek Bar in Windows Media Player (WMP) when playing particular files. Normal playback will remain unaffected.
Microsoft is actively working on a resolution and estimates a fix that will be available in the middle of December 2018.
When you use features related to end-user-defined characters (EUDC), the complete system may start not responding.
As a workaround, double-click on a font file or go to the font folders instantly after logging on.

Microsoft is also trying to resolve the issue and will include an update in a forthcoming release.
How to Download KB4478877 and install
Before installing this update
You must install the latest SSU before receiving the cumulative update KB4478877. Servicing Stack updates improve the reliability of the whole process and mitigate potential problem while getting the LCU.
You will get the SSU KB4465659 for Windows 10 1607 automatically in this regard automatic. Alternatively, download the stand-alone package for the latest SSU, go to the Microsoft Update Catalog.
Install this update
To download KB4478877 and install, navigate to Settings => Update & Security =>  Windows Update and select Check for updates.
To grab the stand-alone package for this cumulative update, visit this page.
Source – Release note.