Another cumulative patch is unfolded by Microsoft on the 1st day of March and KB4482887 for Windows 10 1809 version Build 17763.348 has made its way out. Apart from regular patch Tuesday Schedule, this new release contains remarkable fixes inside associated with Remote Desktop, Windows Hello, Action Center, shared folder, PDF in Microsoft Edge and so on. Furthermore, as the company addresses, the OS build has several quality improvements including a few methods aiming at enhancing Stability.
Users running Windows 10 v1809 in their devices will receive KB4482887 automatically. We will be elaborating the improvements, Bug fixes, Quality enhancements of this release in the following segment.
KB4482887 –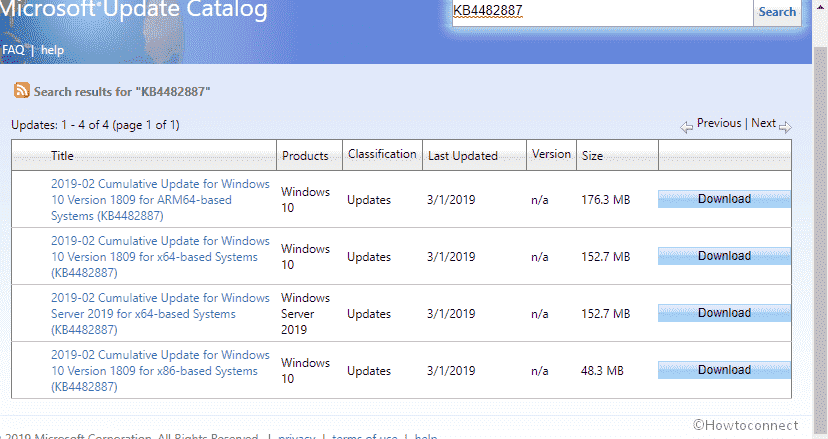 KB4482887 for Windows 10 1809 – 01 Mar 2019 Feature and Fixes Details
This new OS build will enable "Retpoline" for Windows for some specific devices. In the process, the performance of Spectre variant 2 mitigations (CVE-2017-5715) will go high.
Action Center used to appear on the wrong side of the screen and the issue will be no more existing.
Starting from this release, inked contents in PDF document for Microsoft Edge browser will save normally. Previously, users had trouble in saving if they would erase some ink instantly after starting a session and attempting to add more of it.
Fixes the issue of previewing media type as "Unknown" in Server Manager for storage class memory (SCM) disks.
There is no more problem with Remote Desktop access to Hyper-V Server 2019 used to appear in past builds.
This patch arrived with noticeable fixes for an issue causing republication BranchCache to take more space than user assign.
Performance increased in case of establishing a Remote Desktop connection (RDP) to Windows Server 2019 from a web Remote Desktop client.
Laptop screen used to appear black after resuming from Sleep if you have closed lid while disconnecting from the docking station. The reliability issue is no more there and you can have full working desktop area in a new session.
"Access Denied" error text will not appear anymore while attempting to override a file on Shared folder. The issue used to occur after installing a filter driver.
KB4482887 patch turns on the peripheral role support for certain Bluetooth radios.
Fixes issues causing failure to print a PDF document during Remote Desktop Session. The issue used to be visible while user trying to save a file and redirect drivers from the client system.
Main Laptop screen used to have unusual flashes after resuming from sleep if connected to a docking station having an indirect display. This issue from the previous build will not be there and you can have full function laptop once turn On.
While using some of the VPN connections, Remote desktop used to stop responding. Screen would appear black and these issues are made normal now.
This OS build arrived with new updated time zone information for Chile region.
You can now easily register USB cameras intended for Windows Hello to enjoy OOBE (Out Of the Box Experience) setup.
After rolling out KB4482887, fixes the issue preventing installation of Print compatibility driver and Microsoft enhanced Point in Windows 7 clients.
Termservice used to terminate once Remote Desktop is configured to use a hardware encoder for Advanced Video Coding which is no longer available.
Moving an application to shared platform via App-V resulting in locking user account in past patches. The issue has got significant fixes after coming to KB4482887.
User can have the improved reliability of UE-VAppmonitor in KB4482887 which made the release a top-notch one.
In the past, App-V applications could not start and also ended up creating an error code 0xc0000225 in the log. The issue is fixed now and you just need to set the below DWORD. This act will configure the maximum waiting time for a driver in the whole volume. Proceed with the path- "HKLM\Software\Microsoft\AppV\MAV\Configuration\MaxAttachWaitTimeInMilliseconds".
There will be no more problems while evaluating the compatibility status of the Windows ecosystem. That was intended to help to ensure application and device compatibility for all updates to Windows.
With the introduction of KB4482887, All the applications will display Help (F1) windows properly without having an issue.
Flickering of the desktop moreover taskbar on Windows Server 2019 Terminal Server while using the User Profile Disk setup is fixed.
Updating User hive while publishing an optional package in connection group was ended up in failure if the group was earlier published. This issue has got proper fixes coming to the KB4482887 OS build.
KB4482887 for Windows 10 v1809 has got performance improvement associated with case-insensitive string comparison functions, for instance, stricmp() in the Universal C Runtime.
There were compatibility issues existing from long before for parsing and playback of some MP4 contents. Well, the issue will not be there anymore.
With the new patch, there is no more issue with Proxy settings for Internet Explorer.
No issues are persistent for setting up the out of box experience (OOBE) where initial logon was not responding after Sysprep.
Group Policy was not updating the desktop background and lock screen images if the photos were old. The same thing was happening for the image files with same names. Hail to Microsoft, they have recovered Windows 10 from this curse.
Fixes the issue causing TabTip.exe touchscreen keyboard to terminate abnormally in some special cases. The issue was rising when people using keyboard in kiosk scenario after the replacement of built-in shell.
The miracast connection will no longer be opened once the connection gets closed from this new release.
Microsoft in this new patch, fixed successfully the issue of virtual disk going Offline. The issue was appearing during 2-node Storage Spaces Direct (S2D) cluster upgradation from Windows Server 2016 to Windows Server 2019.
Earlier patches could not identify the first character for Japanese era name as abbreviation and caused data parsing problem. KB4482887 has overcome this issue successfully and no issues are there in this regard
Internet Explorer could not load an image file having backlash in their relative source path and this issue is no more.
Apps using Microsoft Jet database including Microsoft Access 95 file format will no longer stop functioning after this rollout.
Microsoft has solved the problem in Windows server 2019 used to create timeout for input and output while asking for SMART Data using Get-StorageReliabilityCounter().
Known issues in this update
After installing the new patch, you might face a few difficulties. Microsoft has released the proper fixes for those in the announcement as well. Have a look in the table below contains symptoms and the respective fixes –
Problem
Actions to take
After you finish installing KB4482887 in your device, the Internet Explorer 11 may end up having authenticating issues. The problem arises especially when two or more people use the User account for multiple purposes. Associated reasons are- successive login sessions on same Windows Server device along with Remote Desktop Protocol (RDP) and Terminal Server Logons. Few other issues have come up according to the users. These are-

1. Showing the cache size and location empty or zero.

2. Malfunctioning of Keyboard shortcuts.

3. Web Pages won't load or render correctly and stop in halfway.

4. Users are experiencing problems with Credential Prompts.

5. Downloading files may end in disruption.

As the issue is raising up due to using same account by multiple users, the resolution is to make separate credentials, Try creating separate User Accounts for unique users so that everyone has different IDs for logging in ton Windows Server. Stop sharing the credentials, disable the multiple Remote Desktop Protocol sessions for a singular user in Specific Server.

Be patient until the next release making its way. Technicians are busy in sorting out the issue and eradicate it permanently.

You may receive "Error 1309" while installing or uninstalling MSI and MSP files in the machine after installing KB4482887.
Skip the Error Text. Microsoft's technical team is working effortlessly to remove this issue. Hopefully, it will be okay from next release.
Procedure to Install the Update
If you are running Windows 10 v1809, you can have the available updates following through the Windows Settings app. However, if you have already installed the previous patches, the new package will have only the new fixes and improvements upon installation to your device.
Microsoft recommends the users to receive the latest SSU for the Windows 10 before proceeding to download this latest cumulative update (LCU). The reason they strongly urge is, these SSUs will improve the reliability of the new update. Furthermore, it will also potentially mitigate associated issues coming up while installing LCU with fixes given by Microsoft. You can proceed for installing this update using the following guidelines –
Step-1: Press Win+I hotkeys from keyboard and let Windows open the Settings app.
Step-2: ON the consequent App windows, move ahead to Update and Security tile and make a click on it when reached.
Step-3: Moving on to the next page, select Windows Update from the left pane and move alongside right.
Step-4: Select Check for updates option from here and wait until the searching ends.
Step-5: Hit the Download option available under the found update. Once the downloading finishes, Install the update using the on-screen guidelines.
Download KB4482887 for Windows 10 1809 from Microsoft update catalog website.
Sopurce –
That's all!!!