Windows 10 Build 18351 (19H1) comes up for the insiders who opt Fast ring level. The update includes only fixes and there is no new feature. Prior to the release of Windows 10 1903 April 2019 version, the build brings fixes for the game State of Decay download issue, Explorer.exe crashing, incorrect time in Sandbox, and lots more.
You will receive Windows 10 Build 18351 automatically if the Windows update is not disabled or paused. If you haven't got till now, navigate to Settings => Update & Security and click on Windows update.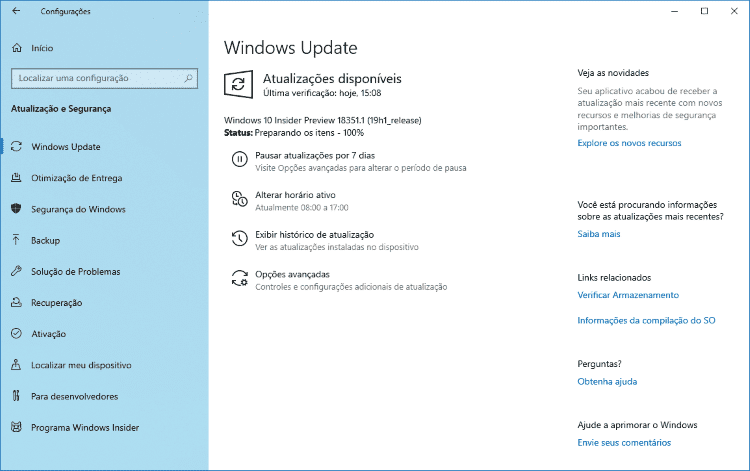 Windows 10 Build 18351 Details Improvements and Fixes Details
As the build doesn't carry any feature see the improvements and fixes directly –
Some insiders were unable to get the game State of Decay for free (for a limited time), hence they have just made more slots available. You know Microsoft has offered this game for testing in Windows 10 Build 18342. They've fixed to improve the download and install experience according to your feedback.
Windows insider team fixed monitors being missing from the built-in Color Management app problem found in recent builds.
They solved Explorer.exe crashing when Jump list content was updated.
The team fixed pin re-entry was appeared 30 seconds delay unexpectedly after a pin was incorrectly entered on the lock screen.
They fixed time displayed in the clock in Sandbox might not match the clock outside.
Microsoft Insiders team fixed emojis in Emoji 12 showing up as boxes in certain XAML text fields.
They solved text scaling values did not continue across upgrades for Win32 applications.
Because of a Narrator reading reliability problem for setting – Change how capitalized text is read, it has been turned off starting in build 18351.
The current build resolved mouse pointer color that might be incorrectly changed to white subsequent to signing out and signing back in.
Known issues of the build
When you open games that use anti-cheat software it may trigger a bugcheck (Green Screen Of Death).
Windows 10 Build 18351, Creative X-Fi sound cards are not working correctly. Redmondians are partnering with Creative to resolve this issue.
Microsoft comes up with some improvements in night light and they are investigating for reported issues.
Certain Realtek SD card readers are not working correctly in this build. They are checking the problem.
The Windows insider team is investigating Chinese version of several games not working.
They're checking region settings problem due to which they got reset on upgrade for certain Insiders.
Windows 10 insider developers are investigating VMware fails to install or update Preview builds. Hyper-V is an effective alternative if available to you.
Source – Windows Experience blog.