KB4487044 cumulative update is supposed to arrive today in Windows 10 1809 changing the version to 17763.316 from 17763.292. The release note is not available currently but as it bangs we will extend the info in the following part. The Redmond will most probably distribute on the patchday today evening. We have found this patch under Control Panel => Program and Features => View Installed update.
You will receive the cumulative update automatically moreover you will be able to manually download  KB4487044 from Microsoft update catalog. Thanks to Deskmodder who firstly traced out this patch.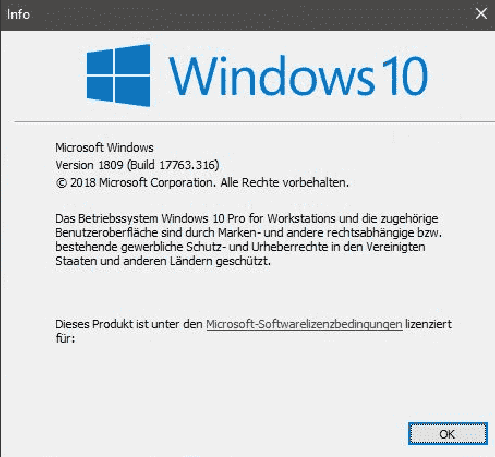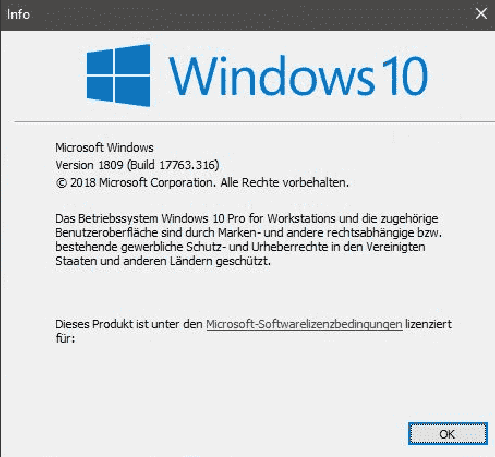 KB4487044 Windows 10 1809 17763.316 Details
Important to know that this patch also includes updates for Microsoft HoloLens.
KB4487044 Improvements and fixes
In this cumulative update, the Windows 10 team addresses fail to set the LmCompatibilityLevel value correctly problem. This entry specifies the authentication mode and session security.
Microsoft experts work on the applications that use a Microsoft Jet database furthermore the Microsoft Access 97 file format does not open. This problem takes place when the database has column names that exceed 32 characters. The database fails to launch with the error, Unrecognized Database Format.
KB4487044 for Windows 10 1809 works on Windows Hello for Business Hybrid Key Trust deployment sign-in to fail problem. The issue occurs when Windows 2019 Server domain controllers aka DC are used for the purpose of authentication. The message appears like – That option is temporarily unavailable. Microsoft suggests using a different method to sign in for now. In the case of enabled Active Directory activity tracing, Moreover, Local Security Authority Subsystem Service exception may happen in the Windows 2019 DC when processing a user's sign in. This problem occurs when Active Directory activity tracing is in the enabled state.
Important – Both of the Azure Advanced Threat Protection and AD Data Collector Set turn on Active Directory activity tracing as built-in configuration.
The patch works on Addresses a Microsoft HoloLens problem that lets users avoid the lock screen sign-in process in some workflows.
This cumulative update carries Security updates to Microsoft Scripting Engine, Edge browser, Windows Server, the Microsoft JET Database Engine, Internet Explorer (IE), Windows Wireless Networking, Windows Storage and File Systems, Windows Input and Composition, Windows Graphics, and Windows App Platform and Frameworks.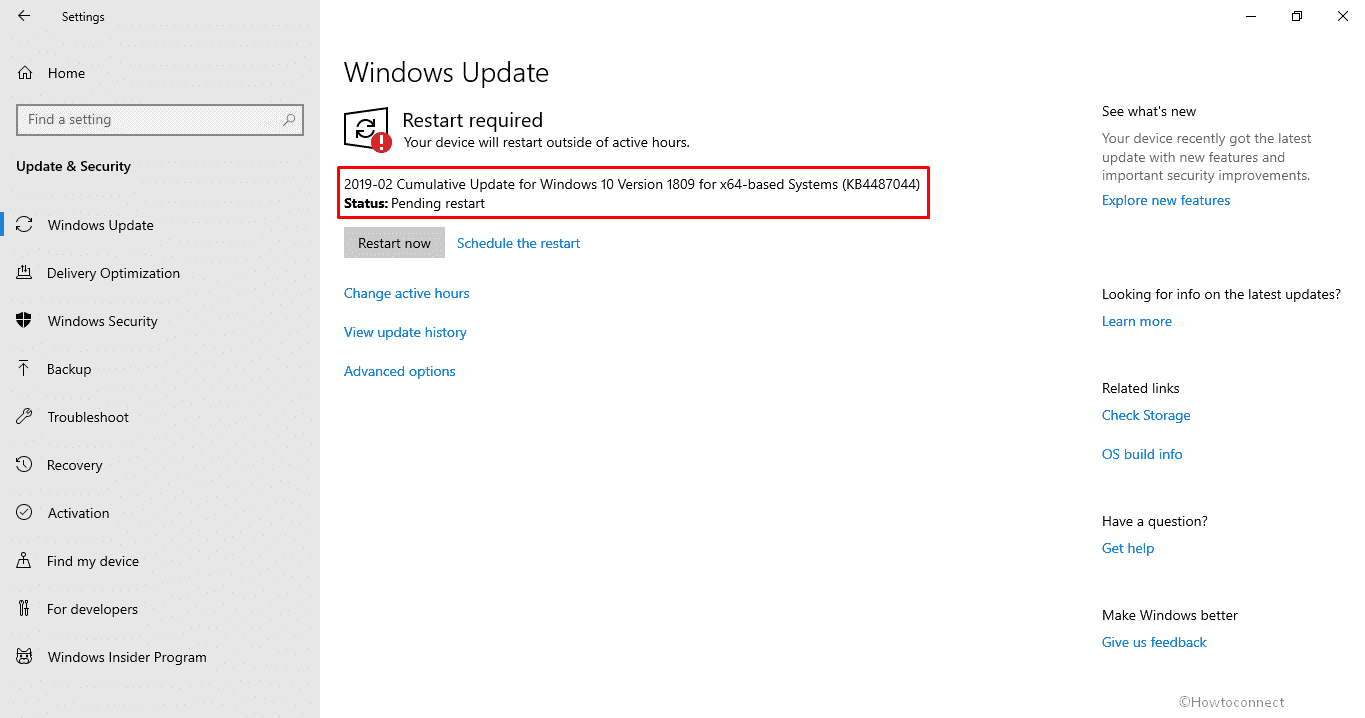 KB4487044 Known issues
Symptom

Workaround

After getting KB4480116, certain users complain that they are unable to load a webpage in Edge using a local IP address. Browsing gets unsuccessful or the web page may become unresponsive.

Open Control Panel and choose Internet Options on the applet.
Navigate to the Security tab afterward select the Trusted Sites icon.
Click on the Sites button.
Uncheck the checkbox for Require server verification (https:) for all sites in this zone.
In the box saying Add this website to the zone, write the local IP address that failed to load, for example,   http://192.168.0.1.
Choose the Add button.
Tick the checkbox for the statement – "Require server verification (https:) for all sites in this zone".
Click the Close button.
Select the OK button.
Close and then open Microsoft Edge.

However, you will get a resolution through an update in an upcoming release, Windows 10 team is working on it.
How to get KB4487044 for Windows 10 1809 17763.316 Patchday Update
Before installing this update
You are suggested to receive the SSU before installing KB4487044. Servicing Stack Updates enhance the reliability of the update process.
The latest SSU (KB4470788) will be provided to you itself. You are able to receive the stand-alone package of the same from here.
Download KB4487044
However, the update will be installed automatically from Windows Update if you have not disabled or pause it. You can also download KB4487044 as the stand-alone package from Microsoft Update Catalog website.
Source – Release note.
Update on Feb 21, 2019
Improvements and fixes –
Microsoft developers work on Edge fails to load webpages using a local IP address or a VPN connection.
Windows 10 team focuses on Microsoft HoloLens causing Miracast to disconnect and not reconnect when an app starts using the camera.
The patch increases the reliability of app downloads from the Microsoft Store and MDM servers while a device is in Standby for Microsoft HoloLens.
Hologram stability is reformed while using Holographic Remoting for Microsoft HoloLens.
KB4487044 for Windows 10 gives assent to  Kiosk mode configuration on Microsoft HoloLens without specifying a startup app.
The reliability of Remote Assist is enhanced in Microsoft HoloLens.
This cumulative update enhances the Wi-Fi Connection during the out of box experience (OOBE) for Microsoft HoloLens.
Microsoft experts work on the problem that removes secondary tiles during an upgrade for Microsoft HoloLens.
KB4487044 for Windows 10 1809 permits you to skip Wi-Fi setup when using a provisioning package to configure Microsoft HoloLens.
Known issues in this update
Symptom
Workaround
This patch may prevent you from identifying Japanese era first character. Moreover, it may also cause date parsing problem.
Registry tweaking for two-character abbreviation for Japanese eras will work. Navigate to

HKEY_LOCAL_MACHINE\SYSTEM\CurrentControlSet\
Control\Nls\Calendars\Japanese\Eras

Now input the values as follow –

when you update this patch KB4487044, the Internet may fail to load images.

Change the relative path to the full URL path, furthermore, Change the backslash (\) to a forward slash (/) in the relative path of the image element.

Microsoft will make an update with resolution available in the next ensuing release.

Those applications may arbitrarily stop working that operate the Jet database with Access 95 file format simultaneously.
You must install Microsoft Access 2007 for these troubleshoot

Option-1: Convert the database to a more recent .mdb file format. This doesn't require a change to the Connection string.

To open a "database" containing the older file format, use Microsoft Access 2007
You will be asked if you would like to convert. Select No to open the database in the current format.
Subsequently, select Save as and select Access 2002-2003 Database from the Office Button menu.

Option-2: Database should be changed to the .mdb file using VBScript. This doesn't require a change to the Connection string. 

Correspondingly, save the following VBScript code to a file such as convert2x3x.vbs and update the database names.
dim dbe

set dbe = CreateObject("DAO.DBEngine.120")

dbe.CompactDatabase "<my2xdb.mdb>", "<mydb3x.mdb>", , 32

Run the script from a cmd prompt.
C:\myfolder\> \windows\syswow64\cscript convert2x3x.vbs

Option-3: Convert the database to the .accdb format with VBScript. Change the connection string to use the .accdb file format.

Correspondingly, update the database names and save the following VBScript code o a file such asconvert2xAce.vbs

dim dbe

set dbe = CreateObject("DAO.DBEngine.120")

dbe.CompactDatabase "<my2xdb.mdb>", "<mydbACE.accdb>", , 128

Run the script from a cmd prompt.
C:\myfolder\> \windows\syswow64\cscript convert2xAce.vbs

Microsoft will make the update available in the next ensuing release and that will be available late February.

You might have experienced authentication issues in Internet Explorer 11, after installing this update. This type of problems takes place while using the common user account by multiple users on the same "Windows Server Machine", with "Terminal Server logons" and "Remote Desktop Protocol".

A few symptoms are listed below that is experienced by the user. However, it may not be limited to –

Both the cache size and location displaying zero or empty.
Keyboard shortcuts may not be working suitably.
Web pages may fail to render correctly.
Issues with credential prompt.
Issues when downloading files.

Make a unique user account so that multiple people don't share the same user account. Moreover, disable multiple "RDP sessions" for a single user account for a specific Windows Server.

Microsoft will make the update available in the next ensuing release.