KB4489886 came to Windows 10 1709 version on Patch Tuesday for the month of March. The update will take the build to 16299.1029. In this context, note that this edition will be reaching the end of service by April 2019 therefore, no updates are available for Pro for Workstation, IoT Core, Pro or Home editions thereafter. As for loT Enterprise, Enterprise and Education versions, the update services will be available only for another 12 months. So, Microsoft recommends you to upgrade to the latest edition earliest possible.
KB4489886 Windows 10 1709 brings a bunch of general fixes for the previously known issues in updates and some system improvements. As usual, no new OS feature accompanies this patch. Talking about the known issues in this update, there are none. You will get this patch automatically via Windows update unless it is not paused or disabled. In addition, you are able to download KB4489886 from Microsoft update catalog site with MSU file type.
KB4489886  –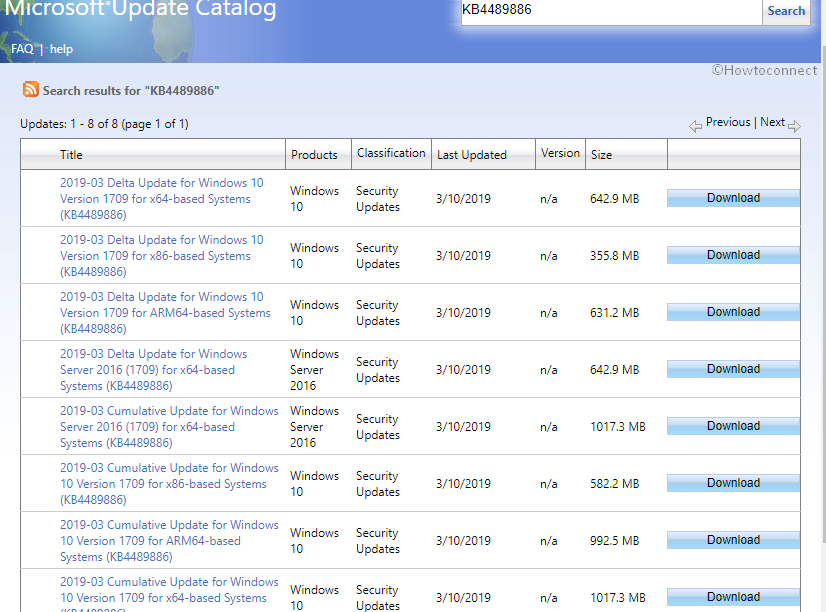 KB4489886 Windows 10 1709 Fixes and improvements details
Given below are the fixes and improvements coming with this update. If you would like to know more about them, check out Microsoft's Security Update Guide.
A problem used to give out Error 1309 as the users uninstalled or installed some files. The cumulative update addresses it.
This patch comes with some security update to different components as the browsers (IE and Microsoft Edge), Windows Input and Composition, Windows Storage and Filesystems, Microsoft JET Database Engine, Windows Kernel, Windows Server, Windows Storage and Filesystems, Windows Kernel, Windows Server, Windows Linux, Microsoft Scripting Engine, Windows Shell, Windows App Platform and Frameworks and
How to get this patch Tuesday update
Your Windows will automatically get this update through Windows Update services. In case you haven't received the update yet, try:
Step 1: Go to Settings.
Step 2: Navigate to Update & Security. Then check if there are any new updates available by clicking on 'Check for updates' link that you see there.
If your system already has all the updates intact, your system will download only the new fixes. Also, you can download KB4489886 standalone package from the Microsoft Update Catalog website.
Note: It is advisable that you get the Servicing Stack Update before you download KB4489886 for safety and efficiency purpose.
Source – Microsoft KB Release note.