KB4493475 for Windows 10 is out which addresses various issues of the operating system. It deals with the problems related to Group Policy, Japanese Era, and more. Moreover, this patch also carries updates for certain time zones and releases several security updates for different categories.
This is for build OS Build 10240.18186 and for currently there are no known issues in this cumulative update. You can get it manually or let Windows download and install it for you. So, the below section describes the key changes that KB4493475 contains.
KB4493475 –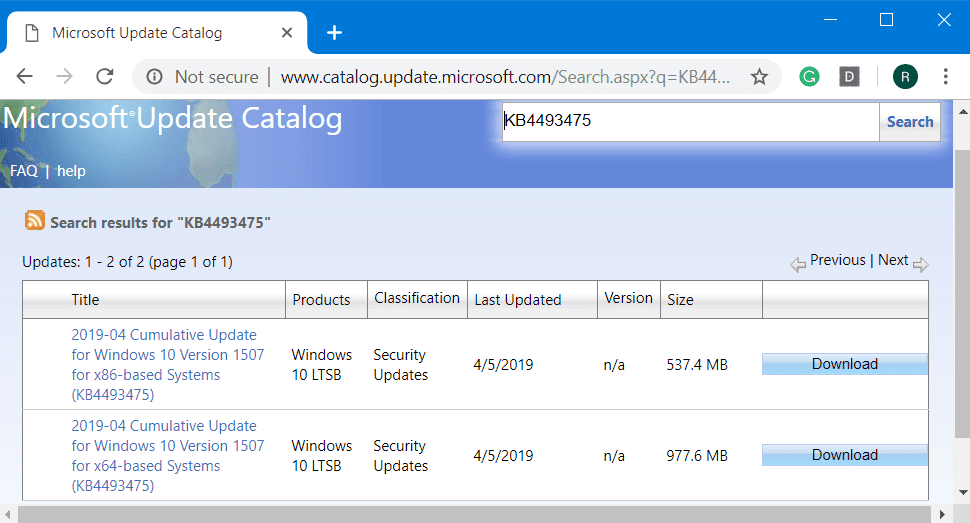 KB4493475 for Windows 10 Patch Tuesday Cumulative Update
The release of KB4493475 deals with a common issue that almost every patch addresses. It tries to resolve the issue that might lead apps that use MSXML6 to stop responding. This basically happens when an exception was thrown during node operations.
Microsoft also puts focus on the problem of Group Policy Editor. It fails to respond when you try to edit a Group Policy Object (GPO). Moreover, the issue happens when the GPO contains Group Policy Preferences (viz GPP) for Internet Explorer 10 Internet settings.
Moving ahead with the changes, the team addresses another problem with Custom URI Schemes for Application Protocol handlers. It may not allow the corresponding apps to start for local intranet and trusted sites as well on Internet Explorer.
KB4493475 also addresses the problem that results in the blockage of a sub-resource download by Internet Explorer. It occurs when it is loaded over the HTTP protocol on a page hosted over the HTTPS protocol.
The team also makes an effort to the issue in order to meet GB18030 certificate requirements.
Among the changes, KB4493475 updates time zone information for Kazakhstan.
Moreover, this specific cumulative patch also updates time zone information for São Tomé and Príncipe.
A problem always occurs when you turn on per font end-user-defined characters (aka EUDC). This issue makes the system stop from working and shows a blue screen at startup. However, you should note that it is not a regular setting in non-Asian regions.
Microsoft also deals with the problem that stops the CALDATETIME structure. It prevents it from handling more than four Japanese Eras.
Moreover, it also addresses the problem with "Microsoft Office Visual Basic for Applications". Actually, in the Japanese format, it fails to use the Japanese Era registry settings for dates.
This Tuesday patch addresses one more Japanese Era problem. It deals with the issue that stops users from enabling gan-nen support.
Cumulative update KB4493475 addresses the problem of date parsers. The issue does not allow date parsers from converting future and past dates as well (Gregorian and Japanese) in the compound documents (formerly OLE) to a relevant Japanese Era date.
This specific patch releases a wide range of security updates to "Microsoft Scripting Engine, Windows Input and Composition, Microsoft Graphics Component, Windows Storage and Filesystems, Windows Server, Windows App Platform and Frameworks, Windows Datacenter Networking, Windows MSXML, Windows Kernel, and the Microsoft JET Database Engine" as well.
Known Issues in KB4493475 for Windows 10
Microsoft and the team are currently not aware of any possible issues in this cumulative update.
How to Get KB4493475 for Windows 10
There are two common ways to get KB4493475 for Windows 10. You can either grab the file manually by visiting the Microsoft Update Catalog. Or just navigate to Windows Settings => Update & security => click Check for updates. This will start looking for the available updates and will soon download and install the same.
However, ensure to install the latest SSU or servicing stack update before you make an attempt to install this cumulative patch. By doing so, it will enhance the reliability of the update procedure. This will eventually help you to mitigate potential issues while installing the cumulative update and applying Microsoft security fixes as well.
That's all!!!