The Store has got the latest Stranger Things 3 Windows 10 Theme couple of days back. Netflix has also released the new season of most adventurous series with the same name. Don't cut loose your excitement and adorn the desktop with exciting images from the TV serial. You can easily bring the Strange Summer of 1985 right in front of your eyes in the form of desktop wallpapers.
Stranger Things 3 Windows 10 Theme consists of ten 4k images inside. Hence it is little larger in size but comparatively lightweight. It will take up only 49.12 MB of your Hard Disk space. The application has an age restriction below 3 years, so users above this limit can enjoy it. Most amazingly, you can download the same theme in at least ten Windows 10 devices while signed in with your Microsoft account. You can download and apply this theme using the below instructions –
Stranger Things 3 Windows 10 Theme
Here is how to download, install, and set Stranger Things 3 Theme –
Step-1: Click the Microsoft Store icon on the taskbar as shown in the below picture.


Step-2: Type Stranger Things 3 in the search box and select the app from the list.
Step-3: This will open the description page of the theme. Click on the Get button.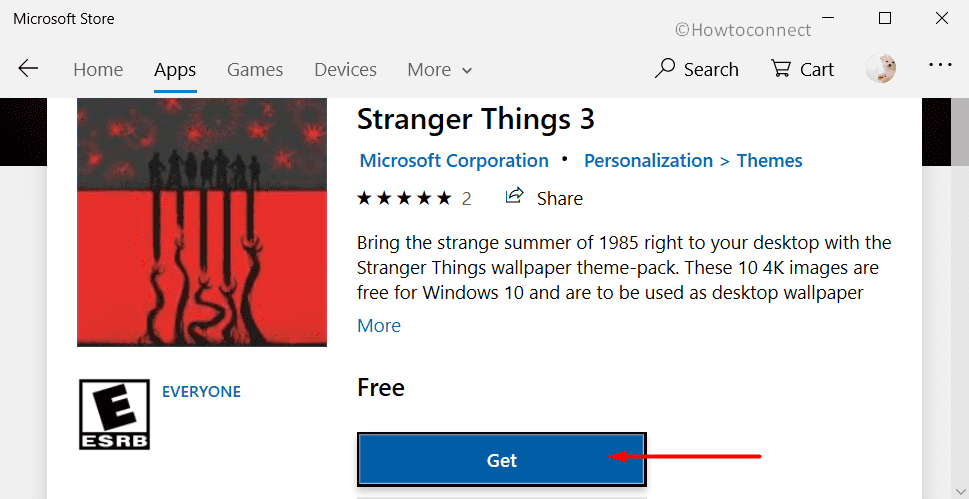 Step-4: The download status will show up in the Store UI. You can also check in the System tray-notification area. Once the download gets over, click on the Apply button.
Step-5: The Themes Settings page will show up on the PC screen. Switch to the right pane and select the Stranger Things 3 app. When you perform a click on the app, Desktop will be decorated with the images containing in the theme.
Note – As an alternative, open the default web browser in Windows and make a visit to this link for the theme. When the page opens up, you will see a Get button at the right. Make a click on it and by default the Stranger Things 3 Windows 10 Theme page will appear from Microsoft Store.
System Requirements for Stranger Things 3 Windows 10 Theme
Following are the least conditions for the operating system to meet up in order to download and apply this theme on your desktop –
First of all, the device should be running Windows 10 version 14951.0 or higher to download and use this theme.
Secondly, the minimum architecture required is to be x86, x64, ARM, ARM64.
Thirdly, the device where this app to be installed should support English (United States) language.
That's all!!!