KB4507453 is another cumulative update that Microsoft rolls for Windows 10 version 1903 on July 09, 2019. The patch arrives for the Build 18362.239 and contains important updates for various issues. It does not include any new features but definitely addresses the problems that users face with BitLocker, Mixed Reality, and Windows Mixed Reality.
You will be able to easily download the KB4507453 as an MSI file format. To accomplish this manual procedure, you need to visit the Microsoft Update Catalog site. However, as an alternative, you can automatically install the same through Windows Update directly. You can also check out other significant patches that we piled up in the Windows 10 Cumulative Update List.
KB4507453 –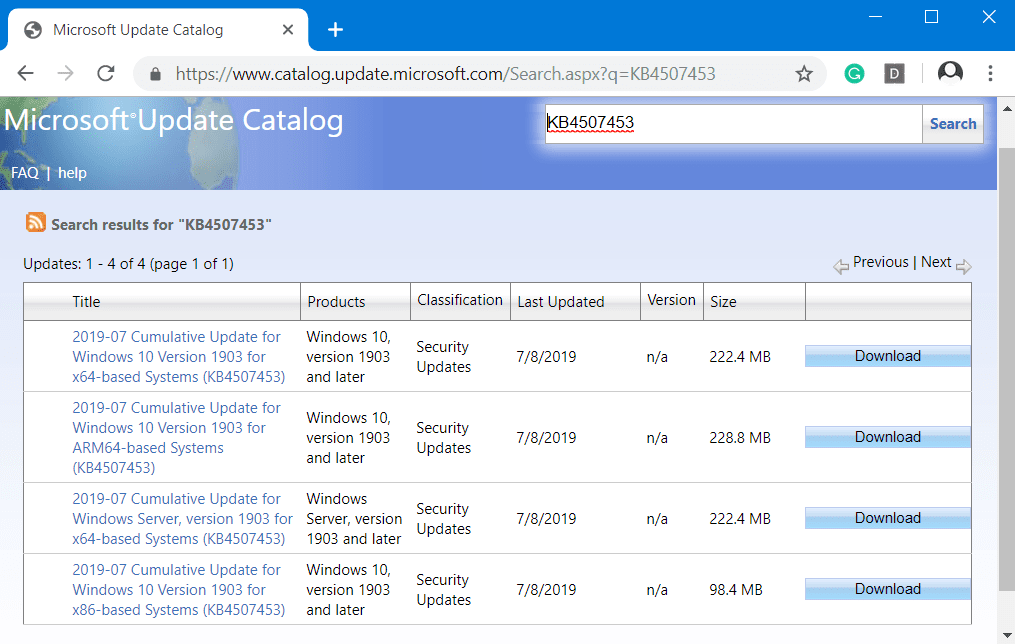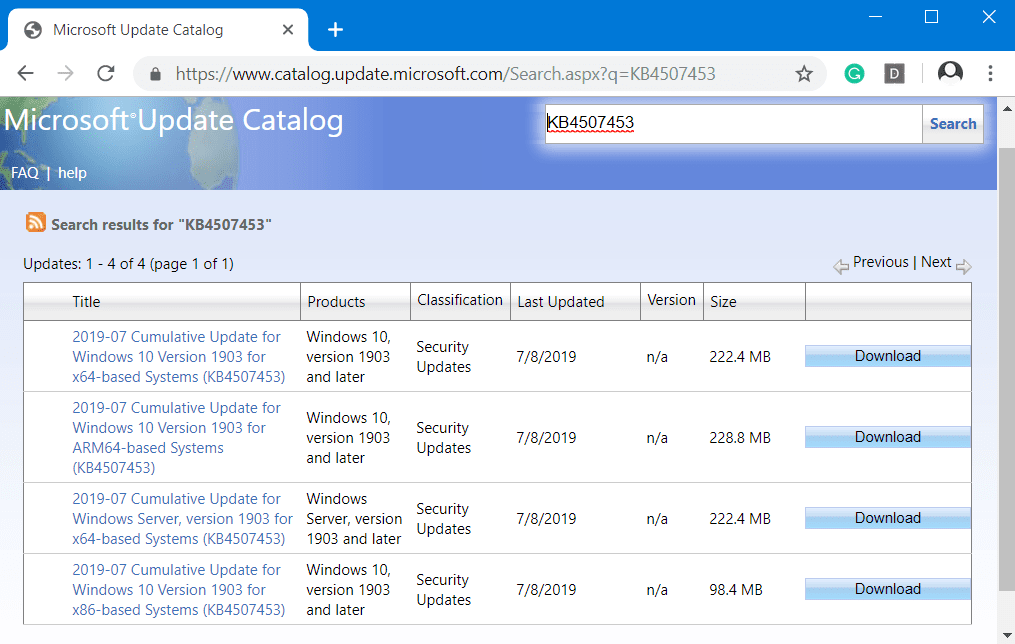 KB4507453 Windows 10 1903 Cumulative Update Improvements and Fixes Details
This update includes quality improvements and updates for various problems as well. They are –
The release of KB4507453 deals with a BitLocker issue that may go into the recovery mode. It happens if BitLocker is functioning and at the same time updates are installed.
Microsoft focuses on another problem that results in Mixed Reality users to view a tilted world. They experience the issue after connecting their headsets.
Updates the visual quality issues also in this patch. Certain users may have come across troubles with Windows Mixed Reality (WMR) headsets and Steam®VR content.
KB4507453 provides security updates to various Microsoft products and components of the OS like Windows Virtualization, Windows Storage and Filesystems, Windows Cryptography, Windows Wireless Networking, Windows Kernel, Windows App Platform and Frameworks, Microsoft Scripting Engine, Microsoft Graphics Component, Internet Explorer, Windows Input and Composition, Windows Server, Microsoft Edge, and Microsoft HoloLens.
Known Issues
Symptom 1
Users may encounter an issue with Windows Sandbox. It might fail to start and show up a message "ERROR_FILE_NOT_FOUND (0x80070002)". This will happen on the computers in which the OS language is changed while installing Windows 10, v1903 as an updates procedure.
Workaround
The team is working on a solution and will soon provide the same in the upcoming release.
Symptom 2
The Remote Access Connection Manager (RASMAN) service may not function properly. In addition, you may confront the error "0xc0000005". It can appear on devices where the diagnostic data level is manually configured to the non-default setting of 0. However, you may also come across an error in the Application section of Windows Logs in Event Viewer with "Event ID 1000" which refers to "svchost.exe_RasMan" and "rasman.dll".
This problem only happens when a VPN profile is configured as an "Always On VPN" (aka AOVPN) connection with or without device tunnel. Moreover, this does not affect manual only VPN profiles or connections.
Workaround
To lessen this specific problem, use one of the solutions below. To configure one of the default telemetry settings, either process with the Group Policy Editor or the Registry Editor process.
Group Policy Editor –
Step-1: Press "Win logo + Q" hotkeys and type gpedit. Hit Enter to access Group Policy Editor.
Step-2: Navigate to the below-given Group Policy Path:
Computer Configuration\Administrative Templates\Windows Components
\Data Collection and Preview Builds\Allow Telemetry
Step-3: Safe Policy Setting: Enabled and set to 1 (Basic) or 2 (Enhanced) or 3 (Full).
Registry Editor
Open Run dialog box, type regedit and hit Enter. Click Yes upon the prompt of UAC.
Reach out to the following subkey –
HKEY_LOCAL_MACHINE\SOFTWARE\Policies\Microsoft\Windows\DataCollection
Note – If the Remote Access Connection Manager (in short RASMAN) service fails to function even after modifying the Group Policy or registry key, you will need to manually start the service or restart Windows 10 PC.
However, the team is working on a resolution and estimates it to be available at the end of July.
We are working on a resolution and estimate a solution will be available in late July.
Symptom 3
The post-installation of KB4507453 may result in an error or certain features may fail to function as expected when you make an attempt to open or use the Window-Eyes screen reader app. 
Note – This issue should not affect you if you have already migrated from "Window-Eyes" to "Freedom Scientific's" other screen reader, JAWS.
Workaround
The upcoming release will bring the resolution as the team is currently working on it.
How to Install KB4507453 Windows 10 1903
Before receiving KB4507453, ensure to install the SSU.
Next, open Windows Settings => Update & security => Windows Update => click Check for updates button.
Moreover, to get the standalone package for the same, visit Microsoft Update Catalog. Click the Download button corresponding to the architecture of your device.
Source – Release note
That's all!!!