Windows 10 1703 received Patch Tuesday cumulative update KB4512507 on August 13, 2019. This update came as quality improvement in order to take the Operating System to Build 15063.1988. In this patch update, Microsoft predominantly considers or focus is Internet Explorer, Bluetooth, networking technologies and more. Addition to the improvements, they also focus on input devices such as a mouse, keyboard, or stylus.
You will get this update automatically. Moreover, you are able to grab KB4512507 as an MSI file format from the Microsoft update catalog site. To check out all the patches of the entire version, simply open this link Windows 10 Cumulative Updates List.
KB4512507 –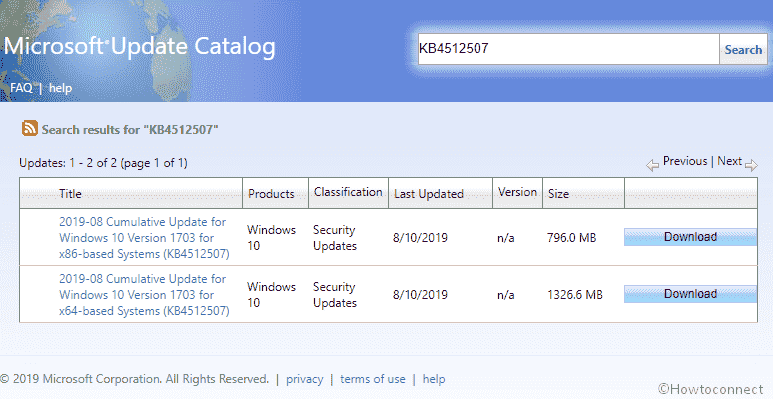 KB4512507 Windows 10 1703 Changelog
This patch having Build 15063.1988 is actually a bug fixing update includes no new feature to the OS. It includes a quality improvement which is as follows –
Microsoft tries to fix an issue that hampers the devices from starting up or cause them to continue restarting. These incidents arise if they are connected to a domain that is configured to use MIT Kerberos realms. Besides, you will notice that the Domain controllers and domain members are both get affected.

With KB4512507, the tech giant amplifies the security updates to several applications, such as – Windows Wireless Networking, Windows App Platform and Frameworks, Windows Storage and Filesystems, Microsoft Scripting Engine, Internet Explorer, Windows Input and Composition, Windows Cryptography. Besides, the build 15063.1988 also designed to strengthen the security for "Windows Datacenter Networking, Windows Peripherals, the Microsoft JET Database Engine, Windows MSXML, Windows Server, and Microsoft Edge, Windows Virtualization".
Known issues
Symptom
Workaround
Certain operations on a Cluster Shared Volume may not get executed and throws the error STATUS_BAD_IMPERSONATION_LEVEL (0xC00000A5). For example – rename files or folders. The issue appears while doing the same work on a CSV owner node from a process that does not support administrative privilege.

Do one of the following –

Use administrator privilege perform.
Perform the operation from a node that doesn't hold CSV ownership.

Microsoft is also working to fix this bug and will offer an update in a future release.
How to Get KB4512507 Windows 10 1703 15063.1988
Before moving towards KB4512507, ensure to install the latest SSU. By doing so, it will mitigate the potential problems and will, therefore, enhance the performance of the update procedure.
You can easily get KB4512507 for your Windows 10 device through the Settings app.
Step-1: Press Win+I to invoke Windows Settings on your screen.
Step-2: Click Update & security icon.
Step-3: On the following page of the right pane, do a click on Check for updates button
Additionally, you can also download the MSI format of the patch through Microsoft Update Catalog.
That's all!!!
Source – Release Note