Microsoft just rolled out the patches for September 2019 including KB4516066 for Windows 10 version 1709. This cumulative update takes the build to 16299.1387. As with other periodic patch-Tuesday services, this one too is a quality patch and do not introduce any fresh feature in it.
In that context, there is a quick reminder for the Windows users on version 1709. This version reached the end of service several months back and no further security updates will be available to these. So, to continue enjoying enhanced quality services from the developer, make sure you upgrade to the latest version soon. You can also explore the Windows 10 Cumulative Updates List.
KB4516066 –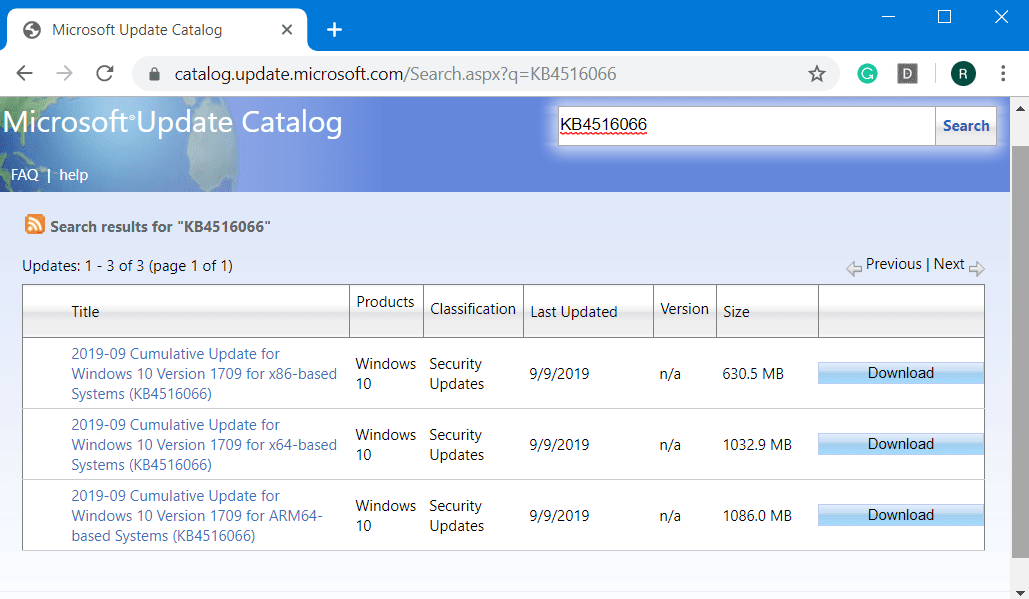 KB4516066 Windows 10 v 1709 16299.1387 – 10 Sept 2019 Changelog
As for highlight point, KB4516066 has updates for improving password and user name verifications.
Also, there are some improvements in the process of storing and managing files.
Obviously, there are security updates for all integral Windows components. This includes both the browsers, MSE (scripting engine), Windows Authentication, Windows Datacenter Networking, Windows Input and Composition, Windows Media, Windows Fundamentals, Windows App Platform and Frameworks, Windows Storage and Filesystems, etc. Also, it covers the Windows Kernel, Windows Virtualization, Microsoft JET Database Engine and Windows Server
Most importantly, KB4516066 has improved protection against a new set of vulnerabilities. They include security against CVE-2018-12127, CVE-2018-12130, CVE-2019-11091, and CVE-2018-12126. These are a subclass of something called "Microarchitectural Data Sampling", a speculative execution side-channel vulnerabilities.
Known issues with this patch for version 1709
This issue continues to persist with this cumulative update also. Microsoft has been researching and trying to fix it for a while now. Due to this, there have been multiple failures of some operations like file renaming done on such files or folders that are on a Cluster Shared Volume (CSV). Also, users get the error, "STATUS_BAD_IMPERSONATION_LEVEL" with the value 0xC00000A5.
As per the researches, this problem occurs only when you –
Perform the operation on a CSV owner node and
Carry out the task from a process without administrator privileges.
But then, this is the only issue with KB4516066. As for this problem, below are the workarounds you can try.
Workaround –
Below are the temporary workarounds for this problem in KB4516066 –
Either user must conduct the operation from a process that has got an administrator privilege.
Or, you can do it from a node that is without a CSV ownership.
Microsoft is working towards finding a reliable resolution. An update can be expected in an upcoming release.
How to get KB4516066 for Windows 10 version 1709
Windows 10 is programmed to get and install the updates periodically and automatically. However, if you have disabled this feature, or if your internet connectivity is interrupted while the operating system attempts to find or get the update, you might experience a delay in getting these patches. You may even not receive them.
To manually check and get them simply go to Windows Settings => Updates & Security => Windows Updates => Check for updates. When the system does get an update, simply restart Windows 10 PC.
Also, you can get the stand-alone package of KB4516066 for Windows 10 1709 from the site of the Microsoft update catalog.
Make sure you get the patch the earliest!
Source – Release note.
That's all!!!