On October 08, 2019, Microsoft unfolds another cumulative update KB4520004 for Windows 10. This patch is here for version 1709 as quality improvement in order to take the Operating System to Build 16299.1451. The major issues on which the company has considered or focused are – Microsoft Edge, Internet Explorer, 0x133 DPC_WATCHDOG_VIOLATION, and more. Besides, these fixes and improvements are here to make the OS more reliable where it retains other features almost the same.
Users may download KB4520004 as an MSI file format from the Microsoft update catalog site. Furthermore, Insiders are able to get the build 16299.1451 through the Windows update automatically. However, if you fail, get it through Settings > Update & Security > and click on "Check for updates". Also, you can check out the entire version of a cumulative update.
KB4520004 –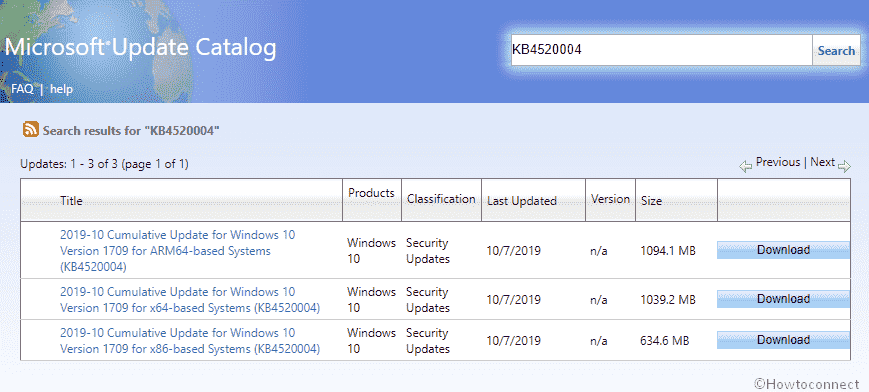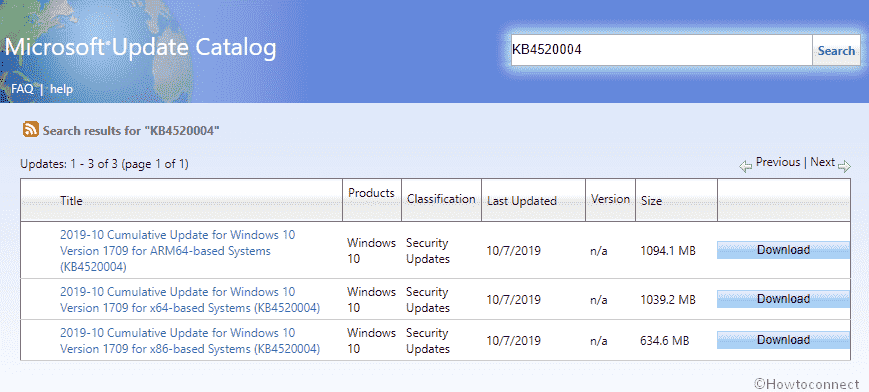 KB4520004 Windows 10 1709 improvements and fixes details
This patch having Build 16299.1451 is actually a bug fixing update carries no new feature to the OS rather covers a number of quality improvements are as follows –
The company has worked on the Lockdown Subsystem available on the Keyboard. In the previous build, it was not filtering key input correctly.
The developer team deals with Bluetooth hardening updates. It was released on August 13, 2019, and generate a critical issue "0x133 DPC_WATCHDOG_VIOLATION".
Microsoft expert tries to rectify an issue in security bulletin CVE-2019-1318. This issue mainly befalls while performing full Transport Layer Security (TLS) handshakes from devices that don't support EMS, especially on servers. Moreover, EMS support is available for all the supported versions of Windows. It has been started since the calendar year 2015. Furthermore, it is being incrementally applied by the installation of the October 8, 2019, and later monthly updates.
With KB4520004, Windows 10 team tries to settle an issue with applications and printer drivers. These devices utilize the Windows JavaScript engine (jscript.dll) for processing print functions.
Known Issue
Symptom
Workaround
An error – STATUS_BAD_IMPERSONATION_LEVEL (0xC00000A5)

may prompt on your display performing certain actions like – rename on files that are on a Cluster Shared Volume. With the KB4520004, this issue happens by making activity on a CSV owner node from a process that doesn't have administrator privilege.

This would be fixed if you execute the task from a process that has administrator privilege.
Another method is to perform the task from a node that doesn't have CSV ownership.
Over and above, the company is working on a resolution. It will provide an update on the forthcoming release.
How to download KB4520004 for Windows 10, 1709 and install
Before getting the current cumulative updates KB4520004, we suggest you, install the latest SSU. This will enhance the performance of the update process in order to mitigate potential issues and also helps to stay out of possible troubles while installing. To get the patch through Windows update –
Step-1: Press Win+I together and let the Settings app appear.
Step-2: Click Update & Security category.
Step-3: This will let you bring to the Windows Update in the left pane, from here go alongside right.
Step-4: Select Check for updates option from here and wait for the searching ends.
Step-5: Click on the Download option available under the found updates. Once you finish the downloading procedure, Install the update using the on-screen guidelines.
You are able to download KB4520004 standalone package from Microsoft Update Catalog.
Source – Release note.