SketchPal is a multimedia design program that provides a modern inking experience via its amazing tools. Moreover, it includes several commands such as coloring assist, stroke cleanup tools, live pallet that works for combining classic features like layers and custom brushes. User interface of SketchPal app is simple which helps to leverage the strengths of Windows and Surface.
SketchPal allows artists to draw on the go; you can start sketching with this app on any device and then continue on another if you wish to. It is comparatively lightweight and occupies only 34 MB of your hard drive. More interestingly, the app is free of cost and to get this, you just need to sign in to your Microsoft account. This Microsoft Garage application supports English (United States) language, has no age restrictions and can be downloaded up to ten Windows 10 devices. So, there is no doubt that SketchPal meets all accessibility requirements that makes the app easier for everyone to use.
SketchPal Microsoft Garage App
Here is how to download SketchPal Microsoft Garage App –
Step-1: Launch a web browser you prefer and go to official Microsoft's page SketchPal app.
Step-2: On reaching there, click the Get button.
Step-3: In a flash, Microsoft Store will become apparent with the specifications of the following app. Once more, hit the Get button to commence the downloading process.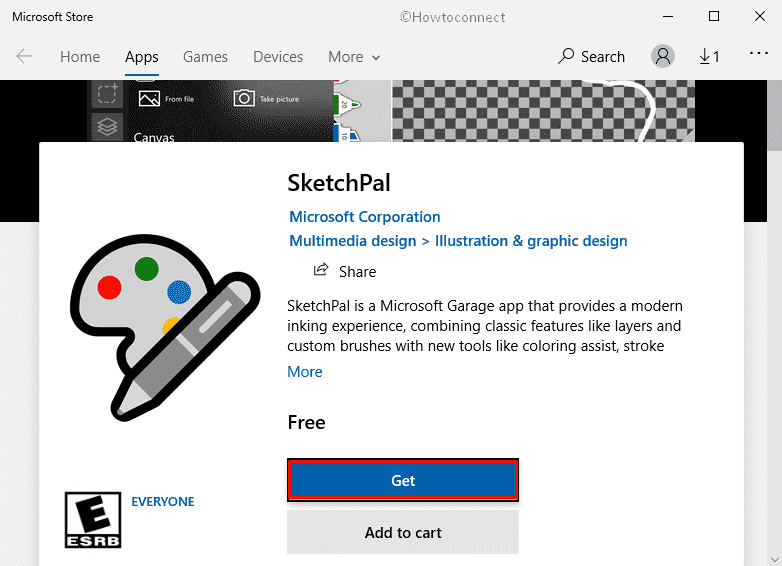 Step-4: Once the download gets finished, the system will automatically install the app as well and on completion, you will get a notification in the system tray.
Step-5: In the end, click Launch button to open SketchPal app.
System requirements
To use this multimedia app, your device should meet the below-recommended requirements –
First of all, the PC should be running Windows 10 version 17134.0 or higher.
Secondly, system architecture should be either of x86, x64, ARM.
That's all!!!!