Several cumulative updates are released by the giant software on the second Tuesday of every month. Today, KB4523205 For Windows 10, version 1809, Build 17763.864 is out with a wide range of changes. Though the package does not contain any specific feature but definitely includes many changes. It offers security updates to various Microsoft products. Similar to other patches, this one also carries some problems that users might encounter post-installation. Now, let us see all the details of this patch in the below section of this article.
KB4523205 –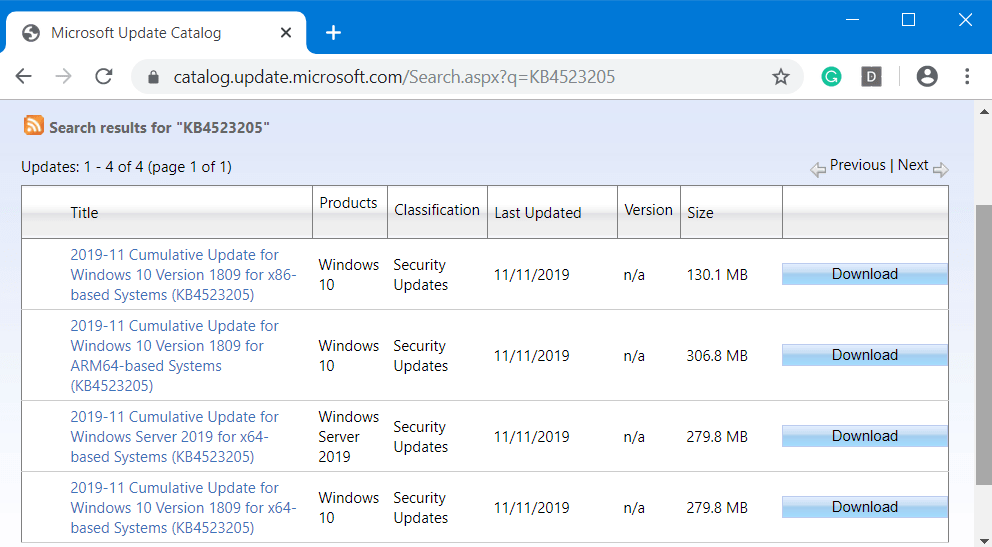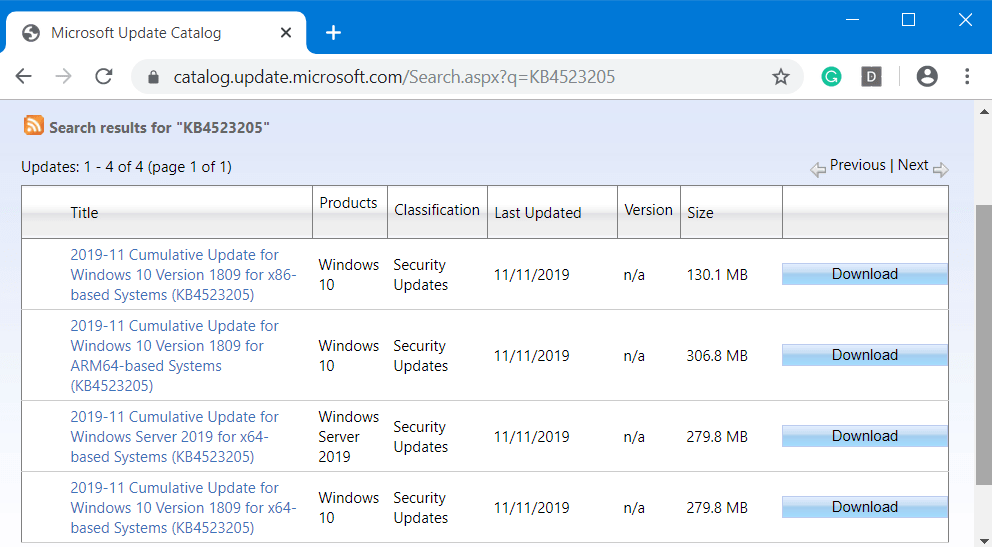 KB4523205 For Windows 10 1809 17763.864 Patch Tuesday Update
Here is the list of changes that KB4523205 offers its users –
Security enhancements will be there while using Microsoft Edge and Internet Explorer browsers respectively.
It also contains improvements in security when you use external devices like web cameras and input devices such as a mouse.
KB4523205 offers security updates when you use Microsoft Office products. They are Windows App Platform and Frameworks, Microsoft Edge, Windows Fundamentals, Microsoft Scripting Engine, Windows Linux, Microsoft Graphics Component, Windows Input and Composition, Windows Cryptography, Windows Virtualization, Internet Explorer, Windows Kernel, Windows Datacenter Networking, Windows Peripherals, and the Microsoft JET Database Engine.
This package aims to deliver security against the Intel® Processor Machine Check Error vulnerability (CVE-2018-12207).
Moreover, it also renders protection against the Intel® Transactional Synchronization Extensions (Intel® TSX) Transaction Asynchronous Abort vulnerability (CVE-2019-11135).
The release of KB4523205 also focuses on the complication that might cause the Microsoft Defender Advanced Threat Protection (viz ATP) service to stop running and sending reporting data.
Known Issues
Symptom 1
Files or folders that are on a Cluster Shared Volume (aka CSV) may fail to operate correctly. They might throw an error message "STATUS_BAD_IMPERSONATION_LEVEL (0xC00000A5)" while attempting to perform certain tasks like rename. Furthermore, this problem happens to appear when you execute the function on a CSV node from a process that does not hole admin authorities.
Workaround
Carry out one of the following temporary resolutions –
Proceed ahead with the task from a process that holds admin privileges.
Secondly, execute the operation from a node that fails to possess CSV ownership.
The team will provide a resolution in the forthcoming release as they are still working on it.
Symptom 2
The post-installation of KB4493509 may result in some issues. For example, devices with certain installed Asian language packs may confront an error "0x800f0982 – PSFX_E_MATCHING_COMPONENT_NOT_FOUND."
Workaround
Firstly, you can remove and then reinstall any recently added language packs.
Secondly, go ahead with Check for updates and install the April 2019 Cumulative Update.
Note In case, reinstalling the language pack fails to reduce the trouble, reset the PC. To do so,
Go to the Windows Settings app and head to the Update & security category.
Select the Recovery subsection on the left sidebar.
Click the button namely Get Started under the section Reset this PC.
Choose Keep my Files.
The next release will contain a fix as the team is still working on a resolution.
Symptom 3
Out of Box Experience may throw complications while setting up a new Windows device, You may fail to generate a local user when using Input Method Editor (IME). Basically, it affects the devices using IME for Korean, Chinese, and Japanese languages. In this context, you should also note that it will not cause any damage or hindrance using a Microsoft Account during OOBE.
Workaround
To deal with this particular issue during user creation, change the keyboard language to English. However, to be on a safer side, Microsoft recommends using Microsoft Account to finish OOBE. After the successful user creation, you can get back to the preferred language anytime.
Try out this temporary tip until Microsoft comes out with a perfect resolution.
How to Get KB4523205
Installing the latest servicing stack update (SSU) is necessary before you proceed with this package. Doing so will help you to reduce the chances of encountering issues while installing LCU. Moreover, it will also upgrade the reliability of the update procedure.
Get the standalone package from the Microsoft Update Catalog. Or go through the Windows Update and let the package be offered to you directly.
Source – Release note
That's all!!!