KB5029263, the security update released on Patch Tuesday of August 2023 brings system performance improvements for Windows 11 22H2 but sadly a number of people cannot install it. The patch installation fails with certain error codes such as 0x0070002, 0xe0000001, 0x800f0922, and 0x80070057. In some cases, the cumulative update is downloaded successfully but while restarting it is stuck on Undoing changes made to your computer and ultimately returns back to the old version. So here we are giving solutions to KB5029263 failed to install in Windows 11 22H2.
KB5029263  not installing error occurs due to several reasons including corrupt Windows update cache, conflicts with third-party programs, and damaged system files. Furthermore, malware, incorrect services settings, and DNS server IP addresses glitches might part with to trigger this issue. Sometimes, insufficient disk space is also an obstruction between the downloading and installation of a patch so this worth attention. The previous month's updates were also unsuccessful in some cases which were solved with – Fix KB5028254 Failed to install with Error in Windows 11 22H2.
KB5029263 failed to install in Windows 11 21H2
Here is How to Fix KB5029263 Failed to Install with Error in Windows 11 21H2 –
Receive the patch from Microsoft update catalog
When updates keep failing Microsoft Update Catalog is an alternative that provides all the patches in the form of Standalone package. Apart from this, website the is a storehouse of drivers, hotfixes, and more.
Therefore, try to install KB5029263 from Microsoft Update catalog; this is also recommended in the Security update release note:
Go to – Microsoft Update Catalog website.
Discover the files in the list suitable for the processor of your computer and click on Download.
Then click on the link located or prompted page.
Back to the Downloads folder and double-click on any of and following files:
windows11.0-kb5029263-x64_4f5fe19bbec786f5e445d3e71bcdf234fe2cbbec.msu
or,
windows11.0-kb5029263-arm64_1f304c1a3c26590d6539e2379d64fdf1a25322d2.msu
Click on Yes when a warning comes across.
Follow: How to Download and Install Update from Microsoft update catalog on Windows 11/10
Use the default Troubleshooter
Windows Update Troubleshooter is like a virtual helper that can automatically look for and fix common issues that might be preventing your computer from getting those important updates. It goes through a checklist and tries to figure out what might be causing the problem.
If KB5029263 is not installing till now and you are facing errors 0x0070002, 0x800f0922, and 0x80070057 on your PC then Windows Update Troubleshooter may help you.
Press Winkey+S and type "troubleshoot" without quotes.
Hit the Enter key to open the Troubleshoot Settings page.
From the right panel, click on Other troubleshooters.
Locate Windows Update and click on Run.
See the result after the troubleshooting is completed and follow if any recommendations are given
Reset and clear the Windows Update database cache
Resetting the Windows Update cache is like tidying up the storage space for updates, making sure everything is organized and ready for new download to come in. Try this method when you want to resolve the KB5029263 0x0070002, 0x800f0922, or other errors because It will also restart the necessary services.
Click on Start and type the term cmd.
Select – Run as administrator.
Choose Yes to give permission.
First of all, stop the Windows Update-corresponding services by typing the following commands sequentially and hitting Enter after each:
net stop wuauserv
net stop cryptSvc
net stop bits
net stop msiserver
net stop AppReadiness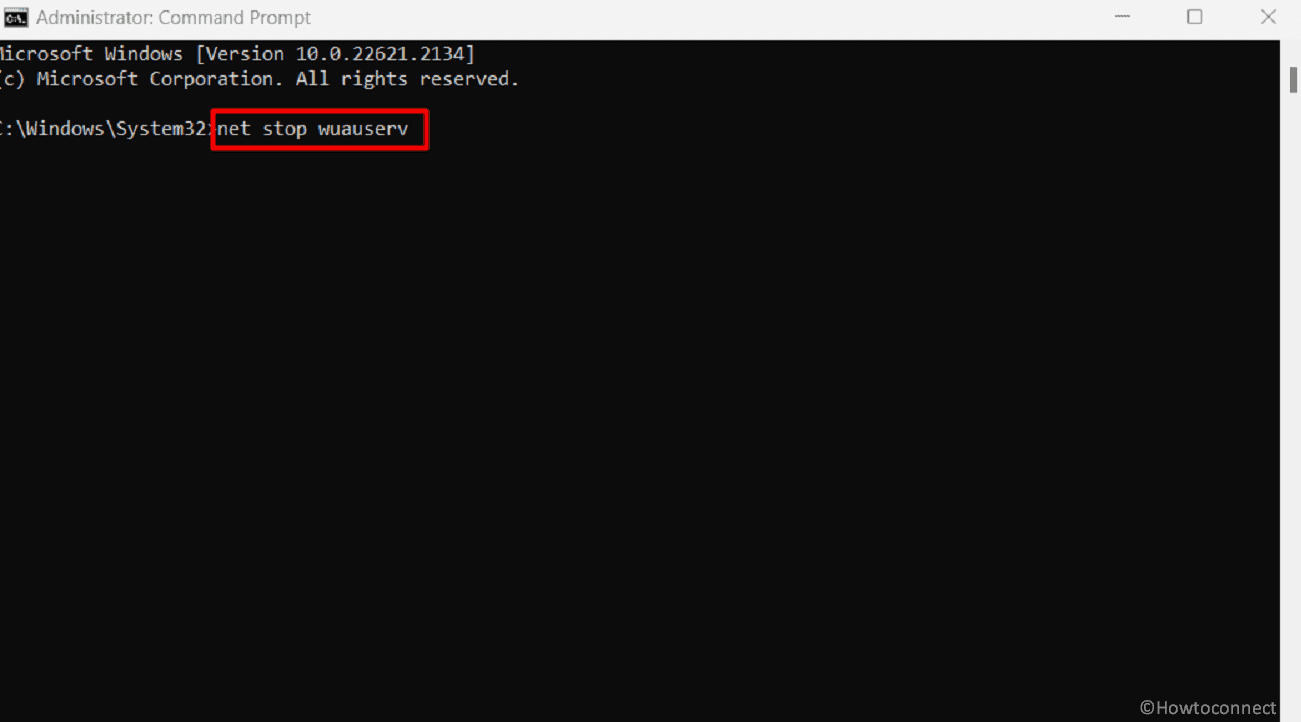 Now, to reset the cache, run this cmd command: del %windir%\SoftwareDistribution
Reconfigure the Background Intelligent Transfer Service aka BITS by entering: bitsadmin /reset /allusers
Start all these services by executing the below cmd commands:
net start wuauserv
net start cryptSvc
net start bits
net start msiserver
net start AppReadiness
Close the Prompt and restart your computer.
If you don't want to bother with the steps and like to fix KB5029263 error directly by resetting the Windows update cache then download Reset_Windows_11_update.zip, unzip the file, and run WuReset.bat as administrator.
Reconfigure the Services associated with Windows update
Services are backbone of the whole Windows update process and when they are misconfigured, they cause glitches ending with certain error.  Therefore, in case the KB5029263 update failed to install problem occurs, one of the potential workarounds is to configure Windows services.
Press "Winkey+S" and type services.
Hit Enter.
Discover Cryptographic services from the list. Right-click on this Service and select Edit.
Go to the Startup type drop-down and change it to Automatic.
From the "Service status" field, click on Start.
Finally, click Apply then OK to save the changes.
Replicate the same actions with Windows update and Background Intelligent Transfer Service.
Fix Fortnite Blue Screen Error in Windows 11 or 10
Disable Third-Party Antivirus until the update is installed
Although antivirus has an important part of Windows to protect the computer from threats and attacks the tool might cause KB5029263 failed to install with error in Windows 11 22H2. Therefore, disable it if you have any third-party anti-virus installed:
Open System tray from taskbar.
Right-click on the antivirus icon.
Choose the option that will turn off or Pause the tool.
In case, any confirmation dialog appears, confirm it.
Navigate to "Settings > Windows Update" and select Check for updates.
Change Alternate and Preferred DNS server addresses
Sometimes, ISP DNS server addresses become a hindrance in installing a new Windows update and lead to throwing error messages. Hence, changing the domain name server to Google or Cloudflare may rescue the problem and help install the patch.
Press Windows and R.
In the Run dialog box, type the shortcut ncpa.cpl and hit Enter.
Locate the running network connection right click on it.
Select Properties.
Double-click on the option that reads "Internet Protocol version 4 (TCP/IPv4)".
Check the option that says – Use the following DNS server addresses.
Enter the following IP addresses:
Preferred DNS server - 8.8.8.8
Alternate DNS server - 8.8.4.4
Click on OK and exit the window.
Reboot the system, and try installing the August 2023 security update.
Read: How to Change DNS Server Address in Windows 11 (4 Methods)
See if the system files are corrupted and repair them
Intact system files are necessary to install KB5029263, the August 2023 security patch. If they are corrupted you can use built-in tools like SFC and DISM to remediate them and receive the update successfully. Corruption generally occurs because of obsolete drivers and conflicts between incompatible software and Windows files.
SFC scans your computer's important files to see if any of them are damaged or missing including ensuring the integrity of these and providing trouble-free upgrades. Furthermore, DISM can correct issues with the files such as .wim or virtual hard disk .vhd or .vhdx.
Type cmd.exe in the Windows Search.
From the result pane, select – Run as administrator.
In the command prompt that appears, type  sfc /scannow and press enter.
After integrity violations are 100% checked, restart your computer.
Check whether KB5029263 is installed now otherwise launch the Administrator: Command Prompt once more.
Execute the following commands consecutively:
DISM /Online /Cleanup-Image /CheckHealth
DISM /Online /Cleanup-Image /ScanHealth
DISM /Online /Cleanup-Image /RestoreHealth
Try installing after Clean Boot
When you do a Clean Boot, you're temporarily turning off all the extra programs that usually start up when your computer does.
If everything works fine during the Clean Boot, it suggests that one of those programs you turned off might be causing the trouble that may fix KB5029263 Failed to install.
Right-click on Start and select Run.
In the given space, write MSconfig and press "Enter".
Go to the Services tab.
Check the option that states – Hide all Microsoft services.
Click the button Disable All.
Then guide to the Startup tab.
Select the link Open Task Manager.
Go to the Task Manager, right-click on each of the items, and choose Disable.
From System Configuration, click on Apply and OK to save all the modifications.
When a warning popup appears, select Restart.
Try to install the update and check which software or program was creating nuisance.
Read: Windows 11 KB5029263 Patch Tuesday Security Update Rolled out to 22H2
Execute In-place upgrade
An in-place upgrade is a way to update your computer's operating system to a newer version while trying to keep your stuff in place. This will fix KB5029263 Failed to install error and help receive the new LCU.
Visit the Microsoft website.
Head to the area that contains Download Windows 11 Disk Image (ISO).
Click on Select Download and choose Windows 11 "(multi-edition ISO for x64 devices)".
Then click on the button that says Download now.
Opt for the appropriate product languages.
Select Confirm and click on 64-bit Download.
The ISO file will be started downloading; allow the process to complete.
Launch File Explorer (Windows + E) and proceed to the Downloads folder.
Now, right-click on "Win11_22H2_English_x64v2.iso" and choose Mount.
Click on Open.
Right click on Setup.exe and select Yes on the confirmation prompt.
You will come across "Install Windows 11" wizard, click on Next.
On the Applicable notices and license term window, choose Accept.
After a short span of time, the update will be installed successfully.
We hope with these 9 ways you will able to fix KB5029263 Failed to Install in your Windows 11 21H2.
Methods:
Receive the patch from Microsoft update catalog
Use the default Troubleshooter
Reset and clear the Windows Update database cache
Reconfigure the Services associated with Windows update
Disable Third-Party Antivirus until the update is installed
Change Alternate and Preferred DNS server addresses
See if the system files are corrupted and repair them
Try installing after Clean Boot
Execute In-place upgrade
That's all!!
Repair any Windows problems such as Blue/Black Screen, DLL, Exe, application, Regisrty error and quickly recover system from issues using
Reimage
.