5 Different procedures to Launch New InPrivate Window On Microsoft Edge through Steps. – When you search for anything in a Browser you are under constant surveillance. This helps the search engines to understand your needs and help them to serve you better with posts of your interests. When you plan for a surprise and you do not want others to know about it or you do not want to leave behind any information on your browser then the best way is to go new InPrivate.
When you Launch New InPrivate Window On Microsoft Edge it assists you to keep your browsing hidden from other users too. The browsing data remains private even you are sharing the same device with them. The Microsoft Browser will not gather the history and other info during this. Microsoft has incorporated InPrivate Mode of Window in its Windows 10 built-in Browser Edge. Additionally, they have kept multiple navigation locations allowing them to open Microsoft Edge Browser InPrivate Window.
How to Launch New InPrivate Window on Microsoft Edge
There are a few methods to go InPrivate in Microsoft Edge. You will learn each way serially with steps ahead.
Way 1 – From Microsoft Edge itself
Step 1 – Allow Microsoft Edge to open by clicking its icon on the taskbar.


Step 2: Click on the three dotted hamburger icon on the top right corner. Select New InPrivate Window.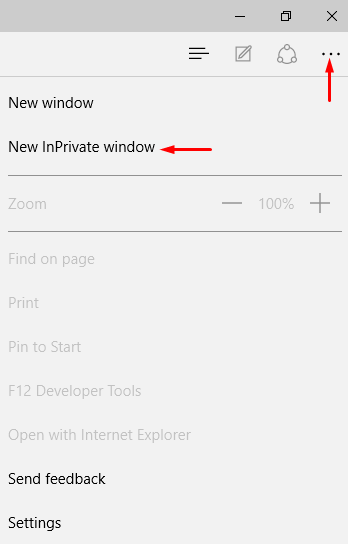 And you are done!!!!
Way 2 – Using Keyboard Shortcut
If you want to hurry up with the process all you need to do is press Ctrl + Shift + P  simultaneously while using Microsoft Edge.
Detail – Keyboard Shortcuts to Browser's Private Windows.
Way 3 – Through Jump list
Step 1: Go to the taskbar and right click on Edge browser icon. Select New InPrivate window from the jump list.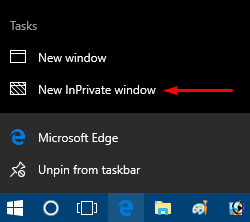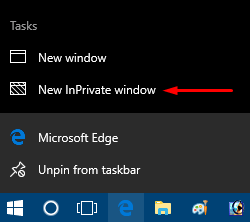 Way 4 – Via Pinned tile
Step 1: Click on the start button and Once it is displayed then go to the Microsoft Edge tile.
Step 3: Right click on the tile and select New InPrivate window option from the list.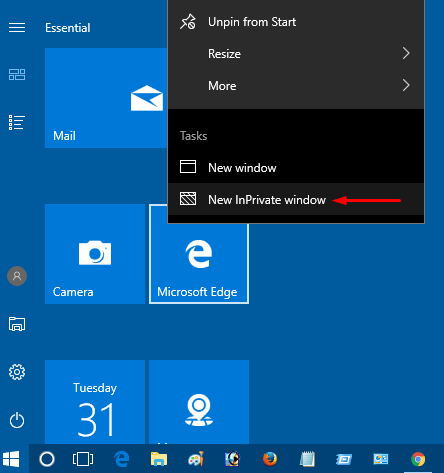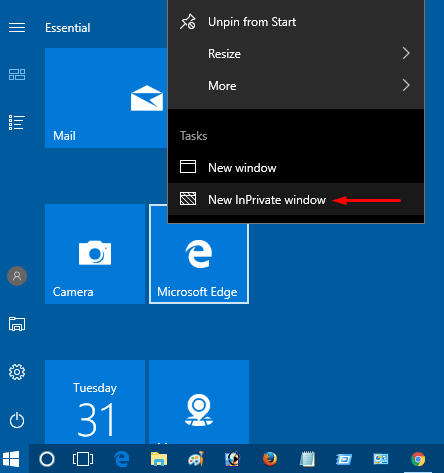 Way 5 – From Cortana search
Step 1 – Click Start and type and edge then right click on Microsoft Edge from the result.
Step 2– Select New InPrivate window from the list of options on the Start menu.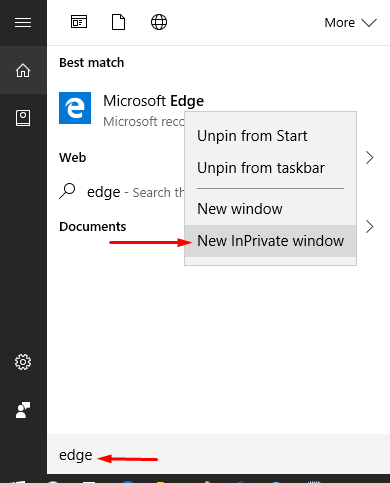 No one would use InPrivate browsing all the time. But at the same time, it is very important to understand how you are being tracked and then it is simply your decision as to if you want your activity to be tracked or not.
So if you decided for not being tracked then Launch New InPrivate Window On Microsoft Edge on your Windows 10 computer. This very easy and you have seen so many ways helping you to open the browser together with maintaining privacy.