Life Moments is a free windows 8 app. This app is basically designed to keep a diary of every day of your daily life. This seems to be a very good app if there are small children in your home. Life Moments adds flavor to your beautiful moments.  It lets you write all the moments which you love the most and store all those pictures which you find lovely. You can simply add photos to this app by adding a caption to the photo. The moments could be small or big depending on you what you want to store, the full or a shorter one. Once, moments have been stored here, you could look back to them at any time you wish to. This app also allows you the feature of editing, saving, or deleting them whenever required.
The interface of Life Moments app is kept very simple, but the storage system and the representation of images here is really an awesome thing. Designers have really worked hard to create such a beautiful thing. A screenshot of this app is shown below: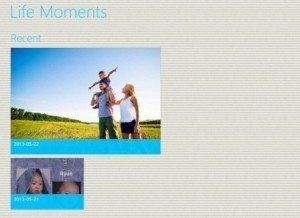 You can have Life Moments app from the Windows 8 store, or you could simply visit to its official site by clicking on the link provided at the last of this article.
How to use Life Moments Windows 8 app
Running Life Moments app on your windows machine will open up a window where you could see your recent activities and those folders which you have added recently. Keeping journals, and precious moments are a straight up task here on this app. To add a new folder to this app, all you have to do is to right-click on the home screen. This will opens up a flyout at the bottom. From this bottom fly out, click on Add Moment button. Soon, you would be directed to a screen where it would ask you to browse for the picture, images, blank spaces, and many other things to this app. Video, audio could also be added to this app. You should not one thing here, video is added to this app, however, it can't be played here i.e. it doesn't support any video player with itself.
Photos could be added here on this app from your local drives or simply by taking them down using your webcam. It supports texts too along with its simple photo saving options. Texts could be simply a one-liner, a complete day depending on you what you want to. Life Moments app is very flexible in many senses. It also lets you add more than one moment for a single day. Contents could be resized too here on this app. Just after adding any moment, save it which you can do following exactly the same procedure i.e. opening the flyout by right clicking on the screen and clicking on save button here. To remove any content which you think, it should not be here could be deleted easily by clicking on the right button –> flyout –> remove Moment. It will open a window consisting of all the moments. Select the one which you wish to delete and it would be deleted just after you press OK.
Note: Life Moments app also lets you share your moments with your friends and family members using the Windows charm facility of this app. You can simply do it by using Win+H keys which brings up the windows share charm. Select the one with whom you want to share and then press OK.
Key Features of Life Moments App
Fully Free App.
Easy to use and navigate.
Edit the layout by re-arranging the contents.
Date and caption information are displayed on the screen..
Adjust the content by dragging the handler.
Remember the moments with photos, memos, and videos.
The moments could be shared easily to your friends, families.
Supports windows charm facility.
Search the moment by the dates, titles, captions or the memos.
Add the existing photos or take one from the webcam.
My Note:
Life Moments is a good diary app for windows. It lets you store the pics which you love the most at a very safe place. You can save photos of moments in your life easily here in this app. This is, of course, creative thinking, however, it needs some improvements too. No crashes and bugs are found in my case and hope the same for you. You will really love this app if you love storing worth pictures and watching them after some time in the future. Overall, Life Moments is a new and creative app and one must try this app.