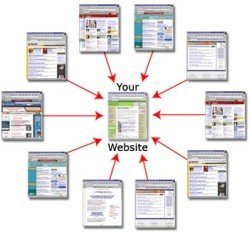 To grow up any website in a short span of time link building is an essential part of SEO. Links are matter of reputation, and in spite of Google Panda and Penguin updates Google gives weight to the websites having quality, and the number of links more comparatively. As a result, these websites get a higher ranking and attain advantage in the number of visits.
To grow up websites fast it is important to make a strategy and follow it in the perfect way. Here, some of the rare tips I am going to write. To follow these tips will make your website far ahead of the website, which is in  competition.
These strategies take years of experience and skills to master. Checking a website regularly, creating links, deleting spam and seeing it run smoothly is a part of SEO and more difficult to do than said. These are some of the common link building samples:
Getting links from partners and customers: If a website runs on a partnership, then it is always better to create links among them, so that each of them advertises the other one when they are visited. This act can be achieved by sending the partnership badges or graphic icons which create the back links to the site. Such types are often offered by the Google AdWords certification program. Just like the loyal customers of any brand sport their t-shirts to create publicity. In the same way these graphic icons of a particular website placed on other websites creating links also act as publicity t-shirts.
Creation of a company blog: This strategy along with the link building strategies are becoming so popular nowadays that they are of often recommended by very accomplished engineers. The most important merit and skill of a blog is making the write new and unique content. The content on the blogs are updated regularly making them unique. They make various users interact with them regularly. They earn rankings and listings from other websites.
Being newsworthy: The blogs or web pages should be created in such a way that they earn the attention of the media, press and the other blogs. This would inspire them to get good links thus earning good rankings. The strategies of coming in the attention of the people can include giving away exciting prizes such as offers, opening a debate or releasing any product. These strategies often get good results, but they can even be misused. Therefore they have to be used wisely.
These are the tricks which are worth following for getting good traffic and rankings.