You can now directly Login to Windows 10 with Gmail account which was not possible in the older version of Windows. It was mandatory to have an Outlook, Live or Hotmail account to log in to the OS. But out there are many users who always prefer to use Gmail id in every aspect, including while signing in. So, if you are among them, you can easily do this for the new PC as well as for the existing computer.
Most of the users have a Gmail account while they usually don't have an outlook account or Hotmail. Users may think that using a Gmail account would limit the privileges than using an outlook account. But this is a completely wrong conception. Using a Gmail account will experience same privilege as an outlook account. Therefore, without any hesitation, you can Login to Windows 10 with Gmail account that you are having. You can do this for an existing PC and also for the new computer and let us explore the steps for both of them one by one.
How to Login to Windows 10 with Gmail Account
Login to Windows 10 with Gmail account to set up a new computer
While setting up a new Windows 10 PC or reinstalling it, you are literally going to wipe all the existing data from the machine. As a result, you need to follow some instructions in order to avoid making mistake and keep your system secure. We will discuss the method dividing into some steps for better understanding. Let's start the series of steps.
Step-1: First of all, press the Power key on the computer and start your new Windows 10 computer.
Step-2: After that, follow the Setup instructions that will be shown on the PC screen in order to complete the setup.
Step-3: Proceeding forward, you can notice a screen requesting you to log in using Microsoft account. In the text box, type your Gmail Address and click on the option namely "Create Account" just beneath the text box.
Step-4: In the next page, it commands you to provide a Password. You can enter any password you like. However, ensure that it is not as same as the existing Gmail account password that you use for logging in.
Step-5: On the following screen, you see some setup guidelines for the remaining tasks. Complete the Windows 10 setup by pursuing the instructions properly.
Once you finish the above-mentioned sequence of steps, hopefully, you have set up a new computer with Windows 10 using your Gmail account. If you are using an existing Windows 10 operated computer and you want to login to Windows 10 with Gmail account, you need to follow the next method.
Signing in to Windows 10 With a Gmail account in Existing Windows 10 PC
If you have omitted signing in to Microsoft Account they encouraged at the startup and used a local User Account, you need to log in to Windows 10 again with a Microsoft account. In that case, you have to follow the given list of instructions.
Step-1: To begin with, click on the Start Menu on your Windows 10 PC. Secondly, click on the Settings option when the menu shows up.
Step-2: When you are on the Settings homepage, locate and click the tab Accounts and you can identify this with a user icon.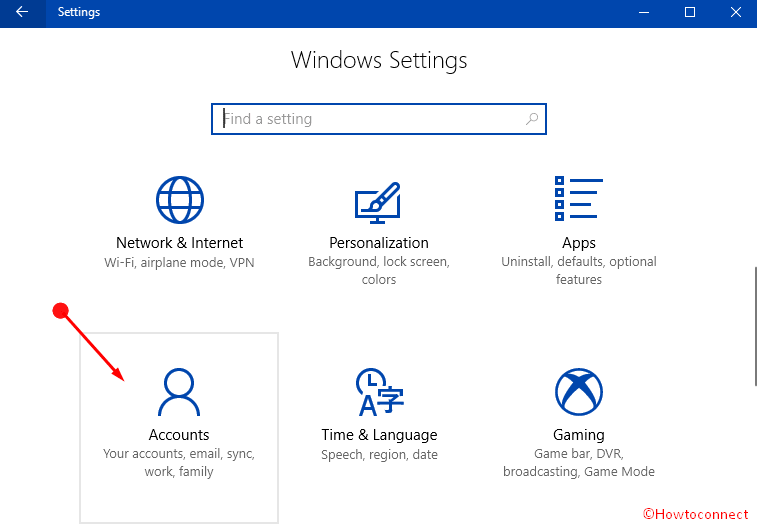 Step-3: On the following page, find and click an option Family and other people on the left of the menu. On its corresponding right side, click the option namely "Add someone else to this PC".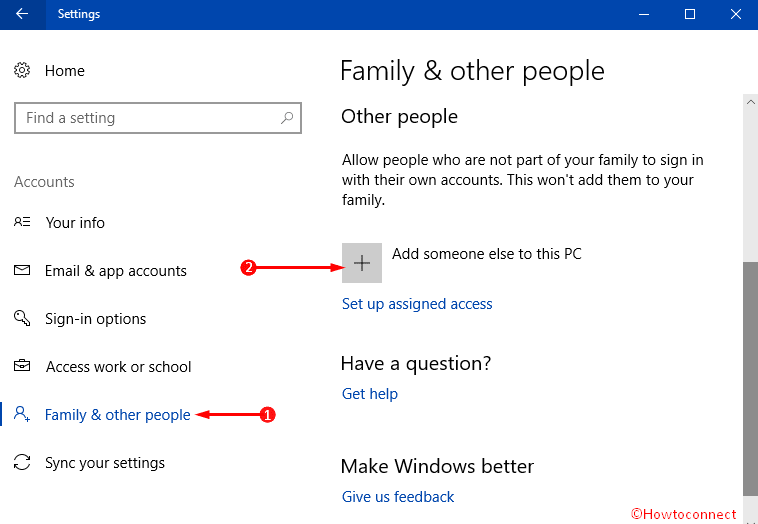 Step-4: This launches a separate dialog, click the option I don't have this person's sign-in information just under the text box for Email or Phone.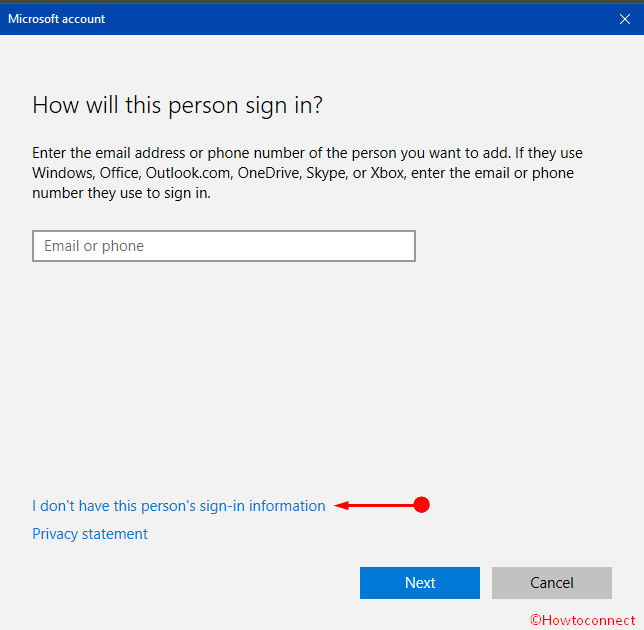 Step-5: Moving ahead, you come across text boxes for creating an account. Provide your existing Gmail Account as well as input Password consisting of 8 digits and select your Country name. After giving all the information, press Next to continue.
This instantly generates a new Microsoft account which eventually lets log into the PC using Gmail account. Remember that this account you just created will not have the Administrative authorities. Of course, you can anytime modify the user account type to achieve the admin privileges.
Conclusion
With the introduction of Windows 10, Microsoft has made the users' tasks easier than before limiting additional hassle. Definitely, creating a Gmail account is easier than that of an Outlook account. As a matter of fact, most of the users have a pre-existing Gmail account. Considering this fact, Microsoft has allowed their users to log in to Windows 10 with Gmail which has already achieved huge user satisfaction. We have discussed the detailed steps to set up Microsoft account in Windows 10 in a new as well as an existing computer. We recommend you to read the instructions properly and use in the proper places. It will save your valuable time as well as will help you to go with a hassle-free operation.