You will definitely like to download Lovable Pugs Theme for Windows 10 If you are an animal or especially pet lover. Microsoft provides a handful of outstanding themes such as Beautiful Norway, Asus Rog, Akrapovic Morsus, 26Creative. When it comes about pets we always think of cute puppies. Isn't it! So if you have so much affection for dogs in real life, thus you can keep them on your desktop.
Lovable Pugs theme for Windows 10 comes with 15 cute wallpapers of frisky puppies that show companion like behavior with wrinkly faces to curly tails.  So, without wasting any second, let's see how you can get it.
How to Download and Set Lovable Pugs Theme for Windows 10
Prior to downloading this beautiful theme, make sure that your system fulfills the following requirement of having at least Windows 10 Version 14951.0 (Creators update). Any Architecture whether it is x86 or x64 will be handy to install Lovable pugs
Here is how to Download Lovable Pugs Windows 10 Theme –
Step-1: Click on Microsoft Store icon that exists on the taskbar.
Step-2: When it appears on the display, make a click on the search icon and type Lovable Pugs. Select the same result with an icon from the drop-down.
Step-3: When the Store took the application, do a click on Install button.
Step-4: Once the theme is being downloaded and installed successfully, perform a right-click on any void place on your desktop. Select Personalize from the context menu once appeared.
Step-5:  Now, Personalization Settings app will roll into the screen. Select Theme section from the left column and shift to the right.
Step-6: Here, you will find the recently downloaded theme Lovable Pugs. You just need to make a click on it and Windows will automatically apply it on your Desktop.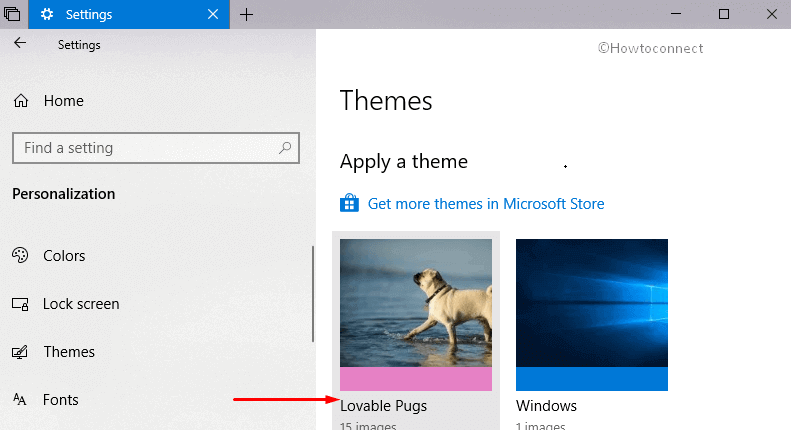 From this moment, you are ready to enjoy the Lovable Pugs Themes for Windows 10.
That's it. Now experience the Lovable pugs on your desktop.
Good, then you can inform your friends following the guidelines How To Save Themes for Sharing On Windows 10.
In addition, for mood change, you are always able to remove Lovable Pugs from your system using How to Delete Installed Themes in Windows 10.
Windows 10 allows saving providing you an option to use the same in future to better personalize your desktop. You are free to follow the instructions here – How to Save Windows 10 Custom Theme.
Addition to the built-in and collection of themes in Microsoft Store, few beautiful themes in 3rd party websites like on Deviantart and Theme packs.
Users are crazy behind the black color to show on their desktop. We have presented a collection of few adorable Windows 10 black themes you might show your interest. However, Microsoft store is increasing the number themes gradually to give your desktop a new look.
You find Personalization Settings category including a variety of setting to enhance the appearance of your desktop. From here you can perform all the activities regarding themes on your System. Anyway, we hope you will like the recommendation about Lovable Pugs Theme for Windows 10.