After accessing Internet our finger on mouse involuntarily moves towards mail service of Google i.e. Gmail. To be updated by sending and receiving messages is the use of Gmail. Gradually number of friends, colleagues, Circle grows and a group around you is ready to share with each other. Now you want to send updates by group. For this you will have to prepare contact group. But, how? Here I am going to describe how to make, manage, use group in Gmail.
Steps to create contact Group in Gmail Account –
There are several ways to create Gmail contact group and include new contact. In order that I am presenting an easy ways.
Step – 1
Sign in your Gmail account first. Click on the Gmail at the top left corner in account page and choose contacts from drop down tab.
Step 2
Now click on the New Group link under Contacts tab.
Step 3
A new tab asks you to create new group. Type opted name which you can easily share to the contacts inside. At last click on the OK button.
Otherwise you can begin by adding contacts in another ways. So click on My Contacts button.
 Then choose this button  to include new contacts or add previous contacts group.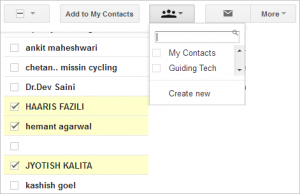 Managing Contact Group in Gmail Account-
Now second tips about manage contact Group.
When you choose More tab button, several menus are displaying in drop down lists. So you can perform following actions with your contact group such as change new group name, removing existing group or contacts.
When you want to delete contacts from the group at first choose the contacts and then move ahead.
Restore Contacts –
You can also restore previous group contacts normally in case of adding new contacts, deleting. From Restore contacts tab, choose opted time to which you want to restore.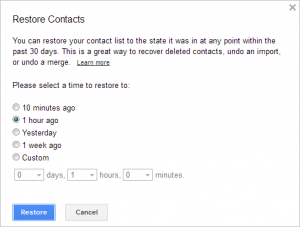 Send email with new Contact Group-
When you want to send an email through newly created group, just click your mouse cursor on the compose option in your Gmail account. As soon as you starts inserting group name under TO field it displays suggestion also. You can also find contact lists in TO filed.