Having more and more mailing accounts are common things of most of the net users. Reason behind of having more mailing accounts are quite convincing; like by this act users isolate their professional and personal life. Really, it is wise move of regular net user. But having more mailing accounts need more remembrance of accounts password. Sometime, user forgets existing password; so becomes unable to open their accounts. To avoid such instance, users should take precautionary action as they should activate option of merging multiple Accounts. Now question raise, what to do for merging multiple Yahoo or Gmail Accounts in single Gmail Inbox.
Merging multiple Yahoo or Gmail Accounts needs mere change in accounts settings. And it can be done after making login into existing Gmail Account. Related successive steps will make you able to merge multiple Yahoo Accounts or Gmail Accounts into single Gmail Inbox.
Make login into own Gmail Account and after then Click on to Gear Icon


Now choose Accounts and Import Tab and also select Add another email address you own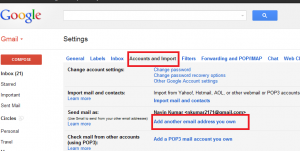 Click on to Add another email address option and put addition mailing address you want to access through particular Gmail Account.

Now, click on to Next Step Button. Here you will be asked for Send verification code
Finally put verification code to conclude exercise of merging multiple E-mail Accounts to single Gmail Accounts.