Insider Channel browser Microsoft Edge Chromium Dev 79.0.279.0 build is Rolled Out. The update for the major version 79 includes significant new features, improvements, and fixes to increase stability and behavior. Static certificate pinning feature and a bunch of bug fixes are waiting for you to update the browser.
You can get the latest build Microsoft Edge Chromium Dev 79.0.279.0 through Settings and more (Alt+F) > Help and feedback > "About Microsoft Edge".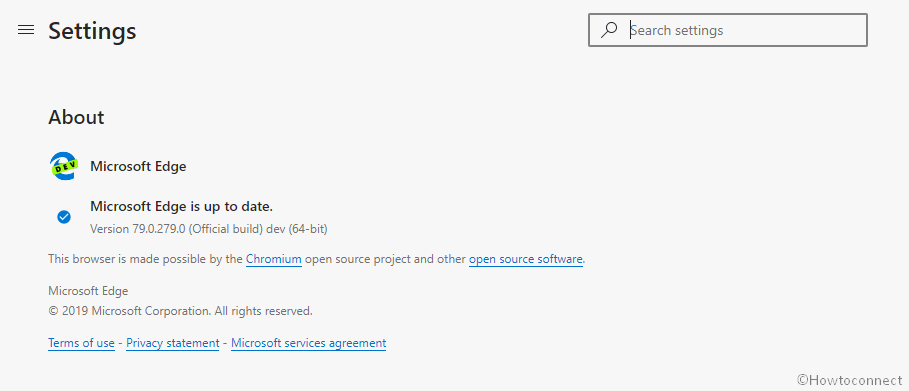 Microsoft Edge Chromium Dev 79.0.279.0 changelog
Features –
Edge Dev includes the static certificate pinning in enabled state.  This feature was is originally a part of Chrome.
On Mac, you will find a keyboard shortcut to mute tabs.
The current build included support for hyphenated words when doing single-word intranet searches.
Increased Stability –
The new version solved Netflix that causes some devices to freeze when watching DRM video.
Furthermore, it fixed web pages crashing sometimes when watching certain videos.
Settled Read Aloud crash issue.
Solved page crashing when something highlighted here while using ctrl+F to find anything.
Microsoft Edge Chromium Dev 79.0.279.0 settled Application Guard sessions not starting problem.
Solved navigation in Application Guard windows fails to work.
Improved Behavior –
Microsoft Edge Chromium Dev 79.0.279.0 fixed all contents don't appear on context menus.
The build solved autosuggest popup that is shown in fields where it shouldn't.
Solved the issue where collection that's removed in one browser window isn't instantly deleted from other browser windows.
The browser fixed translation pop up that did not show a button to close it.
Solved deletion or addition of words in the spell check dictionary problem.
The insider channel fixed using the keyboard shortcut to open the downloads page on an IE mode tab opens Edge's downloads, not IE's.
Settled launching the downloads page on an IE mode tab that at times doesn't open it in the foreground.
Solved installing IE mode site as app doesn't correctly display the site icon.
The build fixed new tab button doesn't appear on Windows 7 if the Aero theme is used.
Settled loading spinner that displays unexpectedly on items in the collection.
Source – Techcommunity.
Download Microsoft Edge Dev from here.