Microsoft rolls out KB4522016 for Windows 10 version 1903, build 18362.357. Released on 23rd September, it contains the updates to enhance security while using the browser Internet Explorer. However, it also includes certain known issues that you may face after installing this patch.
You can own this package in two ways. Simply navigate to the Microsoft Update Catalog page and search for the specific above-mentioned KB. Else, use Windows Update to let the installation happen all by itself.
KB4522016 –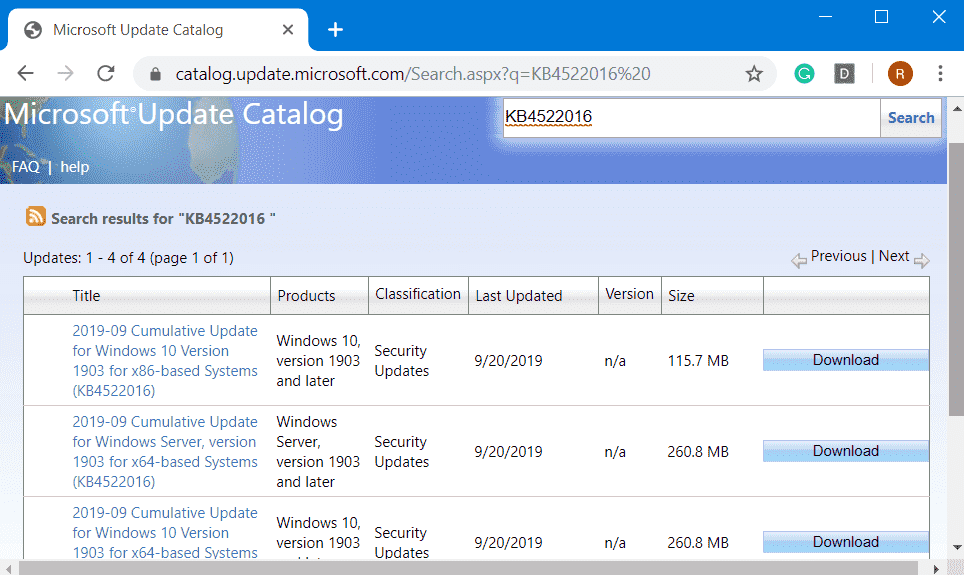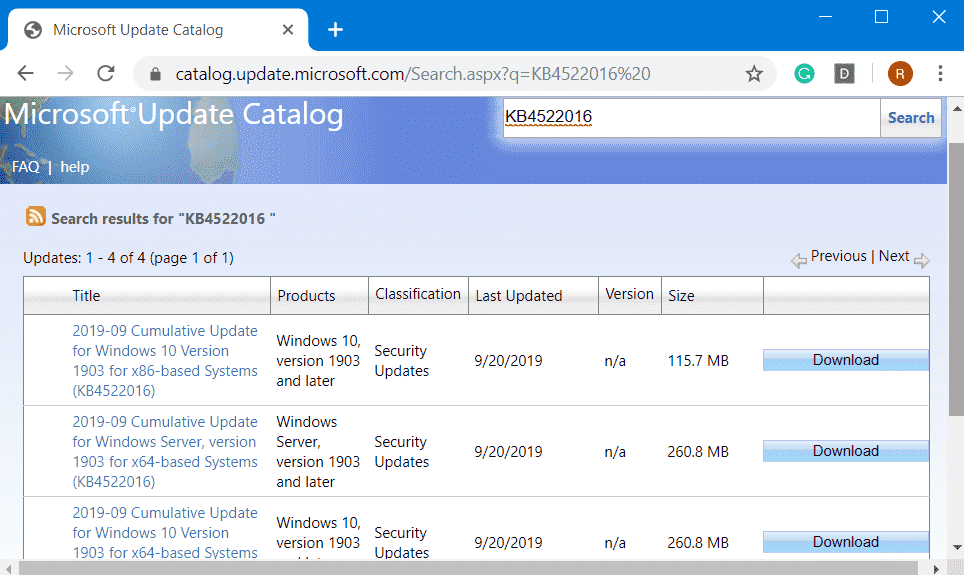 KB4522016 Windows 10 1903 18362.357 Cumulative update
Here is the list of details that KB4522016 Windows 10 1903 18362.357 includes –
It releases updates to improvise security while using Internet Explorer.
In case, your device has installed earlier updates, then only the latest fixes that this package incorporates will get downloaded and installed.
Known Issues
Symptom 1
After installing this update, certain users are reporting that audio in some games sounds little different. It is either quieter or plays contrasting music that expected. Therefore, at the request of a few of Microsoft's audio partners, the team implemented a compatibility modification. It will thus enable certain games to query support and provide multi-channel audio.
But, depending on customers feedback, the team will revert this small change. It is because some games and devices fail to render multi-channel audio as they are always habituated with. This will eventually result in games making different sounds are familiar to and may have missing channels.
Workaround
To deal with the issue, launch settings in the impacted game. Then, turn off multi-channel audio. If this option is not available, you can search for a third-party audio device in Control Panel. Once you get it, disable multi-channel audio or Virtual Surround Sound, only if these options are available.
However, the team is working on a resolution and hope to produce a solution in late September.
Symptom 2
Some devices may encounter high CPU usage or Input Method Editor (IME) may fail to respond correctly positively after installing this patch. The IMEs that are adversely affected are "Chinese Simplified" (ChsIME.EXE) and "Chinese Traditional" (ChtIME.EXE) with Changjie/Quick keyboard.
Workaround
The post-installation of KB4522016 creates another problem with the Touch Keyboard and Handwriting Panel service. Because of certain security-related that this update carries, the aforementioned issue occurs when the said service is not configured to its default startup type of Manual. To mitigate the trouble, perform the below-given steps –
Step-1: Press "Win logo & R" hotkeys in one go to open Run dialog box. Here, insert the command services.msc and click OK to proceed further.
Step-2: On the Services app, locate and right-click Touch Keyboard and Handwriting Panel Service.
Step-3: Choose Properties from the flyout menu.
Step-4: Click the drop-down against the option Startup type and select Manual.
Step-5: Save the changes by clicking the OK button.
However, the "TabletInputService" service is now in the default configuration. Moreover, IME should work as expected.
How to Get KB4522016
You should ensure to install the latest servicing stack update (SSU) to flawlessly grab this package. However, there are two ways to own this pack – manually through Microsoft Update Catalog, or via Windows Update.
Get access to the Windows Settings app by using Win + I combination of keys.
Choose Update & security category.
Click Check for updates button. Once the list comes into view, click Download. Follow the guidelines of the update to finish the installation procedure.
That's all!!!
Source – Release note