Microsoft Edge (Chromium)  has an overview of all the URLs you can call. The most popular among these is the edge://flags that includes the hidden settings and can be activated for experimental purposes. But there are also some other interesting links that are otherwise unavailable in the browser. A list of the same can be accessed via edge://about or edge://edge-urls. Here, you will find Microsoft Edge Hidden URLs.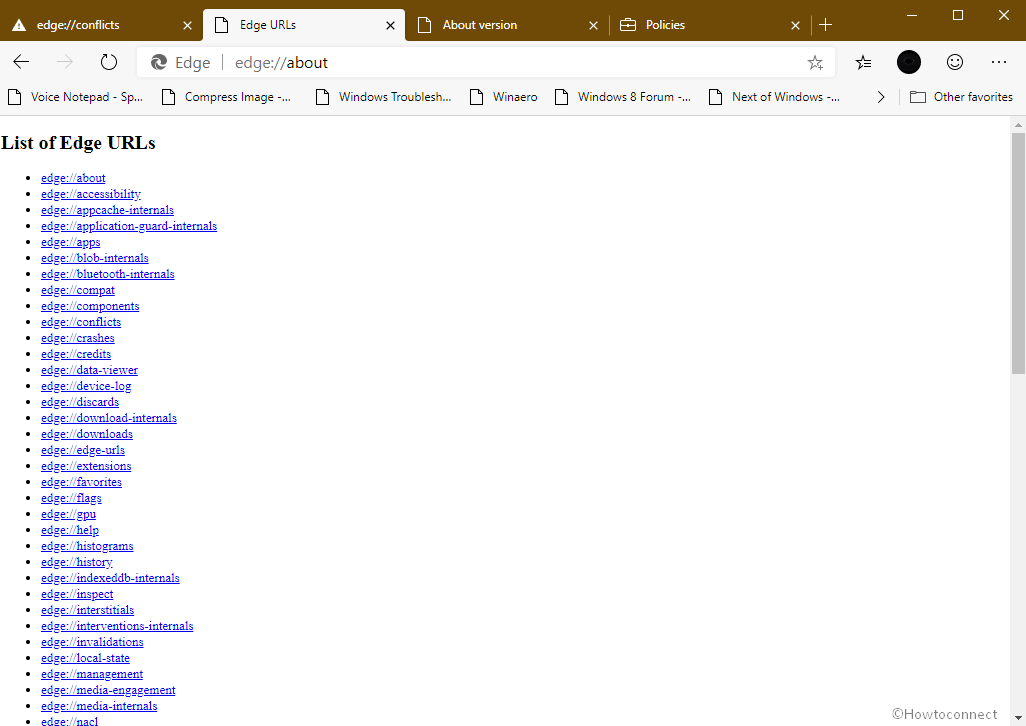 Microsoft Edge Hidden URLs – edge://flags edge://version List
edge://conflicts – It invokes all modules used by the browser Microsoft Edge. The page reveals all dlls of the Defender, DirectX, Firewall and other.
edge://credits – When you are eager to know which components of Microsoft Edge are available on GitHub and their descriptions, you will find the list of individual websites here.
edge://gpu – If you are curious about which graphics components are currently in use, kindly use this link to get the info.
edge://version – Index of all the paths the Microsoft Edge uses. For example, the path to the Profiles folder, variations, Executable, which Flash version is (still) installed, and more.
edge://policy – Using this URL, you can find which guidelines which have been activated for the Edge in registry. You are able to also check the corresponding ADMX files via the Enterprise page. Guidelines on this page will help to change the settings in Edge as you would like. However, the policies will then be applied in every installed version of Edge such as Canary, Dev or Beta in addition to the Stable.
Of course, there are other interesting and rather uninteresting links but we want to stop you from rummaging.
1] How to Enable Sync Open Tabs in Microsoft Edge Chromium
2] How to Customize Content Visibility on Microsoft Edge
3] How to Block Potentially Unwanted Apps in Microsoft Edge Chromium
4] How to Set Microsoft Edge Beta Default Browser
5] How to Never Translate in Microsoft Edge Chromium Browser