The upcoming major release Windows 10 October 2018 update will include a bunch of new features in Microsoft Edge, the built-in web browser. WebDriver, better ease of access incorporation improved reading view, and control over media files are the main additions. All these features of Microsoft edge will be available to the general public as soon as the Windows 10 version 1809 officially rolls out.
Microsoft Edge is here for many years but it has not yet gained the kind of popularity and fan following Internet Explorer enjoyed seamlessly for several years. Today, there are competitors working day and night to make their browser more efficient than ever and gain the tag, The Best. Realizing this, Microsoft has done various improvements and introduced a lot many new features in their built-in browser that will really give it an edge over its competitors. Elevated web drive, Easy access to tools, improved reading mode,  and control over media files made it more solemn. Without any more seconds, let's explore what all are the Microsoft Edge New Features in 1809 Windows 10 October 2018 update.
Microsoft Edge New Features in 1809 Windows 10 October 2018 update Version
Here is the Microsoft Edge New Features in 1809 Windows 10 October 2018 update –
New Group Policies
A host of MIDM settings and new group policies are introduced by the team of Microsoft Edge. These address IT administrators for the purpose of managing the browser. The new group policies include several new features along with saving history, printing, and rule over full-screen mode. Moreover, prevention of certificate error overrides, configuring startup options, managing extensions, and setting the Home button URL and New Tab page has been included too.
New Beta Logo
This version of Windows 10 will introduce a new BETA icon of Microsoft Edge. This is an effort to help the users distinguish between the preview builds and the official release. Note that a preview build is the developmental phase of Microsoft Edge and this logo will be visible on an Insider preview build.
Design Improvements
Fluent Design is one of the attractive Microsoft Edge New Features in 1809 Windows 10 October 2018 update. A usable and more natural experience is promised. The Tab bar of Microsoft edge has got some noticeable design improvements along with the depth effect which helps to emphasize the active one.
No More XSS Filter
XSS filter will be not available in Microsoft Edge New Features in 1809 Windows 10 October 2018 update. There are modern standards such as Content Security Policy and they provide more secure, powerful, and performant mechanisms to protect from the content injection hits. Moreover, they are highly compatible across contemporary browsers.
CUBIC and HTTP/2 for A Fast, Safe Internet
In this 1809 version, the clients of Microsoft Edge will benefit from the HTTP/2 connection linking as in Windows Server 2019. Moreover, the users will experience improvements in performance and security with guaranteed HTTP/2 favored cipher suited.
Settings and Menu Redesigned
The settings of Microsoft Edge were a bit complex with regards to a particular page. But in October update, these are renovated. Now, navigation is easier, commonly-used activities are at the center, and users are allowed more customization.
Customizable Toolbar Items
From now, When you will click three dots (..) in the toolbar of Microsoft Edge, you'll see a revamped menu where commands like New window and New tab are available at front and center. You can customize the icons in the toolbar too. Either you can choose to remove all of them and make the toolbar look tidier or they can add all of them if required.
New Settings Experience
In this build, Settings is deciphered into subpages on the basis of category. And each page will have less clutter and properly organized options. This fresh Setting equates the Microsoft Edge hub's experience, a quick and familiar one.
Control How Media Plays
When it comes to Microsoft Edge New Features in 1809 Windows 10, the latest is the setting that allows users to restrain the sites from playing media automatically. To use this setting, users can go to Advanced Settings and then to the Media autoplay section. Here, you will get options to choose the behavior as per their preferences –
The default is Allow. It means the videos will continue playing automatically in the front.
The next option is Limit. It restricts autoplay to work with only muted videos so that the sound doesn't disturb the user. As soon as the user clicks anywhere on the webpage, autoplay re-enables and remain enabled in that tab within that domain.
The last option is Block. It restricts every site to autoplay videos until the user plays it on his own. This may cause problems with some sites and you might require to click many times for an audio or video to play properly. Some sites might completely refuse to work – in such cases, enabling or blocking autoplay separately for every site is the solution. It can be done by going to website permissions pane (its icon is in Address Bar, next to the website's address and will open by clicking on it).
However, you can always make use of the Feedback app and inform Microsoft about the issues with sites not working properly during the Limit and Block settings. Users can share the details and Microsoft with the help of developers will refine that feature.
New Icon for PDF Files
In Windows 10 version 1809, when you set Microsoft Edge as the default app to handle PDF files, the users will see a new icon for PDF files in the File Explorer.
Improved WebDriver
It was never so easy to automate testing in Edge with the help of WebDriver. Now, it is a Windows FoD (Feature on Demand), the users don't need to manually anything while installing it. Moreover, at the time of updates, the WebDriver binary automatically updates to match.
Installing WebDriver is easy, users can go to Settings and turn the Developer Mode on, or they can move to the optional features and install it separately. Furthermore, it is improved a lot to go with the newest W3C Recommendation spec.
Improved Microsoft Edge for Developers
Web Authentication Preview; In the newest version of Windows 10, Microsoft Edge will have an unprefixed help for the new Web Authentication API. This is an enhancement of earlier support for WebAuthN specification for enabling the latest version of API automatically.
Web Authentication offers an accessible, open, and interoperable method to simplify the process, where robust hardware-bound identifications replace passwords. Users now can use external authenticators such as FIDO2 Security Keys and FIDO U2F Security Keys for securely authenticating the websites. They can also access Windows Hello with the help of biometrics or a PIN.
Microsoft WebDriver – A FoD (Feature on Demand)
While discussing Microsoft Edge New Features in 1809 Windows 10 October 2018 update, the latest news is that Microsoft WebDriver is now a FoD (Feature on Demand), getting the right version as per the device is now easier. For installing it, users can turn on the Developer Mode and if they want to install it standalone, they can follow this –
Settings >Apps >Apps & features > Manage optional features
The biggest problem users face rounds near binary mismatches. Feature on Demand automatically matches the flavor/branch/build and addresses those problems efficiently. Now the installation is available in Windows, it signifies that future stable Windows versions or insiders will no longer have the option for standalone download.
From this update, the installation path of Microsoft WebDriver will be C:\Windows\System 32\ and this will automatically appear on the machine's PATH once installed. The x64 based computers are now coming with 64-bit Microsoft WebDriver.
Enhanced PDF Experience
With Microsoft Edge New Features in 1809 Windows 10 October 2018 update, Your PDF experience will be enhanced. Now you can refresh the Books pane easily with the help of a pull gesture. While printing the PDFs, you get the option to choose the scale of the printout (whether Actual size or Fit to the page). And at the time of pinning books to the Start Menu, the live tile will cycle between the cover page and recent progress.
How to Manage PDF on Microsoft Edge
Improved Reading View
With Reading Mode, now you can easily read the website's content. The latest version introduces a number of page themes for the reading purpose.
How to Configure Reading View in Microsoft Edge.
Line Focus
Line focus, a feature introduced in Microsoft Edge New Features in 1809 Windows 10 October 2018 update that helps in enhancing the focus while reading the content. It lets the user highlight the sets of one, three, or five lines.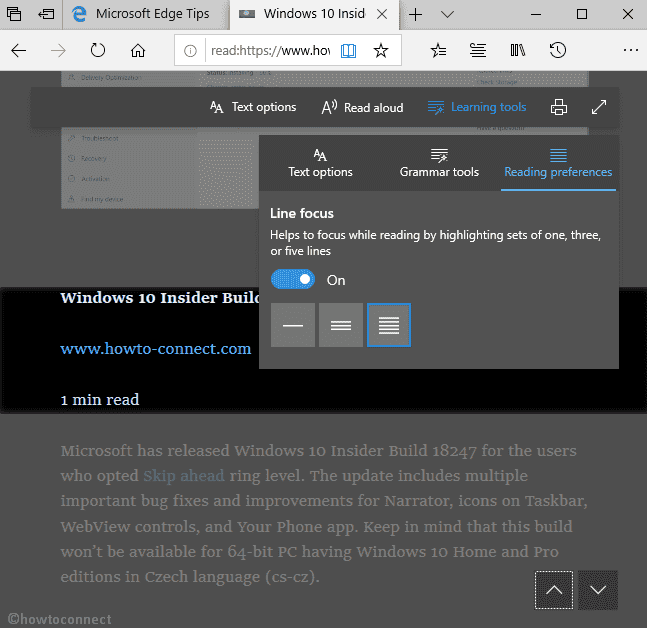 How to Enable Line Focus in Edge Browser
Easily Accessible Tools
Microsoft Edge New Features in 1809 Windows 10 October 2018 update allows you to easily access the tools at the time of reading PDF documents, users just need to hover the cursor at their top. Icons now have the text description so it is easy to understand them. Moreover, the toolbar gets the option for adding a note and pinning it to the document's top.
New Dictionary Function
While using the PDF reader, reading the Books, or during Reading View, the new dictionary function appears that provides the meaning of important words at the time of reading. Users just need to choose a word; the meaning will evolve over the selection. By going to the General Tab Settings in Microsoft Edge, users can enable, disable, or choose the content (PDF files, Reading View, Books) where meanings should surface.
Reading it Loud
Now, Microsoft Edge also allows reading it aloud. So, whenever users want to know the pronunciation of a word, they can easily get.
Share the PDFs
In the Microsoft Edge New Features in 1809 Windows 10 October 2018 update, when users do a right-click on a book, they will get the option to share it. All the PDF activities will be visible in the Timeline.
Consent Menu Box
To save the autofill data, this October update will introduce a consent menu box in Microsoft Edge. It will emerge when the browser requests user's consent to save the password and card details.
The New Redesigned Settings and more
Microsoft Edge New Features in 1809 Windows 10 October 2018 update introduces newly designed Settings and more menu. Now, it will be easy for the users to discover things. The menu options in this build will be arranged in groups, every entry has icons and keyboard shortcut (if applicable).
Downloads pane now has Shown in folder
This is a basic feature but was missing till now. When Microsoft Edge was launched for the first time, users were demanding this from then. Now, the Downloads pane has copy link and Show in folder options.
So, these are all the Microsoft Edge New Features in 1809 Windows 10 October 2018 update. Very soon people will enjoy all these features as the waiting period is about to end.