Migration Windows 10 Theme is out now to decorate your desktop background. 12 cool set of images constitutes the application containing migrating whale in Blue Ocean, colorful butterfly, giant elephants walking in countryside, birds flying in discipline and so on. Beautiful creatures attract human mind always and these photos will bring nature on the computer screen.
Migration Windows 10 Theme is a lightweight and user-friendly application as well. This will occupy only 9.62 MB of Hard Disk space which is pretty minimum. Moreover, you are allowed to download this same theme at a minimum of ten Windows 10 devices using your Microsoft account for logging in. We will see the procedure to get the Theme this write up along with necessary specifications to apply in the machine.
How to Download and Set Migration Windows 10 Theme
Here is How to Download Migration Windows 10 Theme –
Step-1: Launch the default Web browser in the device and proceed to the official Microsoft webpage the Theme.
Step-2: When the page opens finally in a window, scroll the mouse pointer to the right side and make a click on the Get option available here.
The above action will direct you to the Theme page in the Microsoft Store.
Note- You can also open the Microsoft Store instead and search with the theme name to reach to it directly.
Step-3: Click on blue color "Get" button. You can see the Download progress both in the page and in the notification area of System Tray.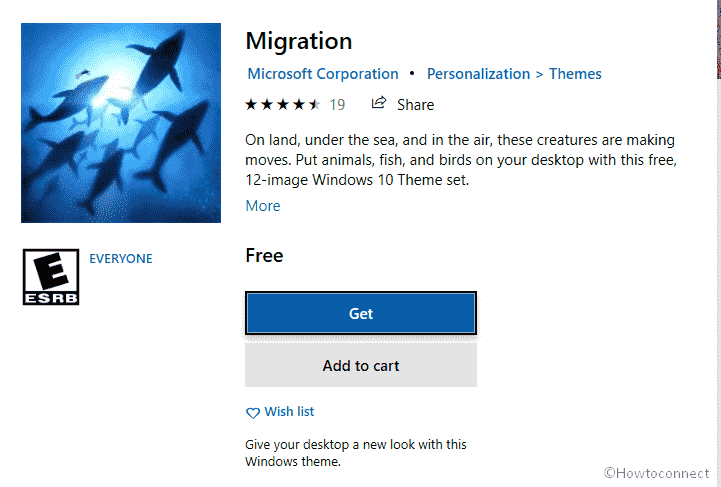 Step-4: upon finishing the downloading and Installing to the computer, a banner will be visible in User Interface showing Apply. Make a click on this option to start applying procedure process at the same time, you will be redirected to the – Windows settings app – Themes.
Step-5: Once reached, click on Migration to apply the super cool disciplined creature photos in your desktop.
System Requirements for the Theme
Your system should have the following specification in order to open and apply this Migration Windows 10 Theme –
The Operating System must be Windows 10 version 14951.0 or higher as a part of opening and applying the application.
Minimum architecture requirement needed is x86, x64, ARM, ARM64.
Your system should support the English (United States) language to avail this privilege.
Migration Windows 10 Theme is for all ages as there is no age restriction to download and apply this one.
That's all!!!