MSMG has today updated the toolkit to version 9.4. The tool allows creating your own ISO, remove apps Add drivers and more. Furthermore, you can Customize, Add or Remove Features and Components, Enable or Disable Features using this toolkit. The MSMG ToolKit 9.4 update includes a heap of changes and improvements.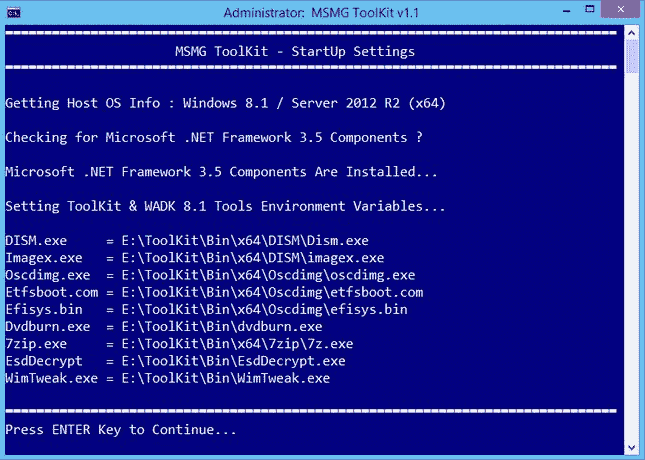 MSMG ToolKit 9.4 Changelog
Windows 10 20H1 Insider Preview WADK (version 10.0.18963.1000) Tools.
Better organized toolkit package.
MSMG ToolKit version 9.4 supports Windows 10 19H1 Apps Integration
Includes Windows 10 v19H1 Apps Pack.
Restores the feature to integrate Microsoft games.
The new version has the Function to integrate Microsoft VC ++ Runtime.
Detailed component removal for Windows 10 1809
Support for removing components for Windows 10 1903
Remove new components for Windows 10 1903 and 1809.
Ability for the integration of custom registry settings.
known problems
Using ToolKit with antivirus programs enabled can affect the operations of the ToolKit.
ToolKitHelper.exe may be checked as a virus or trojan or malware program, do not worry, it's just a false positive sign.
The MSMG ToolKit 9.4 can / will not support post-servicing of ToolKit serviced source images with other similar tools.
Windows 8.1 – Standard Metro Apps Pack missing Office OneNote Appx file.
Windows 8.1 – The integration of the Windows Remote Server Administration Tool (RSAT) along with other features leads the integration to abort with an error code 0x80092004.
Windows 7 / 8.1 / 10 1507 / 1511 / 1607 / 1703 / 1709 / 1803 Component removal has been temporarily removed.
Windows 10 1809 – Integrating or installing Windows updates after removing the component can restore removed components if empty resource files/folders have been removed.
Windows 10 1903 – Integrating or installing Windows updates after removing the component restores the removed components due to the recent change in the Microsoft Update mechanism.
Windows 10 1703 / 1709 / 1803 / 1809 / 1903 – User-defined user image integration does not work in the login screen, even though it appears in the Start menu user icon.
Windows 10 1903/1809 – Windows Media Player/Photo Viewer/Win32 Calc Skins functions do not work.
Windows 10 1709 / 1803 / 1809 / 1809 / 1903 – It has been reported that in the Format USB function, the diskpart list command does not work when used in the script.