Musical Arrangements Windows 10 Themes is now ready to get installed and to make your desktop delightful. Music enthusiasts may download this application from the Store to give their screen a new appearance by implementing these beautiful images. This theme comes together in perfect harmony consists of a set of 12 splendid pics of drums, piano, saxophone and guitar that will let you experience the symbol of passion towards harnesses. One can download this theme easily from the Microsoft Store at free of cost.
Being a lightweight, Music Arrangements Windows 10 Theme is also a user-friendly application as well. Besides, the set of background images occupies only 10.09 MB space on your Disk drive that is actually quite less. The best part of this application is that you can get this at a minimum of ten Windows 10 systems. For this, you will have to download the theme using your "Microsoft account". Besides, this app is applicable for the users of all ages with English (United States) as the default language. Let's see how to download and apply this theme on your system from the below section.
Way to Download and Set Musical Arrangements Windows 10 Theme
Here is How to Download and Set Musical Arrangements Windows 10 Theme –
Step-1: Launch any web browser from your device and navigate to the official webpage of Musical Arrangements Windows 10 Theme.
Step-2: When the page is upfront, click on the Get button of the running screen. This will lead you to the Theme page in the Store.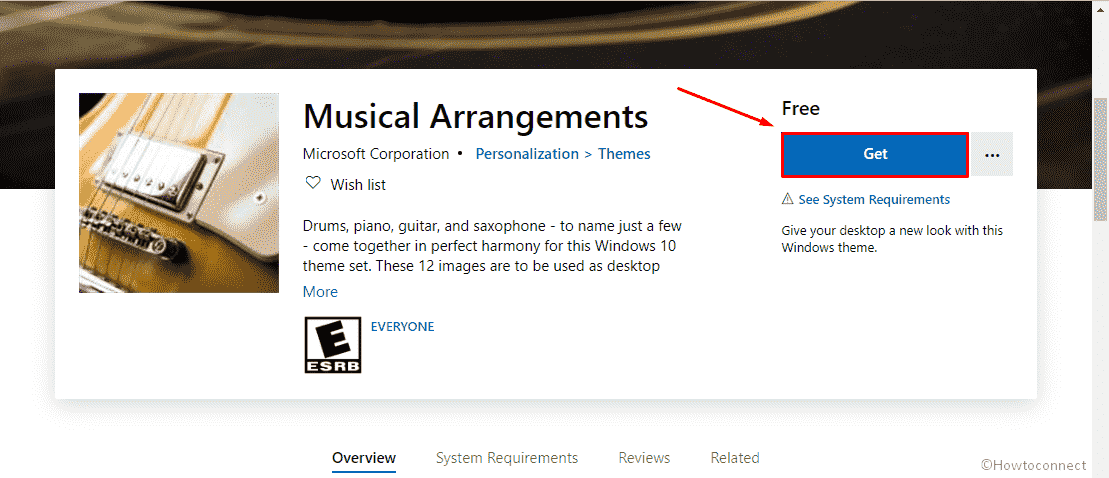 Note – Alternatively, you may also open the Microsoft Store to reach to it directly by searching the theme name there.
Step-3: On the running screen, you can see all the details with specifications. Again hit the Get option from this page to initiate the downloading procedure. This will take a while to finish the task, it also depends on your internet speed.
Step-4: Once the installation gets over, an Apply button will become on the Store interface. Moreover, a display banner will also appear on the desktop at the bottom right side also. Make a click on the Apply button to set the theme.
Step-5: With the above action, the Themes Settings page will open on the screen. Move on to the right side pane and reach out to Musical Arrangements. Select the Theme to apply it in your desktop.
System Requirements
Following requirements need to be fulfilled for applying Musical Arrangements Windows 10 Theme on your device.
Make sure that your machine is operating on Windows 10 version 14951.0 or higher OS in order to launch and use this product.
You should have the architecture specification of x86, x64, ARM, ARM64 at least.
This theme is at free of cost and there is no age restriction.
You need to ensure "English (United States)" language support in Windows.
That's all!!