Winter is almost here so does the shuddery feeling and to adorn the desktop screen with same cooling effect, National Geographic Antarctica PREMIUM theme is live in store. This Windows 10 personalization app is consists of 12 high-quality fascinating 4k images that you can use as background wallpaper. The pictures included in this pack presents the eternal grace of icebergs, glaciers, and sea caves from the coldest, driest, and windiest continent. Fortunately, getting this theme is totally free moreover you are allowed to avail be the same on up to ten Windows 10 devices just using your Microsoft account.
National Geographic Antarctica PREMIUM Windows 10 Theme
Here is how to download, install National Geographic Antarctica PREMIUM Windows 10 Theme –
In the first instance, navigate the official webpage of the mentioned theme.
After reaching there, click the Get button to commence the procedure.
Once, the Microsoft store makes an appearance with inside information of the specific theme, again click Get.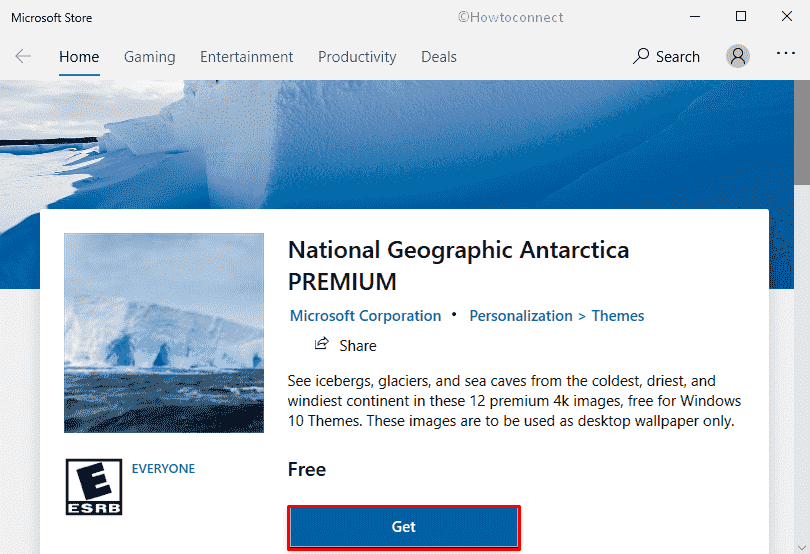 Now, the system will start downloading National Geographic Antarctica PREMIUM theme and after completion, it will be installed as well.
Wait until a notification peeps from the bottom right corner of your desktop screen.
When you get the confirmation, head over to Theme settings page by making a click on Apply button.
On the subsequent settings window, shift to the right surface and choose the theme you just installed.
System Requirement
National Geographic Antarctica PREMIUM Windows 10 theme is comparatively lightweight and holds only 7.24MB of your hard disk memory. Moreover, this personalize app is suitable for users of ages thereby there are no restrictions to get it. However, your PC must possess some pretty basic requirements that can be easily meet. The specifications are as follows –
Windows 10 you are running as operating system should be version 14951.0 at least.
System architecture must be compatible with either x86, x64, ARM, or ARM64.
The PC should support English (United States) language.
That's all!!