Microsoft unveiled the administrative templates for Windows 10 1909 (.admx) download shortly after the release of the November 2019 update. For the version, Gpedit will use these files to populate a compilation of policy settings for admins. .ADMX for 1909 is available to download in .msi format in 22 languages having 12.9 MB size. The included group policies presented are more for admins or those who are familiar with the policies. Presets can be applied with these templates to enable, disable, or change features in Windows 10.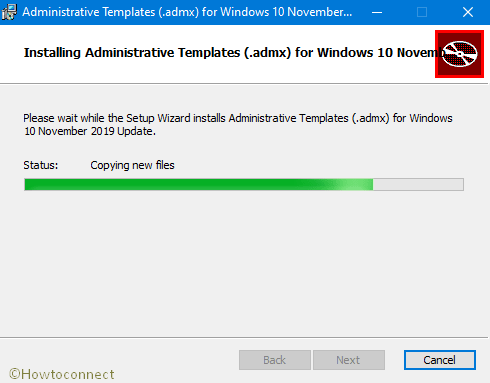 Administrative Templates for Windows 10 Version 1909 November 2019 update
Here is how to download and install Administrative Templates for Windows 10 Version 1909 –
Go to the Microsoft official page and click on the Download button.
A file named Administrative Templates (.admx) for Windows 10 November 2019 Update.msi will be downloaded, double click on this one.
Once Setup wizard for the Group policy settings file is shown, select Next.
Check the box for terms and conditions on the next window and choose Next.
Now select the way you want features to be install and hit Next.
A UAC dialog prompt appears, choose Yes to give your permission.
Wait a little time and let the installation complete and click on Finish.
1] Download All Group Policy Settings in Windows 10 as Spreadsheets
2] Fix: Windows 10 November 2019 Update Bugs and Issues [1909]
3] Windows 10 November 2019 Update Features and Improvements [1909]
4] How to Install Windows 10 November 2019 Update Version 1909
5] How to Upgrade Windows 10 to November 2019 Update Version 1909
6] Create Windows 10 1909 ISO Using SVF file and svfx
7] Windows 10 1909 Changelog
8] KB4517245 to Enable Windows 10 1909 Feature Update.
9] Windows 10 Version 1909 ISO [Download]
10] Windows 10 1909 Gets New Sign in Group Policy
11] Windows 10 19H2 will be a Service Pack