The AOKP Android 4.2.2 based latest custom ROM has been presented for the Samsung sponsored Nexus 10 tablet in the current week. Like CM10.1 custom ROM, AOKP offers some helpful and latest features for Android 4.2.2 Jelly Bean. It is only custom firmware not an authorized update by Samsung or Google. Keep in mind that after installing this unbranded custom ROM to your device, it will cancel warranty service also.
Condition
This custom ROM is only for Nexus 10 tablet. Don't install it on any other Nexus tablet. As well, howto-connect or the developers of AOKP custom ROM are not to be answerable for any issues, if your Nexus tablet becomes harmed per given tips in this page. We tell that start the process of custom ROM installation at your personal risk.
Take care to essential points
Install Nexus 10 USB driver to your computer.
Turn on USB debugging mode on your Nexus 10 tablet.
Backup all data of Nexus 10 tablet to the memory card because it will be deleted during custom ROM install process.
Make sure that your Nexus 10 tablet is fully charged.
How to Update Nexus 10 with AOKP Android 4.2.2 Build 5 Jelly Bean Custom ROM: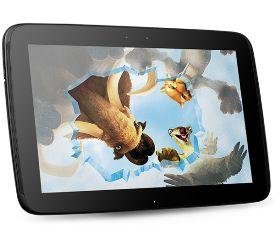 Step 1
At first download both required zip files to your computer.
Download AOKP Android 4.2.2 Build 5 Custom ROM
Google Apps
Step 2
Link your Google Nexus 10 tablet to computer through the USB cable for further use.
Step 3
Now copy the both downloaded Android 4.2.2 ROM zip and Google Apps zip files only ( find it in step-1) to root the folder of memory card of Google Nexus 10 tablet.
Step 4
Next, switch off your Nexus 10 tablet and unplug the USB cable.
Step 5
Then start it into the bootloader mode. For this concern, push and hold the three buttons (volume up, home and power) jointly.
Step 6
Select BOOTLOADER and start it to RECOVERY mode (CWM) screen by follow the direction-finding instructions on the screen.
Step 7
In CWM recovery mode screen, first you have to do the data clean process through on-screen menu. Then scroll down to "flash zip from SDcard" menu and push the Power button to select it.
Press the Power button once more and select "choose zip from sdcard" menu.
Step 8
Now find to Android 4.2.2 ROM zip file from the memory card using both volume keys and select it via the Power button. Then you will receive a pop-up to continue install process on the next screen and select yes button to verify it. Next, the installation procedure should begin now.
Remark
Repeat the above given all steps to select the Google Apps zip file also from the memory card.
Step 9
As soon as the custom ROM Install process finish, go to "+++++Go Back" menu and restart the Nexus 10 tablet by selecting "reboot system now"  menu from the recovery menu.
The Nexus tablet will boot now, and it will load to just installed AOKP Android 4.2.2 custom ROM supported home screen around 5 minutes.