Here, we are going to discuss an executable file named NisSrv.exe in Windows 10 including previous versions. The file is not easily accessible or visible on your PC. The security threat rating of NisSrv.exe is high which is near about 13% owing to not being a core file of the operating system.
This is the part of articles on the executable files whose processes exist in the Task Manager in Windows 10 such as sihost.exe, winlogon.exe, lsass.exe, dwm.exe.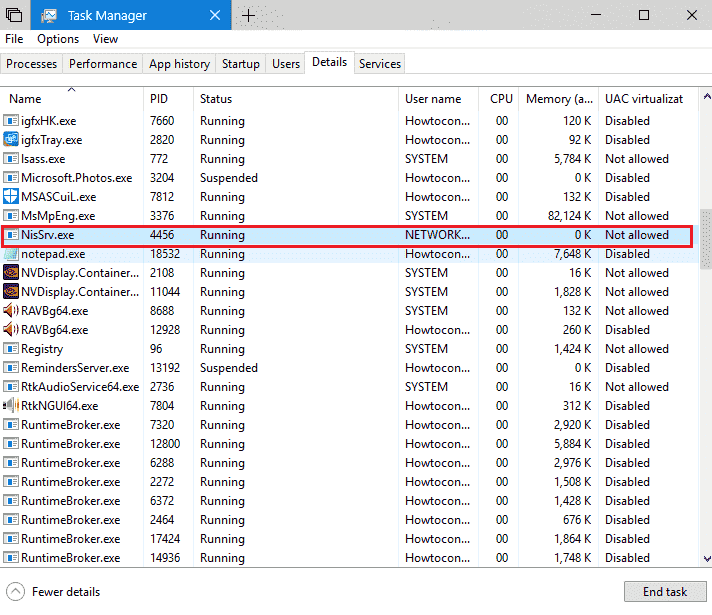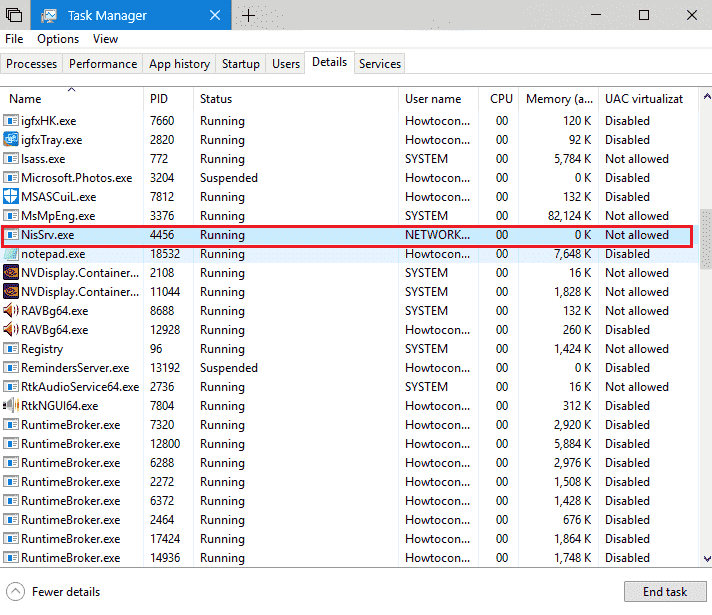 What is NisSrv.exe in Windows 10
NisSrv.exe stands for Inspection Service.  This file is also known by various names depending upon its work such as Microsoft Network Real-time Inspection Service or Microsoft Network Inspection System or Microsoft Antimalware or Microsoft Security Client. This is an integral part of Windows 10 including its predecessors though not a necessary software.
More information on NisSrv.exe file in Windows 10 –
Filename: NisSrv.exe Latest Known Version: 4.17.17672.1000
Developer: Microsoft
File Size: 3.58MB
File Description: Microsoft Network Realtime Inspection Service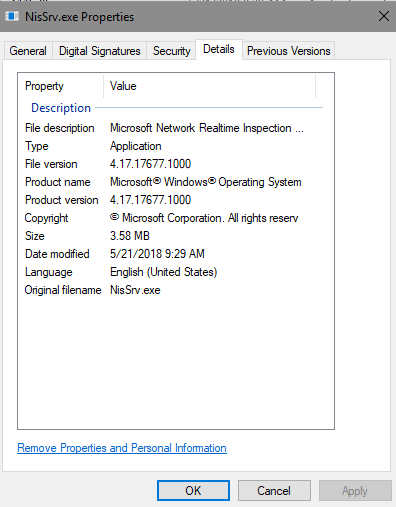 How Does NisSrv.exe work in Windows 10
This program works as a security tool on your Windows 10 computer and exists in task manager. The working principle of nisSrv.exe depends upon the version of Windows which is installed in the system. In Windows 10, it functions as Windows defender which works as security process and anti-malware program.
Difference between a Core and fishy NisSrv.exe file
NisSrv.exe is mostly used in Your system while performing important tasks in the system such as start-up, shut down or doing specific work. Its extension might bring a caution symbol to your head. Browsing on improper web pages brings different types of malware onto your PC. Some of these viruses are named similar to the core files already residing in the system. This might lead to confusion in guessing which one is correct and which one is just a malware file. Here we will tell you some easy ways to detect whether a given file with .exe extension is good to have on the PC. A malware makes copies of itself once pressed.
If you find a NisSrv.exe file in your system, right click on it and press on "Open File Location". If the path shown is i.e. C:\Program Files\Windows Defender in File Explorer, this is just a core file of your Operating System. However, if found otherwise it must be a fishy file trying to corrupt your system and hack data.
You can also use Security Task Manager to verify protection state onto your PC. Here we will discuss the process to identify genuine or fake .exe files on your PC.
If Fake files exist in PC with NisSrv.exe name
When you find that there is indeed some files with fishy names and trying to compromise your data, follow the below written steps:
1. Full scan your computer with good Anti-virus software and try to fix the bug. Moreover, you can also Schedule Windows Defender Full or Quick Scan on Windows 10 with the instructions here.
2. Delete system's malicious temporary files and folder using disk cleanmgr app.
Take help the guidelines from the article – Windows 10 – How to Open and Use Disk Cleanup.
3. Always keep your system's drivers up to date.
Follow the elaboration in this article – Tips to Update Driver Software on Windows 10 Step by Step.
4. "Undo "Recent changes of the system by using System Restore.
The write-up in this guide will assist you – System Restore in Windows 10, 8 and set new Restore Points: How to do.
5. Re-install Windows 10.
Easily execute the instructions from – How to Clean Install Windows 10 1803 Latest April 2018 Update.
6. Install all updated version apps on PC.
Get the particulars from this beginners guide – How to Pick App Updates to Download in Store in Windows 10
Disabling of Microsoft Network Real-time Inspection Service
NisSrv.exe in Windows 10 is associated with Windows Defender's real-time protection. So you cannot permanently disable it. However, you can deactivate it for the temporary period using Windows Defender Security Center.
If you want to reinstall this file, you can always search for it in the Windows store manager or else get it from Microsoft official website rather from.Exe download websites.
How to fix NisSrv.exe file in Windows 10
The fixing process of this file is very simple
Using Task manager
1. Simply Right click on the taskbar (bottom most of the PC screen) and press on task manager option.
2. Here go under Details tab and find NisSrv.exe file. After this, just select the file and press on the "End task" button.
Via MSconfig
Press "Win+R" simultaneously to open Run command.
Now type "msconfig" and press Enter and let "System configuration" wizard open.
Go to the "Startup" Tab and hit "Open Task Manager".
Once the Task Manager comes into view, click on Details tab and search for NisSrv.exe file.
Just make a right click and choose "End task" option.
If you want to see the Properties in detail of this file follow the given instructions
Click upon the search bar on taskbar type services and press on the Enter key on the keyboard.
Here, locate "Windows Defender Antivirus Network Inspection Service" and perform a right-click on it and choose the option "Properties".
You can see other related information about NisSrv.exe on the window.
This's all about NisSrv.exe in Windows 10.
Repair any Windows problems such as Blue/Black Screen, DLL, Exe, application, Regisrty error and quickly recover system from issues using
Reimage
.