Microsoft rolled out November 2019 .Net Framework 4.8 and 3.5 Update for all Windows 10 versions. The Patch Tuesday update includes KB4530743 for KB4530738 for 1607, KB4530739 for 1703, KB4530740 for 1709, KB4530741 for 1803, KB4530742 for 1809, and Windows 10 1909 and 1903. The .Net Framework update will be downloaded automatically and you must have to restart your system to apply this. The patchday update contains a fix that occurred after the installation of the 24 Oct 2019 cumulative update.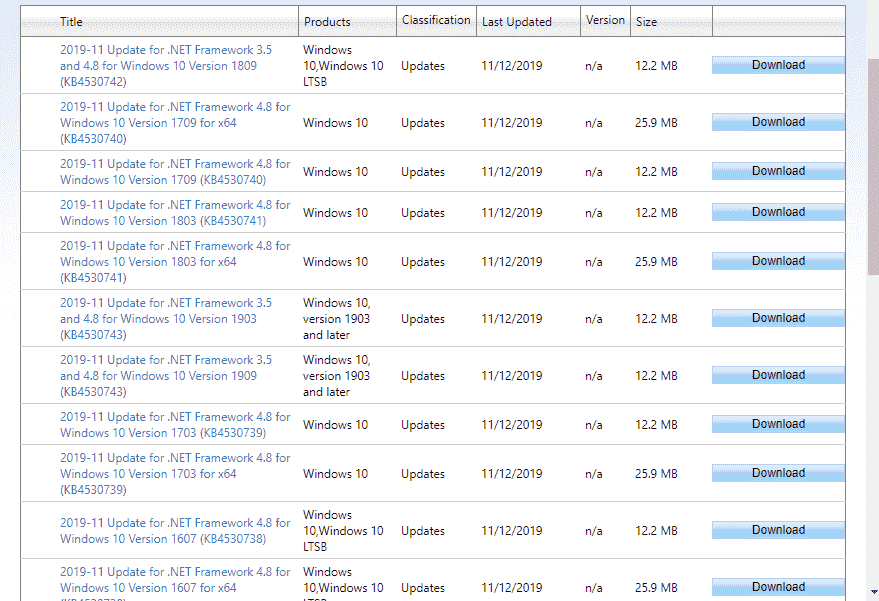 All November 2019 .Net Framework 4.8 and 3.5 Update for Windows 10
Quality and reliability improvement section of the release note states –
Address an issue where ClickOnce applications and applications creating the default AppDomain with a restricted permission set may observe application launch or application runtime failures, or unexpected behaviors. The observable issue was the System.AppDomainSetup.TargetFrameworkName is null, leading to any quirks enabling reverting back to .NET Framework 4.0 behaviors.
Ensure to have .NET Framework 4.8 installed otherwise the patch will not be installed on your device.
How to get this .Net Framework cumulative update
Follow the guidelines to install November 2019 .Net Framework update on Windows 10 –
Press Win+I and select Update & Security on the Settings interface.
Once you reached the Windows update section (appears by default), click on Check for updates button.
Let the pending updates download after finishing click on Restart now.
Alternatively, you are able to install November 2019 .Net Framework 4.8 and 3.5 Update manually using the .MSU file taking from Microsoft update catalog.
Go to this page, match the Windows 10 version on your device with files here and click on Download button from the right side.
After downloaded, double click on the .msu file and wait a little time for installation.
You may
1] KB4511555 for .NET Framework 4.8, 3.5 Windows 10 v1903 – 30 Aug 2019
2] KB4502584 Windows 10 1903 .Net Framework 4.5, 3.8 Cumulative update
3] KB4486129 and KB4486153 for .NET Framework 4.8 Build 3761 Windows 10
4] KB4489192 for .NET Framework 4.7.2, 3.5 Windows 10 V1809
5] KB4486553 for Windows 10 1809 .Net Framework 4.7.2, 3.5 – 01 Mar 2019
That's all!!!