You might be desperate to know how to Omegle Video Chat on Android as the original application is not yet obtainable from Play Store. Currently, this is one is the most popular chat platforms in the cyber world to connect you to haphazard people from all around the world. But nowadays people prefer Android phones rather than a computer. Unfortunately, the video chat option of Omegle does not work easily on mobile devices. Though you will notice multiple fake apps in the play store, all are unusable. Furthermore, if you attempt it on your phone via Chrome, UC or Opera mini browser, only Text option works. However, in this context, we are going provide a guide to Omegle Video Chat on Android Phone and tablet.
Omegle is totally hassle-free as it doesn't need any registration or sign-up. It is a superb platform to get in touch with random anonymous and make friends by socializing. You can also chat with your colleagues and schoolmates using this application. This website got a huge response and since then developers have added several features like Spy mode, Internet tags, and unmonitored Video mode. Therefore, Omegle has successfully attracted more users to it within a very short time. But while staying at this one, be careful about your own safety. Don't share your personal information because the individual is a stranger with whom you are talking with. If you are getting any uncensored text, disconnect the call immediately and at the same time never bully other users too.
Read – How To Enable Mario in Google Maps on Android
How to Omegle Video Chat on Android Devices
Here is How to Omegle Video Chat on Android Phone and Tablet –
Step-1: Initially, obtain Puffin Browser after navigating to this location and install on your Android device.
Note: Don't install the application directly from Play Store because several users reported that video option doesn't function when you do so.
Step-2: Launch the Browser once the installation process is complete from the Home Screen.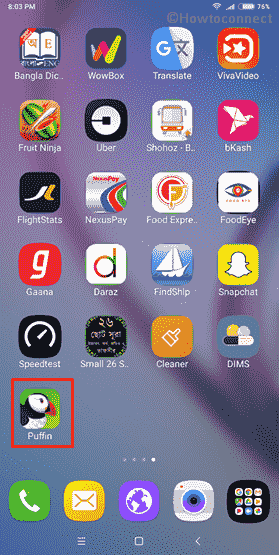 Step-3: On the Address Bar, type www.Omegle.com and hit Enter to access the website.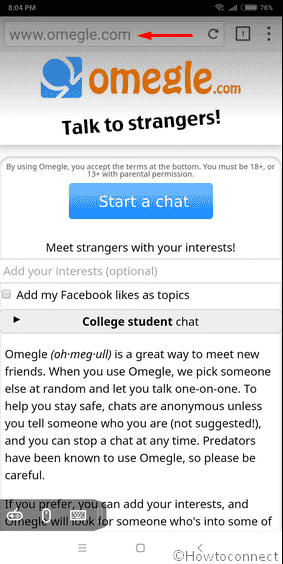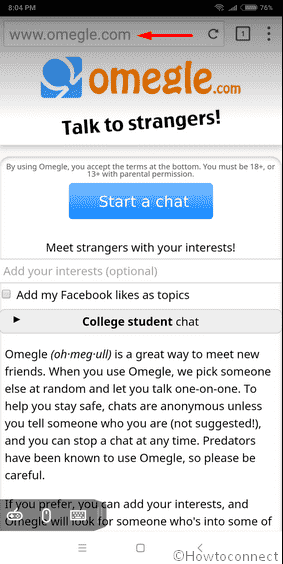 Step-4: When Omegle home screen shows up, tap on the three dotted menu icon located on the top right corner of the browser. Turn on the toggle switch of Request desktop site feature.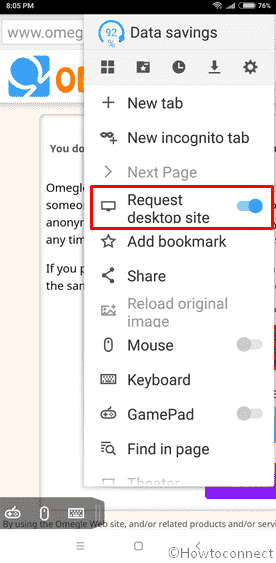 Step-5:  Once the website change to Desktop view, tap on Video option to Start the process of chatting.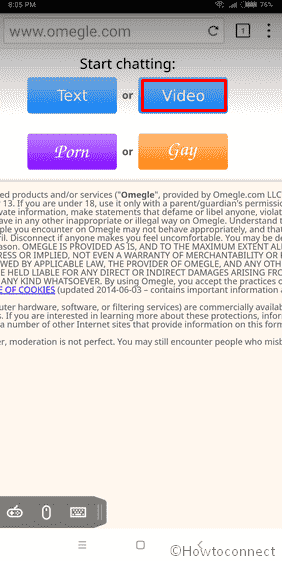 Step-5: Now, you will view Adobe Flash Player Settings and other pop-ups, simply choose Allow to give permission.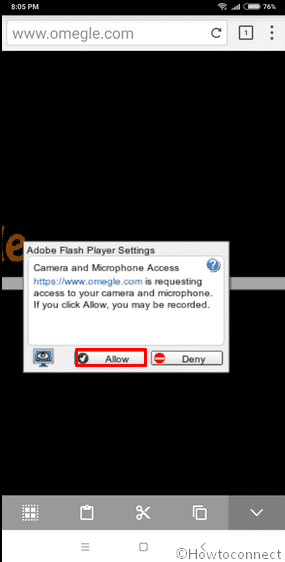 Step-6: Once you give consent, Omegle begins accessing your camera and microphone. If you want to switch the webcam, click on the back camera button from the bottom of the page.
Step-7: Finally, Puffin browser will verify if you are Robot or not. Give the correct answers of the Captcha to successfully start video chatting.
There is no doubt that Omegle is a great platform to have fun for many but don't compromise with your privacy as staying safe is more important.
That's all!