Do you know what version of Windows 11 or 10 do you have? However, Microsoft keeps hiding the number so that the OS looks always up-to-date, it is not hard to find. You just need to open Winver to reveal the edition. Usually, we refer Windows based on the name such as Windows Vista, 7, 8, and so on but with Windows 10, things have changed a lot. Unlike bringing out a new version of Windows, Microsoft now decided to release two major updates each year. That means Windows 11 and 10 are going to stay forever but the version number will keep changing time to time.
Knowing the version number of Windows is not much needed unless it's a part of your job. But in Windows 11 or 10, it becomes mandatory especially while installing new software or trying to get support. Here, in this article, we will explain different methods to open Winver that will help you to find Windows 10 version, build, and edition number you are using.
Ways to Open Winver to find Windows 11 and 10 version
Here is How to Open Winver in Windows 11 or 10 –
Using Search bar
Click on Start icon from the lowermost left corner of the screen, type "winver" and then press Enter key.
Find what version of Windows 10 From Run dialog box
Step-1: Open Run Dialog by pressing Win+R keyboard at one go.
Step-2: Type winver.exe and click on OK button in the bottom.
Open Winver via Command Prompt
Press Win and X at once to invoke Power User menu.
Select Run from the visible list.
Once appears, write cmd.exe in the provided text field and press Ctrl+Shift+Enter hotkey.
A UAC will prompt up; click Yes button to run Command Prompt as admin.
Type Winver or winver.exe In the command prompt, and hit the Enter key.
From Windows PowerShell (Admin)
The procedure is as same as previous one. You just need to run Winver command in PowerShell. To do so –
Right-click on "Windows" button from the left end of the Taskbar and select Windows PowerShell (Admin).
A UAC will turn up, click Yes to give consent.
When PowerShell window comes up, type winver.exe or winver after PS C:\WINDOWS\system32> and hit Enter.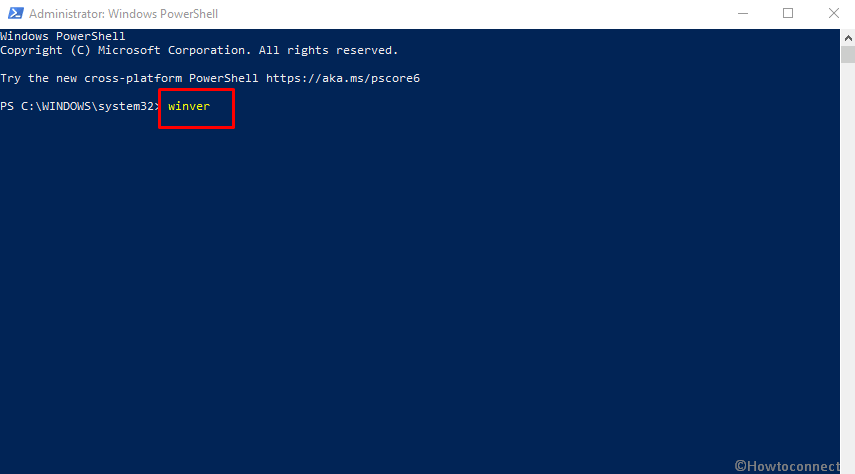 That's all!!