Microsoft Store introduces another interesting set of wallpapers – Opposite Day Windows 10 Theme. It has a collection of 15 images of various objects in sharply contrasting colors. These bright and contrasting vivid pictures will make pretty great desktop backgrounds, for sure.
Opposite Day Windows 10 Theme weight about 14.7 MB. If you download moreover install this theme using your "Microsoft account", you gain the ability to further apply it on at least ten Windows 10 devices. So, let us go through the details and see the way to grab this free of cost theme.
How to Download Opposite Day Windows 10 Theme
Here is the simple-straight way you can have the Opposite Day Theme downloaded on your Windows 10.
Step-1: Launch any web browser and follow this link. It will direct you to Microsoft's official page for the Opposite Day Theme.
Step-2: Click on the Get button.
Also, you can open the Microsoft Store app and search the theme by its name. However, following the link is simpler than searching up!
Step-3: The Microsoft Store window will open. Click on Get there.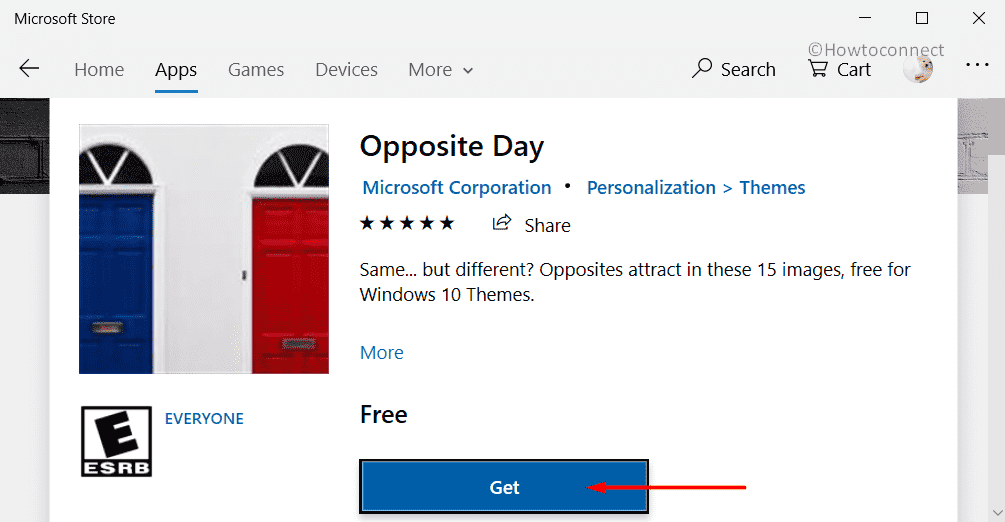 Step-4: Once you download the theme, Launch or Apply button will appear in place of "Get". Click on the button.
Step 5: This will open the Themes Settings page. Click Opposite Day.
That's all and you have the theme installed and applied. If you don't want to set it immediately, then you don't have to click on the 'Apply' button.
Later, when you do like to apply the theme, simply go to Windows Settings => Personalization => Themes => click on Opposite Day Theme.
System requirements for Opposite Day Windows 10 Theme
Note that there are some basic system requirements for downloading this theme. You can also see the requirements in Microsoft Store as well.
First, your operating system needs to be Windows 10 version 14951 or higher.
Secondly, it supports x86, x64, and ARM architecture. Images in the theme will work only as the desktop wallpaper.
That's all!!!