In childhood, most of us have folded, bunched, and quilled papers to give shape to our imaginations. Microsoft is trying to bring those nostalgic golden memories back with their newly released Windows 10 theme titled Paper Art PREMIUM. This Windows personalization app includes 16 premium 4k quality images of which can be used as desktop wallpaper only. The pictures comprised here showcase different forms of flowers, animals, birds and more whose compositions are made with colorful papers. Despite so, this theme pack is pretty small in size thereby occupies only 7.9MB of your hard disk. Moreover, you are allowed to get this app in a minimum of ten Windows 10 devices only while using the same Microsoft Account.
Paper Art PREMIUM Windows 10 Theme
Here is how to download, install and apply Paper Art PREMIUM Windows 10 Theme –
Directly visit the official webpage of the app and from there click Get button.
Select Open Microsoft store if a pop up appears.
Once the narrated Windows 10 theme loads on the screen, click on "Get".
After downloading and installing, click Apply.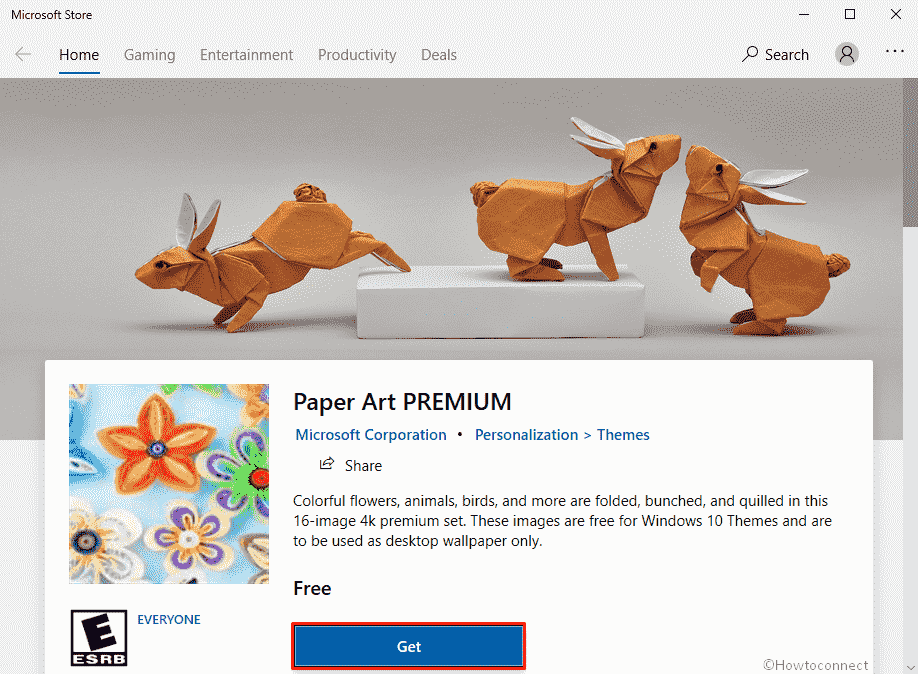 On the forthcoming Theme settings window, pass to the right column and choose the theme you just installed.
As an alternative, first of all, open Microsoft Store either from Taskbar or Start menu. Once the page shows up, use its search function to get the narrated Windows 10 theme. When the theme page of Paper Art PREMIUM loads fully, click the Get button to let the system download it.
System Requirement
Your PC must possess the below specifications to enjoy this WIndows 10 theme in a finer way –
Operating System must be running at least Windows 10 version 14951.0.
System architecture must be suited with any of x86, x64, ARM, ARM64.
The device should support English (United States) language.
That's all!!