A new interesting feature has been added inside the Facebook chat in recent days. It is called stickers. This feature gives the ability to send private messages with different stickers like attractive, Pre-designed or animated images from its website during chat. Although Facebook has already launched mobile messaging sticker services for Smartphone based official Facebook apps in April 2013. Though currently you will get only two sticker packs by default.  The new web based sticker service is offering a web sticker store where you can select from 16 free packs to add to your collection.
How to add stickers to Facebook chat ?
Sign in your Facebook account and start chat with any online friends.
Then you will get a small smile button at the bottom within your chat box and click on it. The names of default sticker packs are Meep and Pusheen.
To add more sticker packs, click the basket icon (called also sticker store) at the top- right corner of the chat box.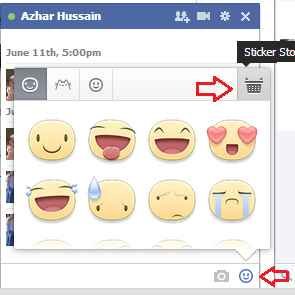 Then it will launch the Sticker Store on your 

Facebook page

. Here, you can select and add other free stickers from 16 different free packs collection. To add any preferred sticker packs from sticker store, click on 

free

 (green label) button.
Each added additional sticker packs appears with its own dedicated tab and name in the emoticon window.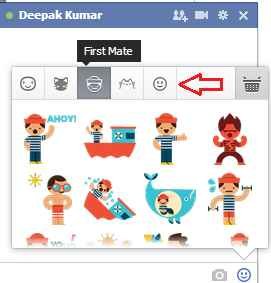 Keep in mind that the new sticker feature doesn't work with comments, status updates or replies. Currently it supports limited features only for emoticons and images. You can also expect that several feature rich stickers support will be added shortly in the upcoming days.